Team GB show their mettle in Belgium! 2021 Coupe De L'avenir Motocross – Qualification Day Results & Rundown
While the senior Team GB riders are in Italy at the Motocross of Nations the Team GB youth team are also competing in their own event the Coupe De L'avenir in Belgium which is essentially the youth version of the MXON.
Images courtesy of Derek McMartin
Like their elder statesmen in Italy, the future of British Motocross put in a fantastic performance in today's qualification races with the 65cc trio of Robbie Daly, Alfie Geddes-Green and Olly Waters finishing their moto in second, fourth and eighth respectively giving them second gate pick for tomorrows main races.
It was a tough moto for the 85's with falls hampering the results. Ryan Waggott was the top Brit finishing in 26th with Charlie Richmond just behind him in 27th. Will Haddock came 30th.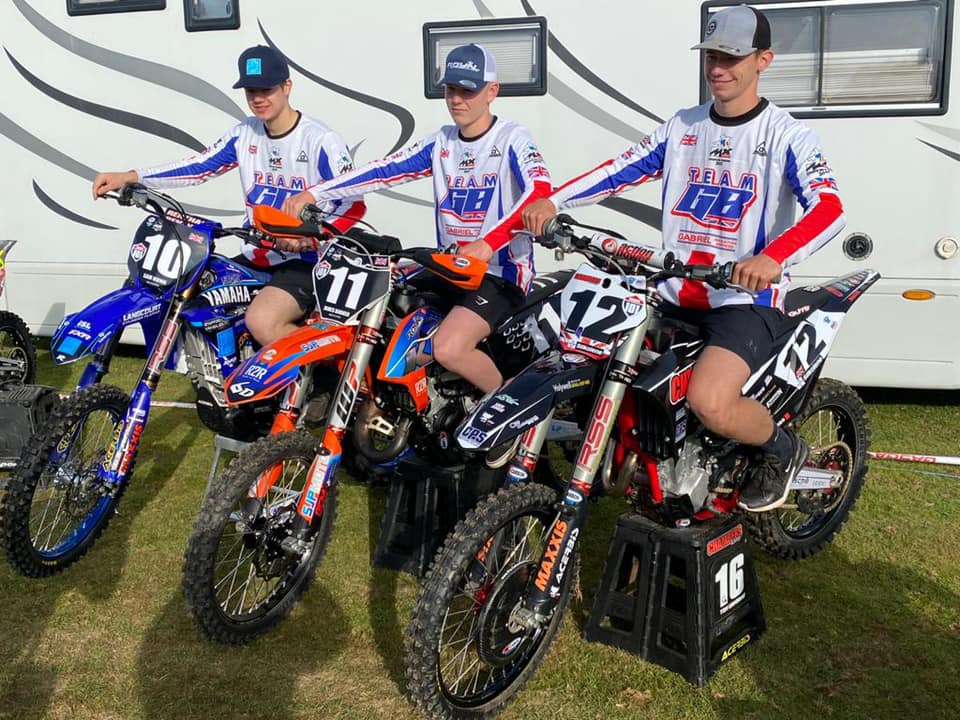 Saving the best to last and the Open class which saw Tom Grimshaw and Sam Nunn taking third and fourth, and with James Barker working his 125 into 26th they would qualify in first giving them the number one gate pick for tomorrows motos.
Team Manager Dave Garland said of his young chargers "As a team manager all you can ask for is 100% from every rider and today that is exactly what I got. Battered and bruised the 85 riders have a big task on their hands after a poor qualifier, but they know they are far better than their results and tomorrow theyhave a chance to put it right. Both the 65 and Open riders are right at the sharp end and I'm expecting some great results again. Today I was very proud to manage Team GB and I hope we can put the country back on the MX map tomorrow."
Results
65cc Qualifying Moto
| | | | |
| --- | --- | --- | --- |
| Pos | Competitor | Diff | Laps |
| 1 | Sleny GOYER | 0 | 7 |
| 2 | Robbie DALY | 20.716 | 7 |
| 3 | Léo DISS FENARD | 22.234 | 7 |
| 4 | Alfie GEDDES-GREEN | 24.638 | 7 |
| 5 | Enriko PEILMAN | 30.811 | 7 |
| 6 | Lucas LEOK | 01:02.6 | 7 |
| 7 | Karl TEESALU | 01:06.6 | 7 |
| 8 | Olly WATERS | 01:22.1 | 7 |
| 9 | Alfie HERRON | 01:31.5 | 7 |
| 10 | Toms DANKERTS | 01:40.7 | 7 |
| 11 | Eeka LAAKSONEN | 01:43.9 | 7 |
| 12 | Dante LANTZ | 02:00.0 | 7 |
| 13 | Oliver JÖNSSON | 02:15.3 | 7 |
| 14 | Raphaël MENNILO | 1 lap | 6 |
| 15 | Ollie HOLLAND | 1 lap | 6 |
| 16 | Okko OLLILA | 1 lap | 6 |
| 17 | Guilherme GOMEZ | 1 lap | 6 |
| 18 | Joshua WEIGERT | 1 lap | 6 |
| 19 | Max LINDSTRÖM | 1 lap | 6 |
| 20 | Edijs PILECKIS | 1 lap | 6 |
| 21 | Denijs BOGDANOVS | 1 lap | 6 |
| 22 | Youness TAHERE | 1 lap | 6 |
| 23 | Torre VAN MECHGELEN | 1 lap | 6 |
| 24 | Guilherme ALVEZ | 1 lap | 6 |
| 25 | Clement DEWATTINES | 1 lap | 6 |
| 26 | Kole NALLY | 1 lap | 6 |
| 27 | Viktor LEPPÄLÄ | 1 lap | 6 |
| 28 | Diego BOGERS | 1 lap | 6 |
| 29 | Miguel CARIADE | 1 lap | 6 |
| 30 | Leny RISTUCCIA | 5 laps | 2 |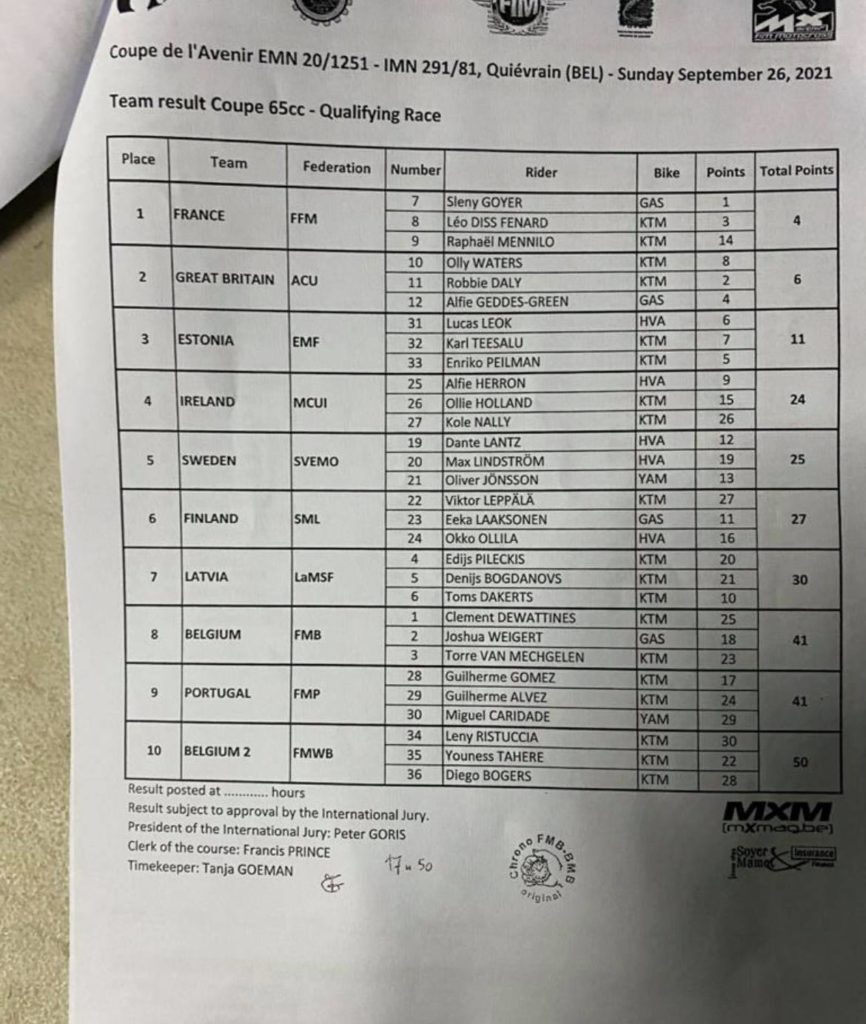 85cc Qualifying Moto
| | | | |
| --- | --- | --- | --- |
| Pos | Competitor | Diff | Laps |
| 1 | Janis-Martins REISULIS | 0 | 10 |
| 2 | Tomass SAICANS | 14.426 | 10 |
| 3 | Marius NORDBØ | 18.898 | 10 |
| 4 | Basile PIGOIS | 30.602 | 10 |
| 5 | Aaro MENNA | 37.164 | 10 |
| 6 | Otto GUSTAVSSON | 44.58 | 10 |
| 7 | Ben Lucas BREMSER | 46.2 | 10 |
| 8 | Gyan DOENSEN | 48.033 | 10 |
| 9 | Liam BRUNEAU | 01:08.2 | 10 |
| 10 | Aaron KOWATSCH | 01:14.3 | 10 |
| 11 | Oliver MARTINSEN | 01:20.3 | 10 |
| 12 | Markuss KOKINS | 01:22.6 | 10 |
| 13 | Simo KOSKINEN | 01:25.6 | 10 |
| 14 | Félix CARDINEAU | 01:30.9 | 10 |
| 15 | Jan-Marten PAJU | 01:31.2 | 10 |
| 16 | Dean GREGOIRE | 01:32.6 | 10 |
| 17 | Cole Mc CULLOGH | 01:36.0 | 10 |
| 18 | Jasper KÕIV | 01:40.0 | 10 |
| 19 | Freddie BARTLETT | 01:40.8 | 10 |
| 20 | Eemil PESONEN | 01:41.7 | 10 |
| 21 | Ryan OPPLIGER | 01:45.9 | 10 |
| 22 | Ian AMPOORTER | 01:46.2 | 10 |
| 23 | Lenny GEISSELER | 01:47.3 | 10 |
| 24 | Travis LEOK | 01:48.9 | 10 |
| 25 | Jarne BERVOETS | 01:50.1 | 10 |
| 26 | Ryan WAGGOTT | 01:53.8 | 10 |
| 27 | Charlie RICHMOND | 01:54.2 | 10 |
| 28 | Marvin VÖKT | 01:58.0 | 10 |
| 29 | Jonas HANART | 02:00.2 | 10 |
| 30 | Will HADDOCK | 1 lap | 9 |
| 31 | Jack MEARA | 1 lap | 9 |
| 32 | Nathan DENUIT | 1 lap | 9 |
| 33 | Dario ZANOLIN | 1 lap | 9 |
| 34 | Lewis SPRATT | 1 lap | 9 |
| 35 | Gonçaio CARDOSO | 1 lap | 9 |
| 36 | Antoine GALVAN | 1 lap | 9 |
| 37 | Dinis SOUSA | 1 lap | 9 |
| 38 | Sandro SOLS | 2 laps | 8 |
| 39 | Guilherme ROCHA | 2 laps | 8 |
| 40 | Douwe VAN MECHGELEN | 8 laps | 2 |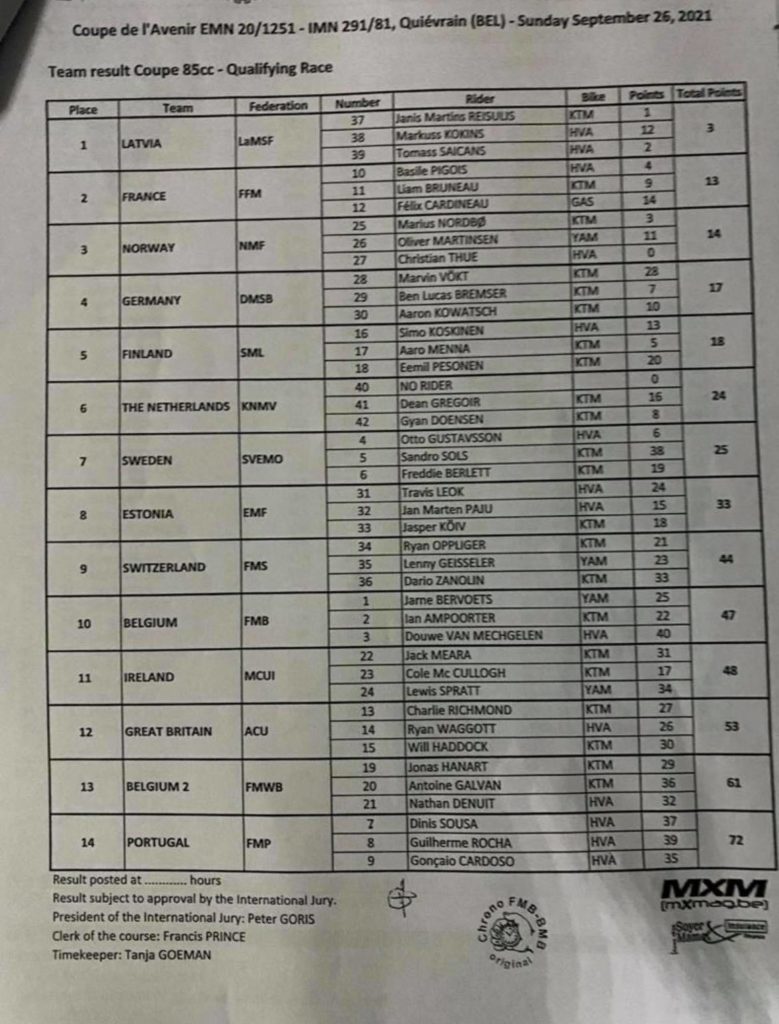 Open Qualifying Moto
| | | | |
| --- | --- | --- | --- |
| Pos | Competitor | Diff | Laps |
| 1 | Tom GUYON | 0 | 13 |
| 2 | Rainers ZUKS | 17.423 | 13 |
| 3 | Tom GRIMSHAW | 18.873 | 13 |
| 4 | Sam NUNN | 19.768 | 13 |
| 5 | Sacha COENEN | 20.704 | 13 |
| 6 | Emil JÖNRUP | 35.953 | 13 |
| 7 | Rasmus HAKANSON | 43.653 | 13 |
| 8 | Dylan MARCHAND | 45.309 | 13 |
| 9 | Mattéo PUFFET | 46.217 | 13 |
| 10 | Meico VETTIK | 51.456 | 13 |
| 11 | Pihlak EGERT | 52.791 | 13 |
| 12 | Toni GIORGESSI | 01:10.5 | 13 |
| 13 | Bogdan KRAJEWSKI | 01:12.7 | 13 |
| 14 | Joël ELSENER | 01:19.4 | 13 |
| 15 | Aidan Mc DONAGH | 01:31.9 | 13 |
| 16 | Joakim BØLVIKEN | 01:37.0 | 13 |
| 17 | Joni MAKELA | 01:37.9 | 13 |
| 18 | Rudolfs AUMEISTARS | 01:38.3 | 13 |
| 19 | Ben KENNEDY | 01:42.6 | 13 |
| 20 | Mathias KJØRSTAD | 01:44.5 | 13 |
| 21 | Sampo RAINIO | 01:48.9 | 13 |
| 22 | Laban ALM | 01:53.1 | 13 |
| 23 | Andreas CARRICO | 01:54.3 | 13 |
| 24 | Uldis FREIBERGS | 1 lap | 12 |
| 25 | Hugo BUCHELOT | 1 lap | 12 |
| 26 | James BARKER | 1 lap | 12 |
| 27 | Pedro RINO | 1 lap | 12 |
| 28 | Kasimir HINDERSSON | 1 lap | 12 |
| 29 | Lucas COENEN | 1 lap | 12 |
| 30 | Arthur STEFFEN | 1 lap | 12 |
| 31 | Reece ROSS | 1 lap | 12 |
| 32 | Hugo STIENNES | 1 lap | 12 |
| 33 | Leander THUNSHELLE | 1 lap | 12 |
| 34 | Tristan UIGA | 1 lap | 12 |
| 35 | Alex ALMEIDA | 1 lap | 12 |