Silver lining for Kellett on racing return! SWOR Warm up meeting – Results
Todd Kellett made a welcome return to the track for only his second race meeting in 18 months at SWOR's Warm-up meeting at Little Silver on Sunday.
Images courtesy of Barry Luxton
Kellett traded wins in the Expert class with Cab Screens Crescent Yamaha race Dan Thornhill who took the chequers in Moto two, but with double moto victories, it was Todd with the overall ahead of Thornhill and the impressive Josh Taylor who kept the Team Green Kawasaki duo of Joe and Ben Clayton off of the podium in 4th and 5th respectively. Brandon Baker rounded out the top six in a highly competitive class.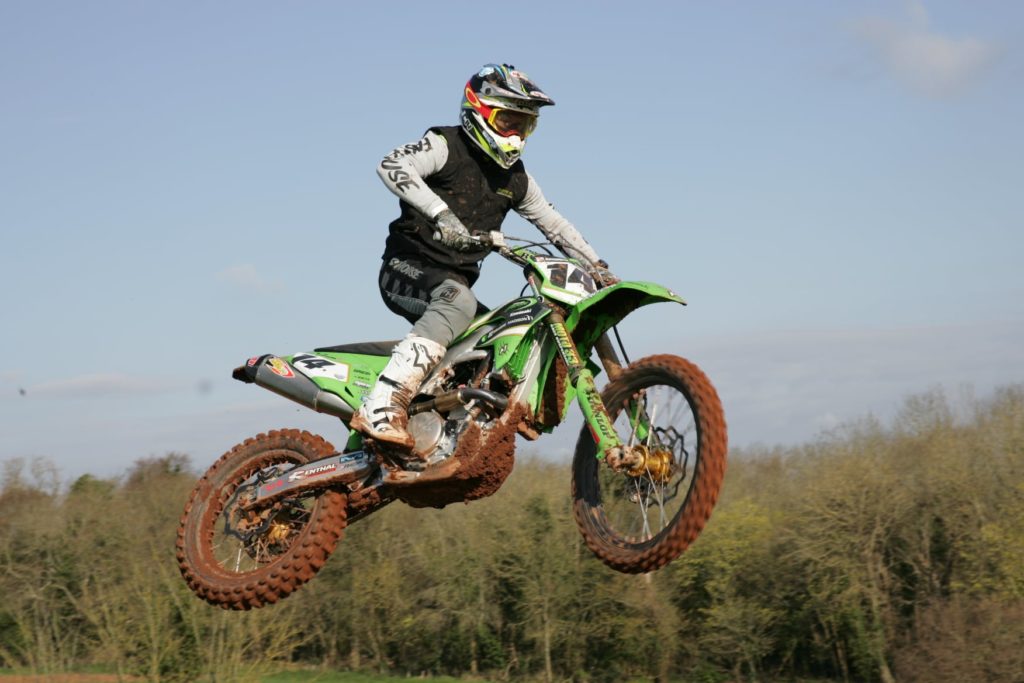 Mark Atkinson was unstoppable in the Seniors taking all three moto wins, with Elliot Cook second and Dave Colton third.
Paul Ford edged out double race winner Will Matthews to top the Junior Elite class with Ben Walker third.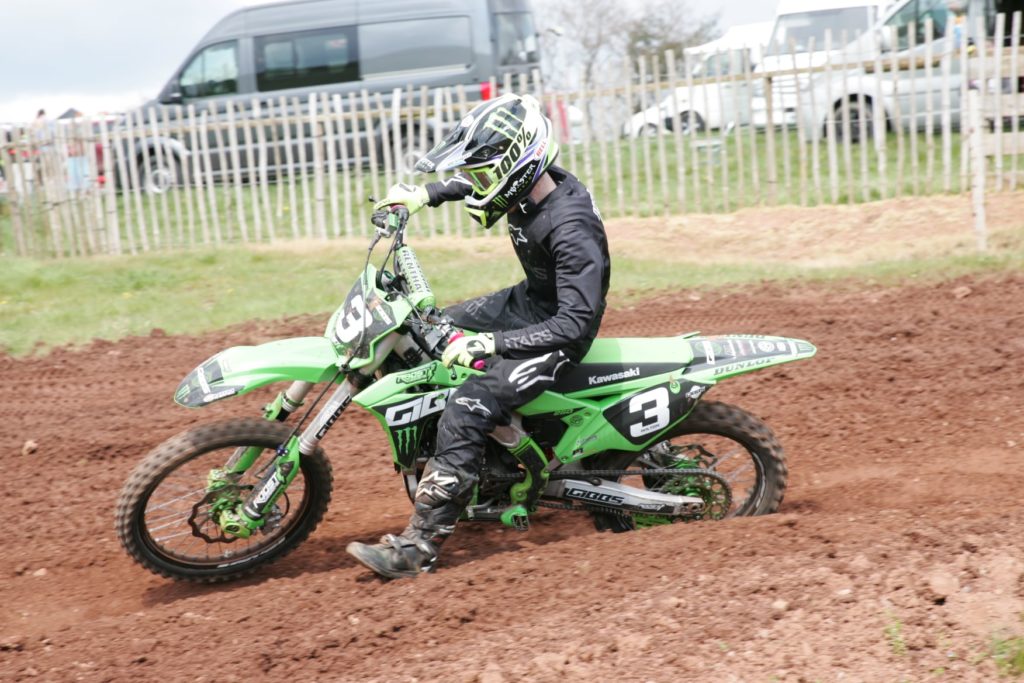 In the Junior Open group, Anthony Rashbrook took the overall with two moto victories with race three winner Harry Burton second and  Tyler Sterry third.
Kyran Nicholas put in a powerhouse performance in the Youth 85 class with a maximum. Jack Daley was second and Archie Congdon was third.
Joe Beaumont managed to be the top dog in the Support class squeezing out moto winners Jude Garland and Joe Sansom to land the top step of the podium.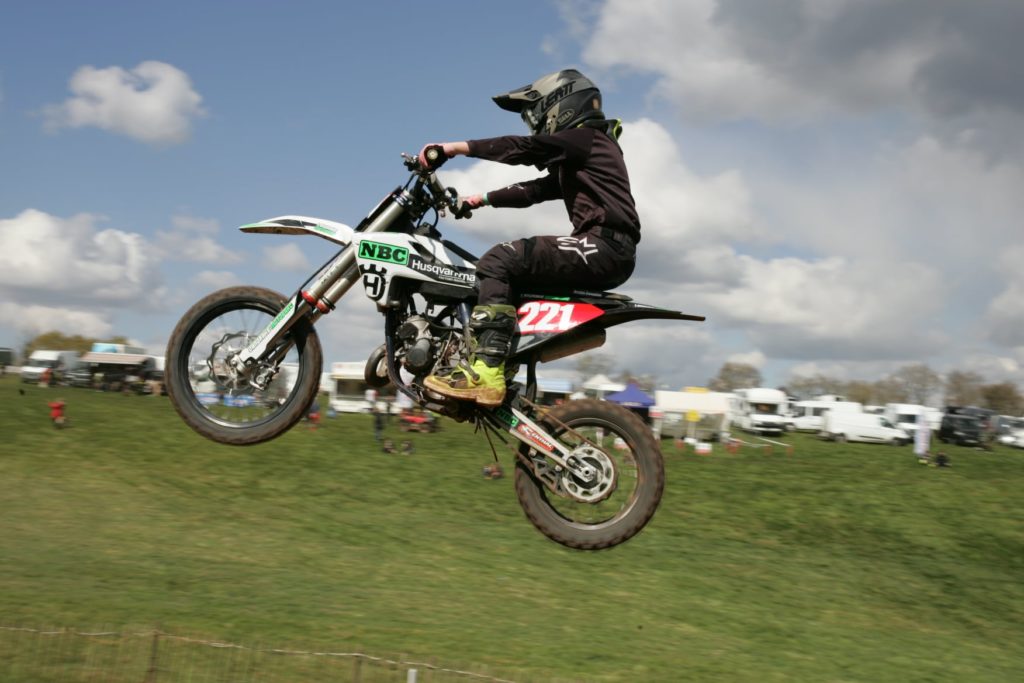 Results
Experts
| | | | | | |
| --- | --- | --- | --- | --- | --- |
| Pos | Competitor | Points | R1 | R2 | R3 |
| 1 | Todd Kellett | 132 | 45 | 42 | 45 |
| 2 | Dan Thornhill | 127 | 42 | 45 | 40 |
| 3 | Josh Taylor | 122 | 40 | 40 | 42 |
| 4 | Joe Clayton | 114 | 38 | 38 | 38 |
| 5 | Ben Clayton | 105 | 35 | 34 | 36 |
| 6 | Brandon Baker | 97 | 31 | 31 | 35 |
| 7 | Scott Ardren | 96 | 33 | 33 | 30 |
| 8 | Ryan Mundell | 90 | 29 | 29 | 32 |
| 9 | Bradley Barfoot | 88 | 25 | 30 | 33 |
| 10 | Ben Zeale | 84 | 24 | 26 | 34 |
| 11 | Jordan Gosling | 83 | 30 | 28 | 25 |
| 12 | Alfie Calvert | 80 | 26 | 25 | 29 |
| 13 | Taylor Edan | 78 | 27 | 24 | 27 |
| 14 | Thomas Darlow | 77 | 28 | 21 | 28 |
| 15 | Rob Cross | 72 | 36 | 36 | – |
| 16 | Andy Bushin | 69 | 21 | 17 | 31 |
| 17 | Sunny Thompson | 69 | 34 | 35 | – |
| 18 | Giles Richards | 66 | 20 | 22 | 24 |
| 19 | Brad Thornhill | 64 | 32 | 32 | – |
| 20 | Christopher Milliar | 63 | 17 | 23 | 23 |
| 21 | David Ford | 62 | 18 | 18 | 26 |
| 22 | Ben Gibbons | 58 | 16 | 20 | 22 |
| 23 | Thomas Townrow | 50 | 23 | 27 | – |
| 24 | Lewis Barfoot | 44 | 15 | 8 | 21 |
| 25 | Harry Matthews | 44 | 11 | 15 | 18 |
| 26 | Josh Hurley | 43 | 14 | 13 | 16 |
| 27 | Gary Roper | 41 | 22 | 19 | – |
| 28 | Cameron Packer | 36 | – | 16 | 20 |
| 29 | Adam Treen | 34 | 9 | 10 | 15 |
| 30 | Aiden Newitt | 33 | – | 14 | 19 |
| 31 | Kurt Pugsley | 31 | 8 | 9 | 14 |
| 32 | Josh Francis | 29 | – | 12 | 17 |
| 33 | Colby Walker | 28 | 10 | 6 | 12 |
| 34 | Lee Hocking | 28 | 13 | 4 | 11 |
| 35 | Joel Worthington | 25 | 5 | 7 | 13 |
| 36 | Josh Griffiths | 23 | 12 | 11 | – |
| 37 | Bradley Taylor | 19 | 19 | – | – |
| 38 | Ben Bowden | 11 | 6 | 5 | – |
| 39 | Jordan Watts | 7 | 7 | – | – |
Seniors
| | | | | | |
| --- | --- | --- | --- | --- | --- |
| Pos | Competitor | Points | R1 | R2 | R3 |
| 1 | Mark Atkinson | 135 | 45 | 45 | 45 |
| 2 | Elliot Cook | 122 | 42 | 38 | 42 |
| 3 | Dave Colton | 118 | 36 | 42 | 40 |
| 4 | Dan Hartley | 112 | 40 | 36 | 36 |
| 5 | Ashley Locke | 111 | 38 | 40 | 33 |
| 6 | Jason Worth | 104 | 35 | 34 | 35 |
| 7 | Alex Loewy | 103 | 34 | 35 | 34 |
| 8 | Doug Wynne | 101 | 33 | 30 | 38 |
| 9 | Owen Richards | 94 | 29 | 33 | 32 |
| 10 | James Chard | 94 | 32 | 31 | 31 |
| 11 | Richard Tapscott | 88 | 27 | 32 | 29 |
| 12 | Paul Evans | 83 | 26 | 29 | 28 |
| 13 | Sam Raymont | 78 | 25 | 23 | 30 |
| 14 | Jack Napier | 75 | 28 | 26 | 21 |
| 15 | Josh Symons | 75 | 31 | 28 | 16 |
| 16 | Mark Callcut | 72 | 23 | 27 | 22 |
| 17 | Jon Jones | 65 | 14 | 24 | 27 |
| 18 | Josef Scibilia | 64 | 18 | 20 | 26 |
| 19 | Dan Brailey | 64 | 20 | 21 | 23 |
| 20 | Andrew Townrow | 54 | 22 | 18 | 14 |
| 21 | Marcus Mcdine | 53 | 19 | 10 | 24 |
| 22 | Adam Barfoot | 53 | 21 | 12 | 20 |
| 23 | Colt Bright | 47 | 30 | 17 | – |
| 24 | Rob Freestone | 46 | 24 | 22 | – |
| 25 | Alan Packer | 45 | 17 | 16 | 12 |
| 26 | Michael Brailey | 44 | 11 | 15 | 18 |
| 27 | Justin Wood | 44 | 12 | 19 | 13 |
| 28 | Jack Matthews | 39 | 13 | 11 | 15 |
| 29 | Paul Coombes | 35 | 10 | 25 | – |
| 30 | Jason Sweet | 33 | – | 14 | 19 |
| 31 | Reegan West | 33 | 16 | – | 17 |
| 32 | Jack Hooper | 25 | – | – | 25 |
| 33 | Simon Chamberlain | 22 | 9 | 13 | – |
| 34 | Kevin Pengelly | 19 | 8 | – | 11 |
| 35 | Scott Robson | 15 | 15 | – | – |
Junior Elite
| | | | | | |
| --- | --- | --- | --- | --- | --- |
| Pos | Competitor | Points | R1 | R2 | R3 |
| 1 | Paul Ford | 123 | 40 | 45 | 38 |
| 2 | Will Matthews | 121 | 45 | 31 | 45 |
| 3 | Ben Walker | 108 | 36 | 36 | 36 |
| 4 | Adrian Retallack | 105 | 38 | 35 | 32 |
| 5 | Ian Legg | 102 | 31 | 40 | 31 |
| 6 | Fred Quant | 94 | 34 | 25 | 35 |
| 7 | Brandon Wilton | 94 | 35 | 32 | 27 |
| 8 | Justin Napier | 88 | 33 | 26 | 29 |
| 9 | Paul Callard | 86 | 19 | 34 | 33 |
| 10 | Sam Napier | 86 | 28 | 30 | 28 |
| 11 | Dan Cheese | 80 | – | 38 | 42 |
| 12 | Daniel Harris | 74 | 25 | 23 | 26 |
| 13 | Laurence Watkins | 74 | 27 | 22 | 25 |
| 14 | Lee Pringle CH | 74 | 26 | 28 | 20 |
| 15 | Richard Holmes | 73 | – | 33 | 40 |
| 16 | Adrian Toy | 73 | 29 | 21 | 23 |
| 17 | Tom Barfoot | 72 | 32 | 16 | 24 |
| 18 | Trevor Ford | 70 | 24 | 12 | 34 |
| 19 | Danny Miller | 68 | 42 | 14 | 12 |
| 20 | Lee Walsh | 67 | 21 | 24 | 22 |
| 21 | Mark Osborne | 64 | 17 | 17 | 30 |
| 22 | Dominic Stoneman | 64 | 16 | 27 | 21 |
| 23 | Ashley Wigmore | 58 | 30 | 20 | 8 |
| 24 | Moss Macriner | 53 | – | 42 | 11 |
| 25 | Toni Burrows | 52 | 15 | 19 | 18 |
| 26 | Adam Pellow | 51 | 14 | 18 | 19 |
| 27 | Martin Wherry | 50 | 20 | 15 | 15 |
| 28 | Sam Andrews | 48 | 18 | 13 | 17 |
| 29 | Kester Wood | 46 | 23 | 7 | 16 |
| 30 | Jake Parr | 42 | 22 | 11 | 9 |
| 31 | Andy Kirk | 39 | – | 29 | 10 |
| 32 | Alex Allen | 35 | 13 | 9 | 13 |
| 33 | John Trevelyan | 22 | – | 8 | 14 |
| 34 | Daniel Francis | 17 | – | 10 | 7 |
| 35 | Gavin Lindsey | 6 | – | – | 6 |
Junior Open
| | | | | | |
| --- | --- | --- | --- | --- | --- |
| Pos | Competitor | Points | R1 | R2 | R3 |
| 1 | Anthony Rashbrook | 126 | 45 | 45 | 36 |
| 2 | Harry Burton | 120 | 42 | 33 | 45 |
| 3 | Tyler Sterry | 120 | 36 | 42 | 42 |
| 4 | Andy Gibbons | 118 | 38 | 40 | 40 |
| 5 | Leon Rudge | 109 | 35 | 36 | 38 |
| 6 | Dan Merifield | 104 | 40 | 35 | 29 |
| 7 | Kyle Richards | 103 | 32 | 38 | 33 |
| 8 | Nick Grenney | 97 | 33 | 32 | 32 |
| 9 | Lee Mitchell | 95 | 31 | 30 | 34 |
| 10 | Tom Milton | 94 | 30 | 34 | 30 |
| 11 | Michael Chard | 91 | 27 | 29 | 35 |
| 12 | Chris Matthews | 88 | 34 | 23 | 31 |
| 13 | Scott Taylor | 88 | 29 | 31 | 28 |
| 14 | Tom Chesters | 77 | 26 | 26 | 25 |
| 15 | Mark Baldwin | 75 | 28 | 20 | 27 |
| 16 | Richard Bawden | 73 | 25 | 25 | 23 |
| 17 | Jack Ellis | 72 | 21 | 27 | 24 |
| 18 | Ollie Lock | 65 | 17 | 28 | 20 |
| 19 | Cam Johns | 63 | 18 | 19 | 26 |
| 20 | Tom Montero | 63 | 24 | 24 | 15 |
| 21 | Liam Hassard | 58 | 15 | 21 | 22 |
| 22 | Zoe Deacon | 58 | 22 | 17 | 19 |
| 23 | Zak Moore | 50 | 20 | 18 | 12 |
| 24 | Paul Nosworthy | 47 | 19 | 10 | 18 |
| 25 | Stefan Kent | 46 | 12 | 13 | 21 |
| 26 | Damien Sanders | 45 | 23 | 22 | – |
| 27 | Phil Daley | 43 | 11 | 15 | 17 |
| 28 | Rihanna Dix | 43 | 13 | 16 | 14 |
| 29 | Stephen Webb | 36 | 9 | 11 | 16 |
| 30 | David Matthews | 36 | 14 | 9 | 13 |
| 31 | Arron Plumley | 25 | 8 | 6 | 11 |
| 32 | Shania Maclening | 24 | 6 | 8 | 10 |
| 33 | Richard Dart | 24 | 10 | 14 | – |
| 34 | Dan Hazeldine | 16 | 16 | – | – |
| 35 | Dean Lewis | 12 | – | 12 | – |
| 36 | Kieran Attwater | 7 | – | 7 | – |
| 37 | Ross Lapping | 7 | 7 | – | – |
| 38 | Nick Perryman | 5 | – | 5 | – |
Inter 85 Youth
| | | | | | |
| --- | --- | --- | --- | --- | --- |
| Pos | Competitor | Points | R1 | R2 | R3 |
| 1 | Kyran Nicholas | 135 | 45 | 45 | 45 |
| 2 | Jack Daley | 126 | 42 | 42 | 42 |
| 3 | Archie Congdon | 118 | 40 | 38 | 40 |
| 4 | Max Beaumont | 116 | 38 | 40 | 38 |
| 5 | Ollie King | 108 | 36 | 36 | 36 |
| 6 | Liam Stephens | 104 | 35 | 34 | 35 |
| 7 | Flynn Parsons | 103 | 34 | 35 | 34 |
| 8 | Ryan Enright | 98 | 33 | 33 | 32 |
| 9 | Sam Grimshaw | 97 | 32 | 32 | 33 |
| 10 | Josh Cowley | 61 | 30 | – | 31 |
| 11 | Archie Hancock | 61 | 31 | – | 30 |
Support
| | | | | |
| --- | --- | --- | --- | --- |
| Pos | Competitor | Points | R1 | R2 |
| 1 | Joe Beaumont | 84 | 42 | 42 |
| 2 | Jude Gaylard | 83 | 45 | 38 |
| 3 | Joe Sansom | 81 | 36 | 45 |
| 4 | Ben Puddy | 75 | 35 | 40 |
| 5 | John Mitchell | 72 | 38 | 34 |
| 6 | Danny Sansom | 69 | 34 | 35 |
| 7 | Noah Matthews | 67 | 31 | 36 |
| 8 | Toby Matthews | 66 | 33 | 33 |
| 9 | Eddie Knowles | 64 | 32 | 32 |
| 10 | Ashley Volz | 59 | 28 | 31 |
| 11 | Joe Workman | 58 | 29 | 29 |
| 12 | Memphis Enright | 55 | 25 | 30 |
| 13 | Toby Rose | 53 | 26 | 27 |
| 14 | Jamie Harvery | 49 | 24 | 25 |
| 15 | Levi Kirk | 49 | 27 | 22 |
| 16 | David Cross | 48 | 22 | 26 |
| 17 | Tom Sharpe | 47 | 19 | 28 |
| 18 | Ethan Pringle | 46 | 30 | 16 |
| 19 | Sam Hooper | 44 | 20 | 24 |
| 20 | Patrick Matthews | 44 | 23 | 21 |
| 21 | Darren Brock | 40 | 40 | – |
| 22 | Jack Miller | 40 | 21 | 19 |
| 23 | Dan Cox | 39 | 16 | 23 |
| 24 | Tyler Volz | 36 | 18 | 18 |
| 25 | Alfie Thompson | 34 | 17 | 17 |
| 26 | John Turner | 30 | 15 | 15 |
| 27 | Simon Garcia | 26 | 13 | 13 |
| 28 | Spencer Watts | 23 | 11 | 12 |
| 29 | Cole Davis | 20 | 9 | 11 |
| 30 | John Miller | 14 | 14 | – |
| 31 | Ben Kendall | 12 | 12 | – |
| 32 | Luke Eyles | 10 | 10 | – |
| 33 | Jack Eyles | 8 | 8 | – |
| 34 | Daryl Puddy | 7 | 7 | – |