Perfect WMX 1-1 for Lotte Van Drunen on home soil! 2023 WMX Championship Round 5 – Race Report, Results and Highlights
The Round of Netherlands in WMX marked the comeback to the competition for the riders since the round of France. The riders did not take long to reacclimate themselves to their liveries and to the relentless tempo needed to perform at that level.
Riding at home for the first time in WMX, Lotte Van Drunen won her first round of her career with a perfect 1-1 and a dominant riding. RFME GASGAS WMX Team's Daniela Guillen keeps showing high standards as she kept her 100% podium record this season in front of Fantic Racing MX's Lynn Valk who clinched her second podium of the year.
In Race 1, it was MX Fonta Racing's Kiara Fontanesi who took the command of the race in front of home rider Lynn Valk. Still in the opening lap, Fontanesi lost a bit of control and had to close the door in front of Valk to stay in front. Several corners later, Valk took the commanding line to overtake Fontanesi and take the lead.
Valk in the lead, it was the turn of another home rider Lotte Van Drunen to show great speed as she found herself in 5th position after lap 1 but incessantly charged forward to overtake lap after lap Daniela Guillen, Big Van World MTX Kawasaki's Courtney Duncan and Fontanesi to get to 2nd on lap 4 of 11. Van Drunen took few laps to reduce the gap with the excellent Valk. On lap 8, Van Drunen eventually started to put a great amount of pressure on Valk and both riders battled for a while until Van Drunen took her chance to pass for the lead. Van Drunen kept racing forward and never looked back over her shoulder to win the race in a great fashion. Valk who rode superbly settled for a really good 2nd place.
Behind them, Duncan was 3rd but could not pull away from from Fontanesi and Guillen. Guillen was the most incisive one as she overtook Fontanesi on lap 5 for 4th after Fontanesi made a mistake. Guillen then kept her speed up and was all over Duncan to finally overtake her on lap 7 for 3rd. Duncan came back charging but Guillen held her ground to finish 3rd in the end. Duncan settled for the 4th place while Fontanesi finished 5th after few mistakes during the race that unfortunately costed her some positions.
Shana Van Der Vlist and Sara Adersen battled for the 6th place from the beginning but the advantage went to Dutch rider Van Der Vlist who made a successful pass on lap 6 to finish 6th while Andersen settled for 7th.
In race 2, Van Drunen got a great start and took the lead from the start this time. Van Drunen was simply the fastest by far as she quickly edged away at the lead. The young Dutch rider increased the gap at the lead to 20 seconds on Guillen. Van Drunen flew to victory to win in an emphatic way and go 1-1. First overall win for Van Drunen who managed to do it on home soil on a surface she loves. Guillen was the best of the rest as she rode the whole race in 2nd place safe from any attack from the back. Guillen went 3-2 to clinch the 2nd overall, reducing the gap with the Red Plate Duncan.

Duncan alternated between great racing and finding her rhythm in race two as she started well in 4th place on lap 1 of 11 but quickly got under pressure by Britt Jans-Beken and Valk to move down to 6th. However Jans-Beken made a mistake which Duncan capitalised on along with a great pass on Andersen to move back up to 4th on lap 6. Duncan found a second wind as she pushed forward this time to put pressure on Valk for 3rd. Duncan made the pass stick on lap 9 to finish 3rd in the end while Valk settled for 4th. Valk went 2-4 to get on the podium with 3rd overall on her home round. Duncan missed on the podium for the first time this season and narrowly as the Red Plate finished 4th overall.
Jans-Beken made a few mistakes that costed her several positions to finish 8th for 8th overall. Andersen on her side finished 6th after a solid start to go 7-6 for 7th overall. Fontanesi could not find the same flow as in race one and hovered around the 8th place for most of the race but got a last lap pass on Jans-Beken to finish 7th for 6th overall. Van Der Vlist rode a superb race to go from 9th on the turn of lap 1 to finish at a good 5th and get the 5th overall.
The last round in Turkiye will be intense with potentially three riders still battling for the Title with Red Plate Courtney Duncan, 16 points ahead of Daniela Guillen and 23 points ahead of Lotte Van Drunen. All will be played in Turkiye in two weeks time.
The first time in a while we had a British rider in the line up with Lucy Barker taking the trip over to Holland to compete.  In the first moto she finished 22nd but in moto two she showed her potential with an excellent 13th for 17th Overall. Well done Lucy!
Lotte Van Drunen: "I knew already from yesterday that I was the fastest. Yesterday in race one I had a bad start but today I took the Holeshot and it made it a lot easier for me. It's amazing to do it in front of my home crowd, and to win with a 1-1 makes it even more special ad I'll remember this one."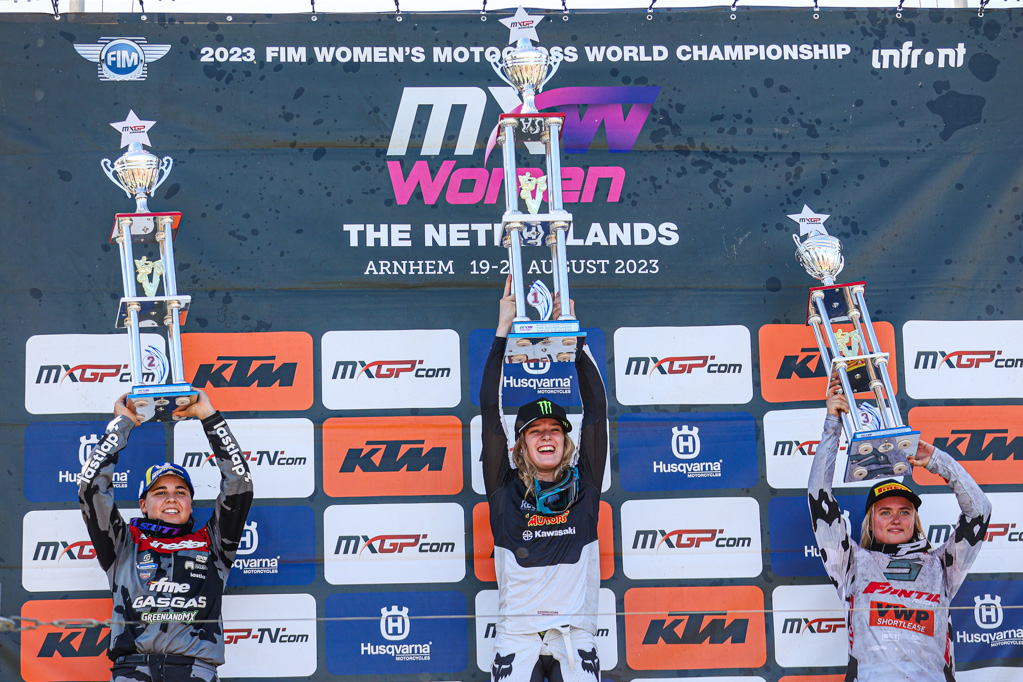 WMX – Race 1 – Top 10 Classification: 1. Lotte Van Drunen (NED, Kawasaki), 24:16.405; 2. Lynn Valk (NED, Fantic), +0:09.881; 3. Daniela Guillen (ESP, GASGAS), +0:12.037; 4. Courtney Duncan (NZL, Kawasaki), +0:12.897; 5. Kiara Fontanesi (ITA, GASGAS), +0:35.915; 6. Shana van der Vlist (NED, Yamaha), +0:37.967; 7. Sara Andersen (DEN, KTM), +1:05.806; 8. Martine Hughes (NOR, Husqvarna), +1:11.586; 9. Britt Jans-Beken (NED, Yamaha), +1:27.281; 10. Danee Gelissen (NED, KTM), +1:58.665
WMX – Race 2 – Top 10 Classification: 1. Lotte Van Drunen (NED, Kawasaki), 25:13.351; 2. Daniela Guillen (ESP, GASGAS), +0:40.496; 3. Courtney Duncan (NZL, Kawasaki), +0:46.873; 4. Lynn Valk (NED, Fantic), +0:51.925; 5. Shana van der Vlist (NED, Yamaha), +0:56.521; 6. Sara Andersen (DEN, KTM), +1:10.843; 7. Kiara Fontanesi (ITA, GASGAS), +1:12.059; 8. Britt Jans-Beken (NED, Yamaha), +1:14.314; 9. Danee Gelissen (NED, KTM), -1 lap(s); 10. Malou Jakobsen (DEN, KTM), -1 lap(s)
WMX – Overall Top 10 Classification: 1. Lotte Van Drunen (NED, KAW), 50 points; 2. Daniela Guillen (ESP, GAS), 42 p.; 3. Lynn Valk (NED, FAN), 40 p.; 4. Courtney Duncan (NZL, KAW), 38 p.; 5. Shana van der Vlist (NED, YAM), 31 p.; 6. Kiara Fontanesi (ITA, GAS), 30 p.; 7. Sara Andersen (DEN, KTM), 29 p.; 8. Britt Jans-Beken (NED, YAM), 25 p.; 9. Danee Gelissen (NED, KTM), 23 p.; 10. Malou Jakobsen (DEN, KTM), 21 p
WMX – Championship Top 10 Classification: 1. Courtney Duncan (NZL, KAW), 223 points; 2. Daniela Guillen (ESP, GAS), 207 p.; 3. Lotte Van Drunen (NED, KAW), 200 p.; 4. Lynn Valk (NED, FAN), 168 p.; 5. Kiara Fontanesi (ITA, GAS), 157 p.; 6. Sara Andersen (DEN, KTM), 132 p.; 7. Britt Jans-Beken (NED, YAM), 109 p.; 8. Larissa Papenmeier (GER, YAM), 105 p.; 9. Charli Cannon (AUS, YAM), 91 p.; 10. Danee Gelissen (NED, KTM), 74 p
WMX – Manufacturers Classification: 1. Kawasaki, 245 points; 2. GASGAS, 215 p.; 3. Yamaha, 177 p.; 4. Fantic, 168 p.; 5. KTM, 133 p.; 6. Husqvarna, 82 p.; 7. Honda, 18 p