Oliver's American Flat Track Dream – Part 1
Many of us have the dream of cruising the American highways, with adventure around every corner, and a few us have similar dreams that morph into motorcycle nostalgia. Racing at Glen Helen, the LA Coliseum, Costa Mesa Speedway, the Springfield Half mile…
One young British racer has turned that dream into a reality, traveling from Race to race to earn a buck so as to have enough fuel to fill the tank of the RV and make the next race, travelling to those classic destinations you only hear of when "On any Sunday" make's its annual appearance in the DVD player.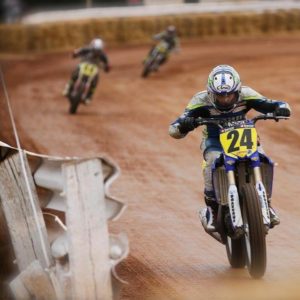 It's a boy's own adventure for Off Roaders, and one that young Yorkshire lad Oliver Brindley has been living for the past two years in his quest to become an AMA Flat Track Champion.
At just 20, Oliver, who in the off season lives in Doncaster is part of the pioneering band of racer's that rode in the Short Track UK series started by Peter Boast, which was a precursor to the Dirt Track Riders Association we know now.
Oliver tell's us how his Flat Track adventures all began. " I started riding when I was 6, just playing riding in the fields and stuff. Then there's a beach race series at Mablethorpe, and my Dad always went after his road racing career, and I ended up racing in the kids classes. Eventually we met someone called Pete Boast who was running the UK Flat track series, where my Dad rode for a little bit, and then I got into it on a 65, so that's how flat tracking came about."
Oliver's dad Derek rode Sidecar Road Racing at a high level before crossing over to Short Track. Already we have used three different titles to call the sport so we asked Oliver what the different is? "They are all the same really, just different names. I don't know, I guess its just the sport being in different countries, they have decided to call it different names. I wish they would put a title over it, which outlines what its supposed to be, because I don't even know." 
The Sport whatever it's moniker is certainly on the up in the UK with the DTRA running at excellent series which has earned some great media attention. "Yeah its definitely growing all over really, but especially in the UK, because of how little it was before. It's got a lot to do with Indian Motorcycles bringing out their Xc350, which has opened the sport up, with features in a lot of magazines. A lot of sponsors have also realized the potential of it too, and the simplicity of going round in a circle makes for quite an exciting sport.  I think it's a bit of everything really. People have realized its quite an easy sport to get into. Unlike your Motocross which is pretty gnarly from the get go….
Before seeking pastures new Oliver has had a good stab at taking the coveted DTRA title as well as racing in Europe, where he earned his reputation as one of the hottest European properties in the Sport."I have had a couple of seconds in the DTRA series, but the year I was in good contention to win it with a good lead, I was also doing well in the Spanish Championships too. But I broke my ankle, which finished me in both of those, then the following year I went off to America. 
The Spanish have got a real strong field of riders right now. You could say stronger than the UK, they have a lot of hungry younger riders coming through. If you want to make it in Europe you really need to ride in their series, which I will do one day.  Also the FIM European Cup has some real strong riders, with some good Italian riders racing so that is good one.
I was planning on riding the Superprestigio last year in France but they called it off which was a shame.  I felt I had a good chance of doing well there, and it would have been good for my profile. I have grown up riding the smaller tracks so it's good for me.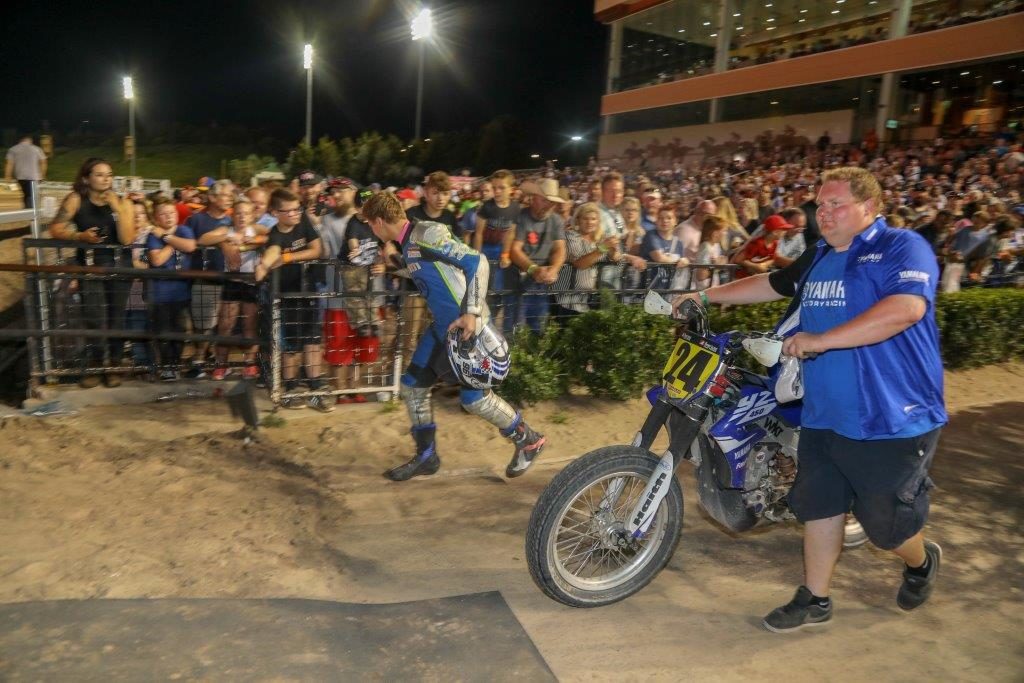 Like in many Off Road sports the meca is in America, where the tracks are seemingly paved with gold, and glitz and glamour are all part of the occasion, and for Oliver a trip stateside has been on his agenda from a young age. "So I guess the dream came about when I went over there to race the Amateur Nationals in 2012. There were two Pro Nationals that week at the same complex that the Amateur Nationals were held. It just happened that we got to watch the Springfield TT and the Springfield Mile, so from watching them I have always dreamed about it, until I had the chance to do it all. It's definitely the most phenomenal thing I have ever seen, and that's also why my Dad's so keen to make it happen too."
"It always seemed big with the On any Sunday films and whatever, and at one time it was huge. It then took a bit of a downfall, and now its on its way back up again. Don't get me wrong, its on some National TV, and on this that and the other, and there are more and more riders getting well known, so it is on its way up in America. I think it's a bit, like I said, the Indian Motorcycles coming out with the FTR 750 Scout, which has floored the competition in the Twin's again this year and I think that has helped to grow the sport a lot more, and they are doing a great job. The few years I have been doing the AFT (American Flat Track) the sport is definitely becoming more and more well known, even in America."
In the second part of our interview with Oliver we find out what life is like on the Road as he gets ready for the 2019 season, what it's like being a Brit in the series, and whats involved in taking part in the AMA Flat Track Championship.