My Greatest Race – Rob Herring
Rob Herring was one of the most exhilarating British MX riders to watch, no question. He had a flair, bike skills and raw speed that upped the ante on the British scene when he arrived back to the UK from learning his trade on the hard-packed man-made circuits of South Africa in 80's.
Words and Interview by Jeff Perrett – Images courtesy of Rob Herring MX Fan Page
Rob quickly established himself as one of the UK's very best winning multiple British Championships which resulted in him being selected for Great Britain's Motocross des Nations team on numerous occasions. It was on one of those occasions that had his 'greatest race'.
"It's a tricky one to decide this, my first GP was memorable and many others races too but for me my 'greatest race' was the 1988 Motocross des Nations at Villars-sous-Ecot in France when I won the second 250 moto beating Ricky Johnson (RJ) and was second to Ron Lechien in the race. It was special to me. I had qualified fastest and led the 250 US GP earlier that year and ended up crashing and splitting my hand open. So to come to that event and get a bit of redemption for that and to beat RJ, who at the time was 'the' guy in world motocross was a big deal for me.
"I know he had some kind of problem in that race, I can't quite remember what happened to him but he didn't get the best of starts or something like that, but still that's how it goes. I was riding extremely well that day regardless and results wise it's there in the history books, but it's not just the result that makes it my greatest race, I think more for me, it was how I rode that day and it will always be a great memory. That year was one of my better ones and I remember it fondly.
"I wasn't anymore charged up than usual. I was always quite chilled out at the races and even-keeled all day and that day was no different, even though it was the MX des Nations. Growing up in South Africa I liked hard pack fast circuits so the track suited me well and the latter part of the season had been a good one so I was coming into the event with a bit of form. We had some bad luck within the team with Mark Bennett, who was Team GB's 125 rider, getting injured so going into the races it was only really myself and Kurt Nicoll who was in contention for results. So, team wise it didn't really matter where we finished and we didn't have to ride conservatively and not take risks so that maybe made it a bit easier and relaxing in a way not having to think so much about the overall team result.
"I was very chilled out the whole weekend walking around the paddock and never got caught up with the hype of the event and intimidated by the American's being there. Back then, probably more than, now they kind of stole the show with all the media hype around them, which was understandable considering their domination of the event at the time and then after Maggiora '86 when they clean swept all three motos. I just did my own thing all weekend and concentrated on what I was doing, I didn't get caught up with thinking about the Americans or anyone else for that matter. I just wanted to get out there and ride to my potential and that's what I did.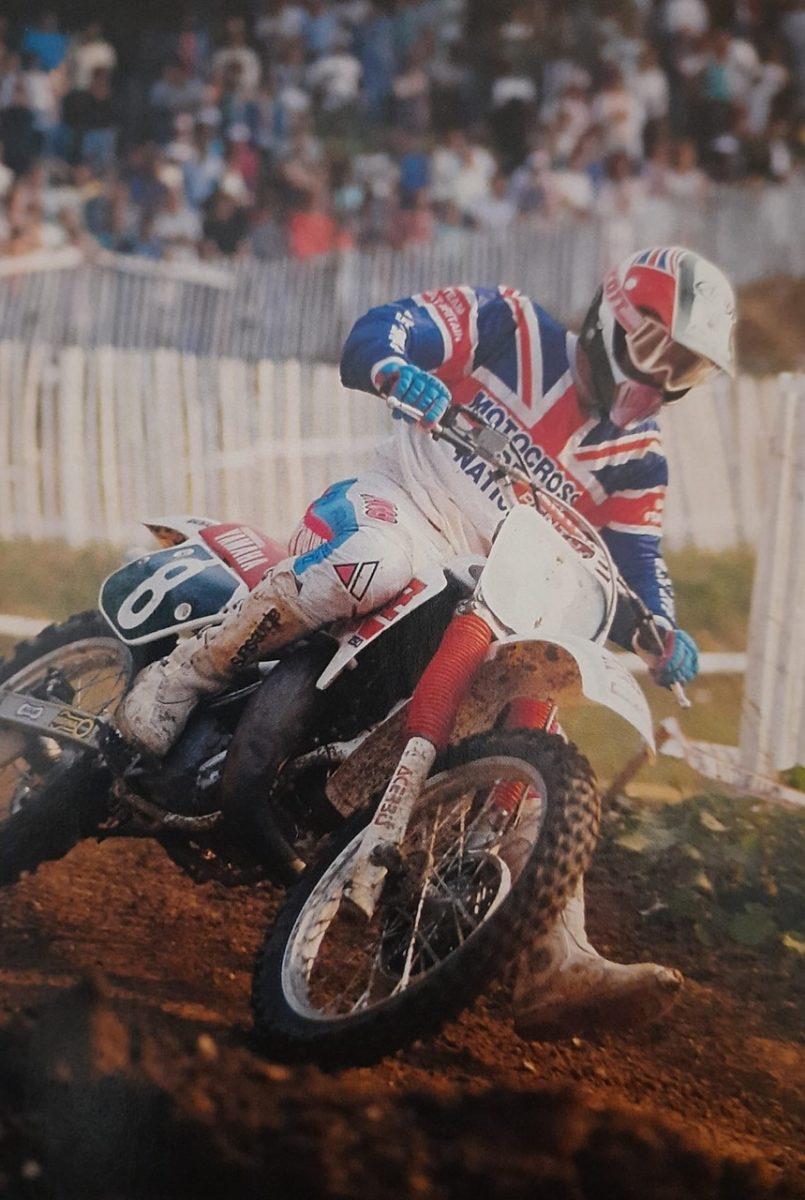 "It was the final race of the day, the 250/500 combined. The track had gone even harder by then and was quite blue groove in a few places. I made quite a good start in about fourth or fifth I think, Ron Lechien got the holeshot. I had a good first couple of laps and got into second quite quickly. I can remember Jeff Leisk being up there and getting past him and getting my head down, then Lechien was about four seconds up the track and I kept with him for most of the race. He pulled a bit of gap on me towards the end of the moto as I maybe started to get a little tired working the 250 more to keep up. There's a lot of long uphill drags at Villars and the 500's would get away from you there so you had to try and make up the time in the tighter sections. I keep Ron honest for the most of the race. Of course I don't know how hard he was pushing but it was awesome to have him in sight most of the moto and bring it home second. I knew RJ was coming and he got up to second in the last 10 mins or so but I had a good gap over him and kept charging forward. I felt good and didn't feel nervous, everything was flowing. Like I said, I rode to my potential that day. If I could've got a better start I think I could've raced Lechien harder for the win, but hey ho we'll never know.
"The result was a big thing for me because growing up in that 80's era to race against people like Lechien, RJ, Jeff Ward, Broc Glover and David Bailey was always an ambition of mine. They were my icons and the American riders that went before them. It never quite worked out that I went and raced a professional season in America, which was the dream, so to race them at the MXDN and be in the mix with them was a big deal for me. It was probably a stand out moment for Jean Michael Bayle too. We were both young kids and nobody had really got that close to the Americans and raced them to the flag very often at the MXDN. I'm a year older than JMB, I was 18 so he was 17 and we were out there mixing it with them. JMB was on fire on that 125 and of course with the race in France the crowd loved it. I just remember it as a good, chilled out weekend where I felt good and rode good. Not many people would beat Ricky at the time so I'm glad I managed to do it on that stage."
To read three times World Motocross Champion, David Thorpe's greatest race >>CLICK HERE<<