Motomondo announces Rieju riders for the 2022 British Hard Enduro and Sprint series.
We are thrilled to announce that Motomondo UK will be supporting some riders in the 2022 season of the British Hard Enduro Championships/ British Enduro and some World Championships including Red bull Romainiacs, Erzberg and Sea to Sky.
Since the buyout of the Gas Gas factory in 2020 with KTM taking the name and the Trials bike, and Rieju taking the Enduro bike, it was not going to be long before we saw this iconic bike back on the podiums at various Hard Enduros and Sprint races around the country and around the World. Well now is the time when we will see more in the UK and Ireland due to the sponsorship deals with the UK importer Motomondo and various dealers who are helping with the push. Since the bike is still running a carb, it is still the favourite for a number of riders, especially a Ex World Champion here and there. It always was a fantastic bike, and now certain parts like the starter and kickstart have been dramatically changed and been updated with a few other mods for the bike along the way, making this bike one of the best spec'd bikes on the market.
The bike is already in some selected dealers and with other dealers taking stock in the next few weeks means that we will have a steady dealer network within a fairly easy drive for most people.
We will have some try out days planned around the country in the next few weeks and months for riders to try for themselves how good the bike is.
So for the sponsorship we have partnered with some dealers with other dealers following suit, who will be prepping the bike and looking after the rider before, during and after each round. The Rieju factory will also be offering support at the World rounds for these riders and they will also be helping at the Red Bull Romainiacs, Erzeberg and Sea to Sky with other sponsored Rieju riders from around the World.
Motomondo are also pleased to be partnering with Mick Extance Experience in Wales where there is 1500 acres of Enduro terrain. Mick Extance will have the latest 2022 machines available for anyone who wants to come and try the bike, try Enduro for the first time or even if they just want to get a little bit of practice and teaching from Mick and his team.
MITCH BRIGHTMORE.
Mitch who is from Buxton in Derbyshire and is only 19 years old started riding bikes at the age of 5 and rode Trials until about 18 months ago. Mitch is now well established in the UK Hard Enduro scene. His recent P3 podium at The Tough One behind Billy and Knight was a great and well deserved result. Mitch is a true 'racer' and no doubt will continue to improve through 2022.
Mitch will ride the new 2022 RIEJU MR300PRO based (and improved) on the 2018/19 GASGAS EC300 that was well proven in the hands of Danny McCanney, Alex Snow, David Knight and Gethin Humphreys to name a few. This bike is sponsored, supplied and prepped by John Shirt Motorcycles.
JACK WINN.
Jack Winn from the North East of England. A full time plumber started riding Trials bikes at the age of 14 then made the change to enduro in 2016, and then started his extreme enduro career in 2017, and winning the British Hard Enduro Championships Clubman 2021. This year, he'll be riding a Road Track and Trials Rieju MR 250 PRO in the British extreme enduro championship, some club level races and some world rounds depending on funding. Hoping for some strong results in the British at expert level. Supporting me this year will be : Motomondo, Rieju UK Road Track & Trials, Mick Extance Experience, Rope access trade solutions, Race 2 off-road and help from his Mother, sister and girlfriend.
ADAM EXTANCE.
Adam Extance is one of those guys who is not just good on an Enduro bike but he is equally able at riding MX, Road racing and even speedway where he rides for Plymouth Speedway. Adam said "I'm really grateful to Motomondo and Rieju for the opportunity to race in the WESS series this year and hopefully some British rounds onboard my Rieju MR pro 300, we have built a good relationship so far working together In our experience days. I have focused a lot on speedway over the recent years and still have commitments there, but I feel this opportunity is too good to miss. Thank you to Plymouth speedway for allowing me to switch between the 2 disciplines, everyone knows I love riding my enduro bike so it will be nice to give it a serious go. I'm looking forward to getting stuck in and hopefully get some good results."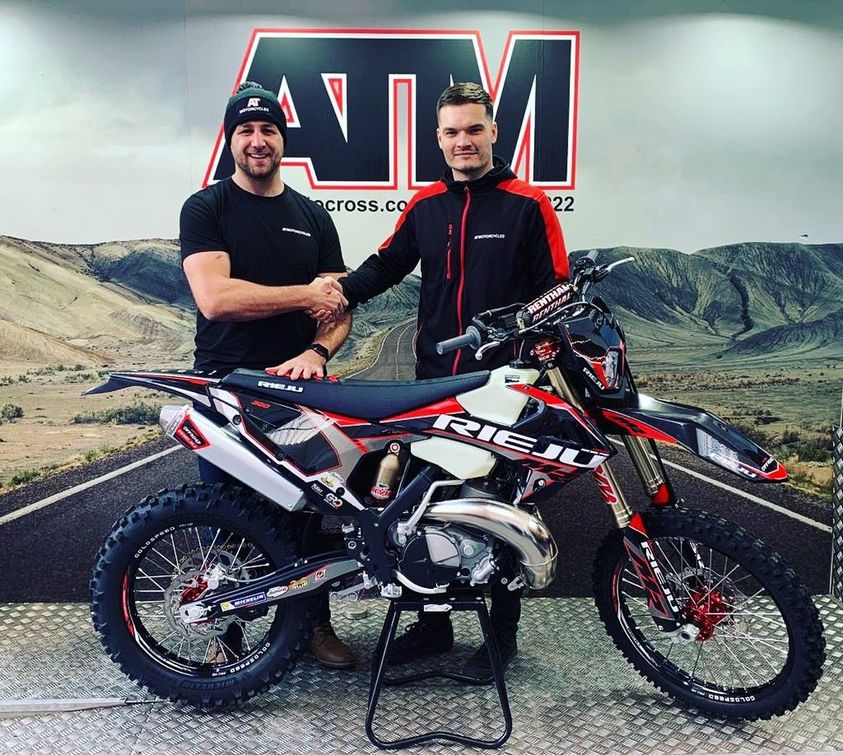 WILL KEENAN.
Will Keenan from Sulby in the Isle of Man now residing in Gloucestershire with his wife Claire-Louise and baby boy Rupert. The big Manxman grew up racing mx with the Knight & McCanney brothers. This year he will be racing on the AT Motocross Rieju 300 Pro and will be competing in local South West events and the British Expert Enduro Championship, British Expert Sprint Championship Class and the open class of selected World Enduro GP rounds. His goal for 2022 is to push for some top results in the British Championship. Supporting Will this year will be: AT Motocross.com, 101 Suspension, AS3 Performance Parts, Motofit Training, Mick Extance Experience Days and The Shore Group.