Kennett in the spotlight! 2019/20 Pitbike Speedway Championship Round 2 – Race Report and Results
A faultless maximum in the heats followed by a tapes to finish win for Edward Kennett saw him rule the Eastbourne Speedway Mini Track as it hosted the second round of the 2019/20 Pitbike Speedway World Championship.
Images courtesy of Dale Baldwin Photography
Following behind him was Jason Edwards and Charley Powell off the back grid in the A Final, with Mitch Godden also off the back grid in fourth having passed Benny Read who held 3rd for the majority of the race. A final seeded Martyn Sturgeon raced to a creditable 6th followed by Paul Knott & Dan Berwick.
James Bowles didn't win the Clubman award as Dan White won the heats, but he was the highest finishing Clubman having jumped 4 finals. Pro Am next time Mr.elbows? 😉
Mark Edwards filling in for his son Daniel, was the highest placed Pro-AM. Having qualified for the D final and just falling short in the C finals.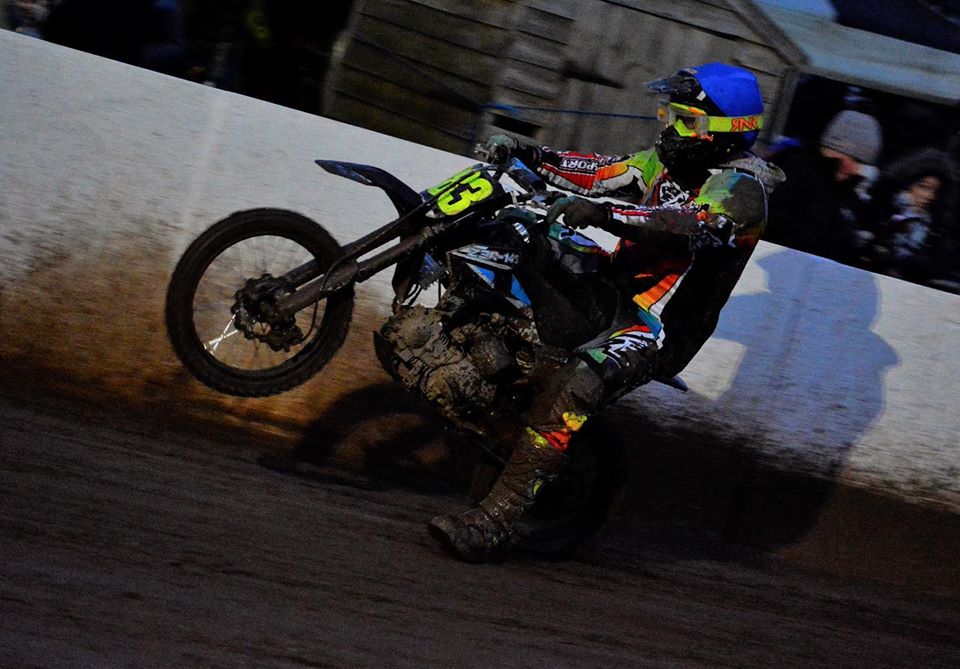 Thanks again for everyone who turned up hope you enjoyed it, the track will come good just need less rain. See you at the King of the Ring Iwade.
Standings after Two rounds
1. Edward Kennett 50 50 – 100
2. Charley Powell 49 48 – 97
3. Mitchel Godden 47 47 – 94
4. Paul Knott 48 44 – 92
5. Connor Dugard 46 42 – 88
6. Benny Read 42 46 – 88
7. Dan Berwick 45 43 – 88
8. Jim Clement 43 41 – 84
9. Martyn Sturgeon 38 45 – 83
10. Simon Field 44 38 – 82
11. Charlie Heal 41 39 – 80
12. Joe Penfold 40 40 – 80
13. Mark Edwards 39 35 – 74
14. Jesse Moore 36 37 – 73
15. Jake Szabo 35 33 – 68
16. Jack Penfold 28 34 – 62
17. Aaron Shubert 30 30 – 60
18. Lewis Ballentyne 27 29 – 56
19. Kieran Robb 33 22 – 55
20. Jako Nottingham 25 28 – 53
21. Garry Ram Dunn 20 32 – 52
22. Josh Russell 29 23 – 52
23. Paul Smith 32 19 – 51
24. Chris White 23 27 – 50
25. Jason Edwards 0 49 – 49
26. Ian Lee-amies 18 31 – 49
27. Derek Keys 31 17 – 48
28. James Bowles 17 25 – 42
29. Trevor Steward 21 20 – 41
30. Lee Riley 22 16 – 38
31. Peter Thurston 37 0 – 37
32. Dave Heal 0 36 – 36
33. Daniel Edwards 34 0 – 34
34. Michael Cooper 12 21 – 33
35. Jamie Sealey 16 11 – 27
36. Stuart Lee-amies 14 13 – 27
37. Keith Strudwick 0 26 – 26
38. John Riley 26 0 – 26
39. Jon Brooker 15 10 – 25
40. Barry Coates 24 0 – 24
41. Ben IIsley 0 24 – 24
42. Emily Moore 4 18 – 22
43. Dan White 9 12 – 21
44. Jon Moore 11 9 – 20
45. Neil Hooper 19 0 – 19
46. Steve Soper 2 15 – 17
47. Jeremy Skipp 0 14 – 14
48. Joe Clement 6 8 – 14
49. Kev Jones 13 0 – 13
50. Ron Steward 10 1 – 11
51. Luke Russell 3 7 – 10
52. James Pindard 8 1 – 9
53. Patrick Holford 1 6 – 7
54. Tom McDonald 7 0 – 7
55. Lydia Penfold 5 0 – 5
56. Derek Strudwick 1 1 – 2
57. Stuart Milton 1 0 – 1
58. Dyno 0 1 – 1