Hot Stuff from Vanluchene and Bax in World Sidecarcross Finale qualifying – Race Report, Results and Highlights
Another very warm morning set the scene for the opening sessions of the final round of the 2023 FIM World Sidecarcross Championship in France and the first look at the track for a good number of the teams. Friday evening featured a parade down the public road to the village, where the teams were presented to fans and supporters gathered in the village square.
Race Report by Barry Nutley – Images courtesy of WSC
Free practice highlighted some issues with heavy watering causing deep ruts at some critical points, which several teams claimed were difficult and potentially dangerous. These anomalies were immediately taken on board by the officials and organisers, who set to work. The problems would be addressed possibly not before timed practice but hopefully before qualifying for the GP races. Solo activity would also help to change the track nature.
Timed Practice – Frantic track work removed much of the deep surface material causing the problems, so we were looking for times better than the 2.20.00 recorded by the Prunier brothers in group "B" free practice group.
Group "A" got underway with Marvin Vanluchene/Nicolas Musset going straight for a fast time of 2.11.60 ahead of the Lielbardis twins and Davy Sanders/Luc Rostingt continuing their fine form. Koen Hermans jumped second into the 2.12's later in the session.
Tim Prummer and Dan Foden were evenly matched, but everyone would wait towards the end of the session to check track conditions. Prummer was third fastest at the close of play.
Group "B" saw Keuben/Lebreton kick off three tenths of a second outside of
Vanluchene's 2.12.00, ahead of the Leferink brothers and Marco Heinzer/Reudi Betschart. Halfway through the session, the Prunier boys edged ahead with a 2.12.131. All that became history when Justin Keuben waded in with a 2.10.00, and Etienne Bax then blew that out of the water going into the 2.09's.
The two rivals at the top of the standings would lead the field to the start gate in the two qualifying races in their respective groups.
Qualifying group "A" – With temperature in the high twenties, the gate dropped on the newly graded start straight.
Tim Prummer/Jarno Steegmans hit the front, but Dan Foden/Ryan Humphrey gave them a serious kiss going inside into the first turn and stole the lead. Newly crowned Dutch Champions Koen Hermans/Ben Van Den Bogaart sat third from Vanluchene/Musset.
Lap two and Prummer was out after a coming together, promoting Hermans to second place. Next time around, Hermans too had gone with a technical problem, so Foden/Humphrey were having a clear run at the front.
Vanluchene had dropped back a bit behind Davy Sanders/Luc Rostingt, but on lap five, the top three were together, nothing between them.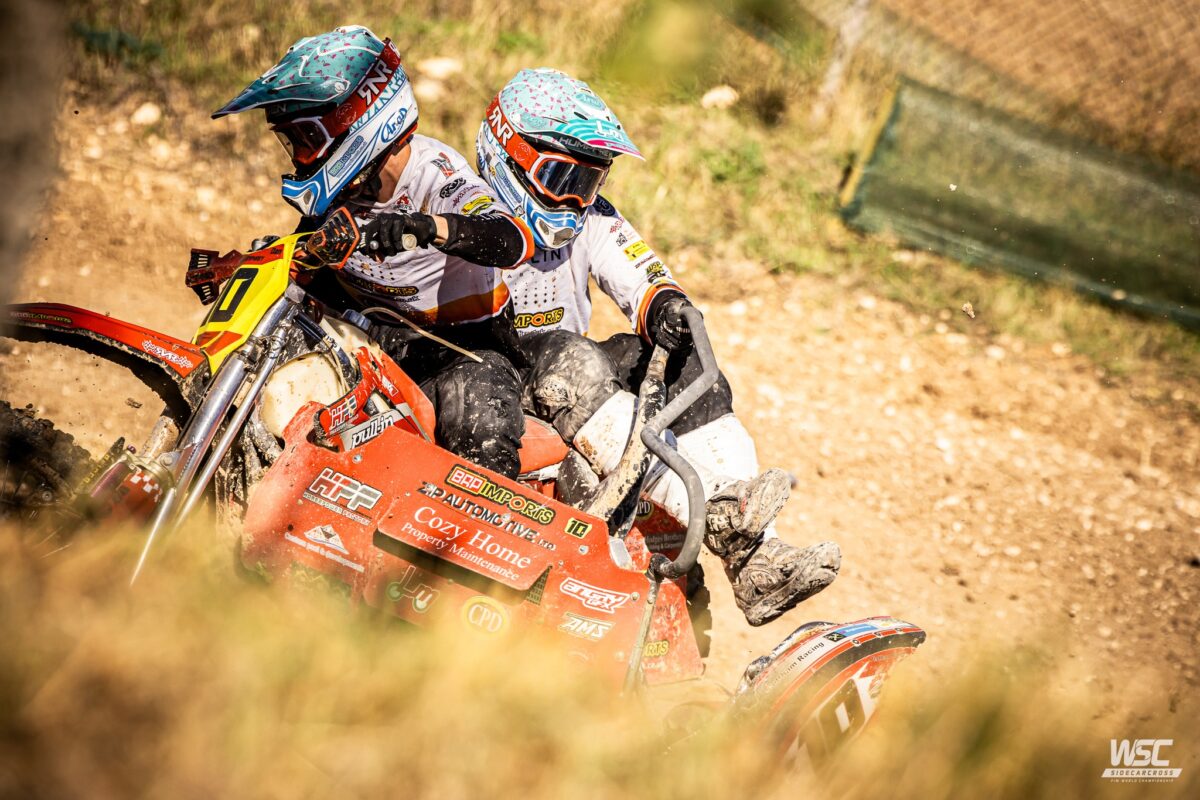 This was a terrific ride for the young British driver with his experienced sidekick Humphrey, now recovered form the overheating problem in Germany. That changed on lap six as Vanluchene fired through to the front, taking Sanders with him, with the Lielbardis twins also relegating Dan Foden to fourth.
Prummer/Steegmans were now fighting back after their mishap and were into eighth place with two minutes plus two laps remaining.
The Lielbardis boys, now lapping as fast as Marvin and Nicolas, were eyeing up Sanders for second, looking like taking it.
Gert van Werven/Aivar de Wiel were now fifth, but a good distance from Foden. It seemed like the British crew could hold this with two laps to go.
Still Sanders/Rostingt defended their second spot under huge pressure from the young Latvians. Closing stages and final lap, Vanluchene appeared to ease off a little, allowing Sanders to get within two seconds, but the red plate holders seemed to be containing it. That proved to be the case.
Result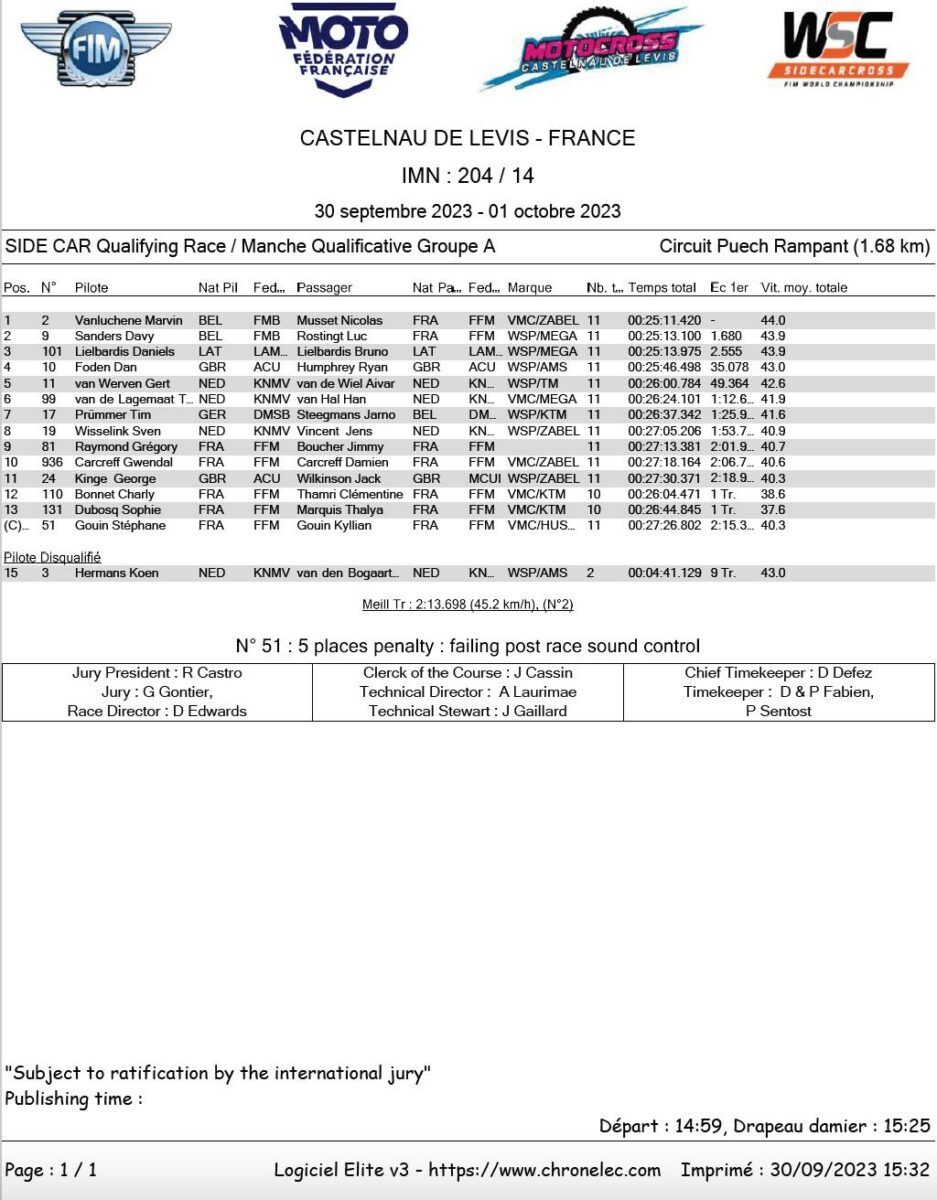 Qualifying group "B" – Once again, the charge to turn one was intense. Justin Keuben/Rodolphe Lebreton took a flyer and grabbed the lead from Etienne Bax/Ondrej Cermak. Tim/Sem Leferink were next from the Prunier brothers. Brett Wilkinson/Joe Millard were fifth and charging, but the front four teams were lapping faster.
Lap four and Bax/Cermak were ahead, now able to do their own thing and up the pace. This they did setting a fastest lap into the 2.11's and opening an eight second lead. Killian and Evan Prunier were now closing on Keuben having made their way past the Leferink brothers.
Marco Heinzer/Reudi Betschart, from a poor start had battled up to sixth place at the half-way stage. They were four seconds behind Wilkinson/Millard and closing on the British crew. If Dan Foden's speed is anything to go by in Quali "A" then this track suits left-handed sidecars.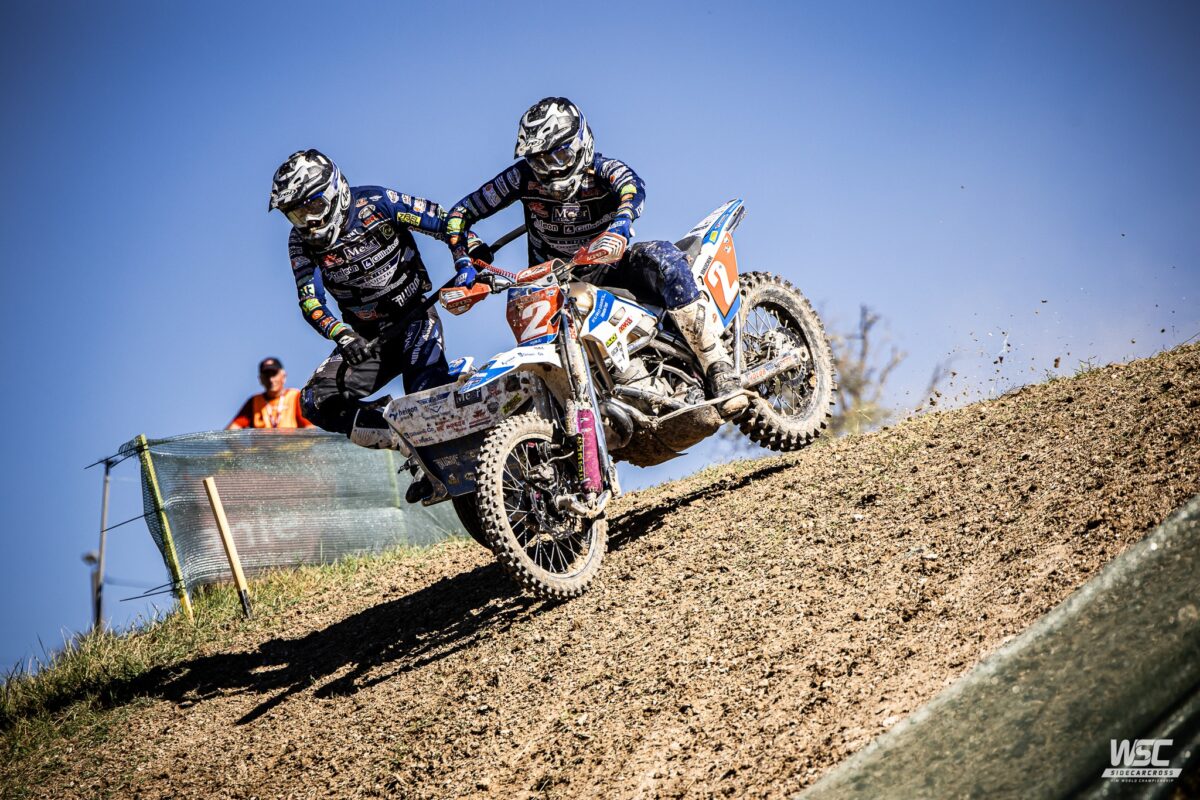 Lap six and the Prunier brothers were past Keuben and up to second place, but some twenty seconds adrift of the flying race leaders.
Wilkinson held firm behind Leferink with Heinzer's challenge appearing to fade as he still sat sixth.
Stephan Wijers/Loet van der Putten came next, and we were now into the final two laps. Etienne Bax and Ondrej Cermak could do no more, they would secure prime choice for tomorrow's gate and that would be their best possible chance for title defence.
Result 
We are on tiptoe here with a fantastic day of racing promised tomorrow.