Holcombe on top at Loxton! Endurocks Hare and Hounds Championships Round 2 – Race Report and Results
Sunday saw Endurocks events return to the track with their 2nd round of the 2020 Hare and Hounds Championship. With an entry of around 150 competitors, the technical track at Loxton was set to be a tough one, an unexpected soaking on Saturday night made the track even more difficult in the opening laps but it soon dried out and turned out to be a wicked day.
Report by Sam Warren – Images courtesy of Hayley's Photography 
The Experts class was stacked with riders including the likes of Steve Holcombe, Alex Snow, Ricky Wiggins and Charlie Frost. Frost took the holeshot and the early lead before being reeled in by Wiggins who set an almighty pace through the tight woodlands and took the lead where he would stay until Holcombe found another gear and passed him in the closing laps. The Experts top 5 were 1st Steve Holcombe 2nd Ricky Wiggins 3rd Alex Snow 4th Charlie Frost 5th Ant Milliar.
Next to hit the track were the Clubman riders with 50 riders in the class this was something to behold. Joe Parfitt took the early lead and held that position all the way to the chequered flag. He was followed by 2nd Lee Meredith 3rd James Larcombe 4th Sam Richards 5th Jamie Harvey.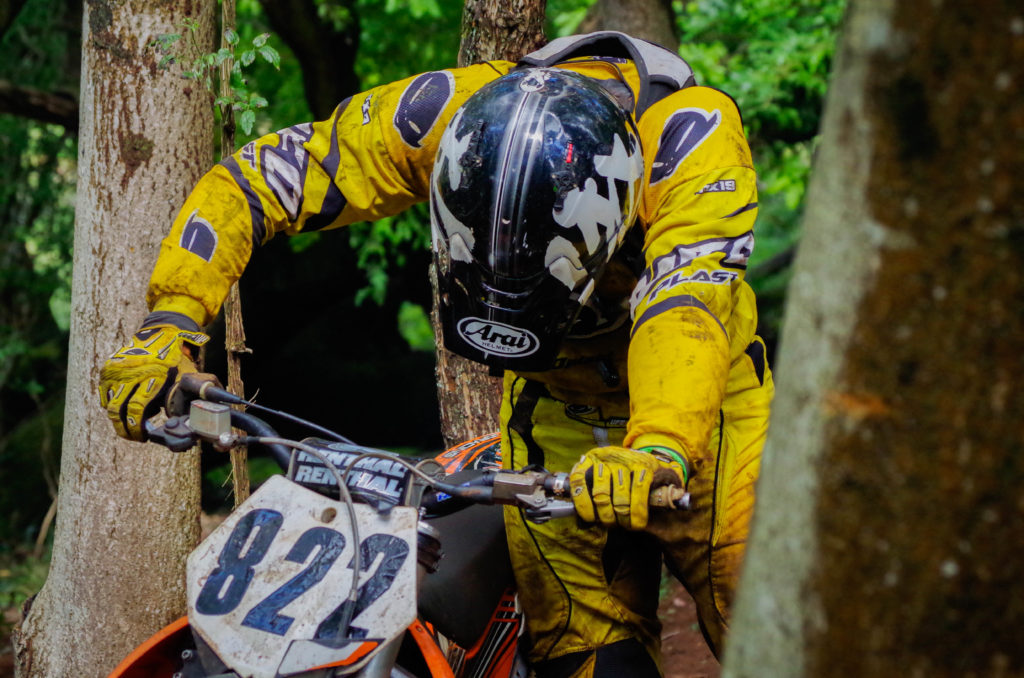 In the Clubman over 40's Tony Penhaligon had one a great ride finishing a lap up on the rest of the class he was followed by 2nd Philip Gilder 3rd Gary Potts 4th Karl Langford 5th Michael Brooks
In the Sportsman class Sam Warren took the early lead and stayed there for the majority of the race until Stuart Williams passed him for the lead in the closing laps. The Sportsman top 5 were 1st Stuart Williams 2nd Sam Warren Fathead Racing 3rd Jose Javier Ciordia Redondo 4th Logan Jones 5th Daniel Hern.
Michael Harlow put on a show in the Sportsman over 40's finishing 2 laps ahead of the rest of the field! He was followed by 2nd Jon Sheppey 3rd Simon Ring 4th Ben Lyons 5th Simon Kenchington.
The Novice riders were definitely in for a challenging day with the track even catching some of the experts off guard so fair play to all who got round! 1st Lloyd Profit 2nd Jack Rudd 3rd Scott Lintott 4th Luke Hughes Lp Racing 5th Stephen Gibbs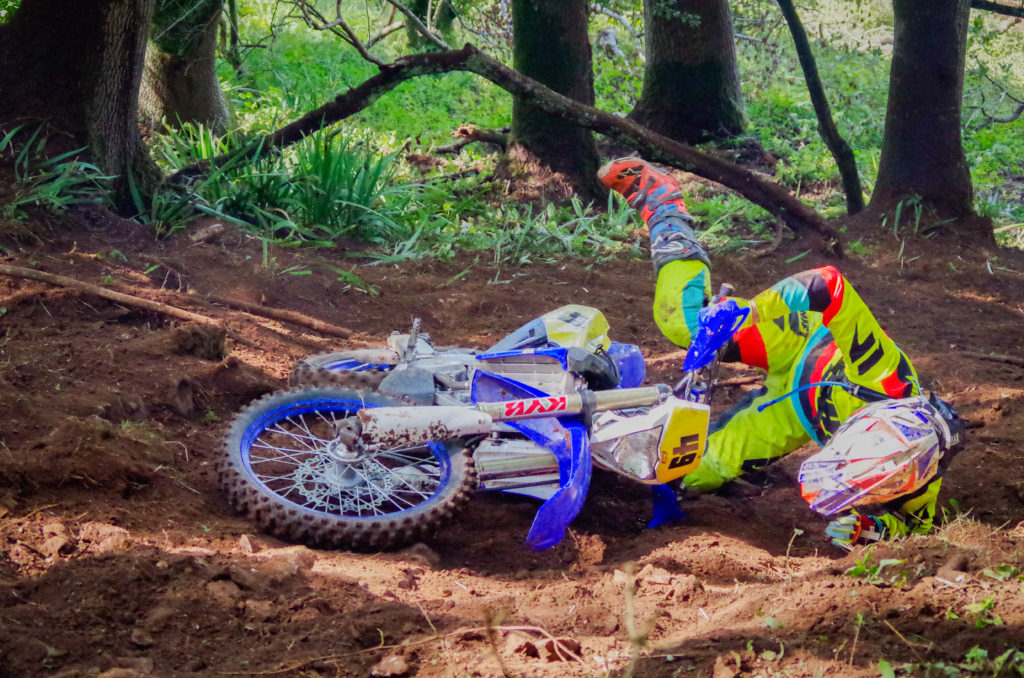 The next round is not one to be missed on August 2nd at Exebridge outside of Dulverton, this venue only runs every other year so it should be a real treat. Booking in link is here https://www.webscorer.com/register?raceid=216757
As always thanks to all the marshalls and staff for all your help on the day.
Results
Place Bib Name Category Time
1 700 Steve Holcombe Experts 2:39:56.2
2 29 Ricky Wiggins Experts 2:40:24.3
3 313 Alex Snow Experts -1 lap
4 442 Charlie Frost Experts -1 lap
5 38 Ant Milliar Experts -2 laps
6 60 Mitch Frost Experts -2 laps
7 98 Chris Milliar Experts -2 laps
8 123 Josh Player Experts -3 laps
9 188 Jamie Buckingham Experts -3 laps
10 334 Joe Parfitt Clubman -3 laps
11 199 Gary Mccoy Experts -3 laps
12 135 Caius Hill Experts -3 laps
13 86 Jeremy Box Experts -3 laps
14 160 Lee Meredith Clubman -3 laps
15 43 Martin Jessopp Experts -3 laps
16 20 Kyle Jacobs Experts -3 laps
17 37 Marcus Alba Experts -3 laps
18 96 Harry Neal Experts -3 laps
19 911 Tony Penhaligon Clubman Over40's -3 laps
20 180 James Larcombe Clubman -4 laps
21 613 Jack Talbot Experts -4 laps
22 113 Gareth Leonard Experts -4 laps
23 227 Harry Jefferies Experts -4 laps
24 30 Sam Richards Clubman -4 laps
25 40 Geoff Brigden Experts -4 laps
26 596 Niles Reid Experts -4 laps
27 312 Jordan Brigden Experts -4 laps
28 224 Kurt Hodges Experts -4 laps
29 17 Jamie Harvey Clubman -4 laps
30 900 Olly Richards Clubman -4 laps
31 120 Ben Baker Experts -4 laps
32 811 Mark Kirby Experts -4 laps
33 95 Tayler Brooke LP Racing Clubman -4 laps
34 189 Philip Gilder Clubman Over40's -4 laps
35 67 Dylan Baynton Experts -5 laps
36 81 David Brown Clubman -5 laps
37 266 Thomas Williams Clubman -5 laps
38 79 Gary Potts Clubman Over40's -5 laps
39 292 Kyle Brookes Clubman -5 laps
40 661 Karl Langford Clubman Over40's -5 laps
41 169 Jack Twentyman Experts -5 laps
42 231 Mark Lewis Experts -5 laps
43 34 Michael Brooks Clubman Over40's -5 laps
44 141 DANE PALMER Clubman -5 laps
45 271 Craydon Rice Clubman -5 laps
46 5 Dan Fishlock Clubman -5 laps
47 126 Craig Barnes Clubman -5 laps
48 134 Joe Sullivan Clubman -5 laps
49 94 Curtis Colcombe Experts -5 laps
50 664 Dan Groom Experts -5 laps
51 150 Terry John Clubman -5 laps
52 48 Stuart Williams Sportsman -5 laps
53 614 Sam Warren Sportsman -6 laps
54 22 Adam Hughes LP Racing Clubman -6 laps
55 99 Jac Stevens Clubman -6 laps
56 75 Jason Wright Clubman -6 laps
57 203 Jadyn Giles Clubman -6 laps
58 53 Zac King Clubman -6 laps
59 204 Kirk Giles Giles Clubman -6 laps
60 431 Slim Leeming Clubman Over40's -6 laps
61 344 Andrew Williams Clubman -6 laps
62 251 Steve Reeves Clubman -6 laps
63 217 LloydProfit Novice -6 laps
64 65 Jim Browning Clubman Over40's -6 laps
65 611 Jose Javier Ciordia Redondo Sportsman -6 laps
66 111 Jack Burrough Clubman -6 laps
67 117 Phil Chapple Experts -6 laps
68 127 Jack Rudd Novice -6 laps
69 211 Logan Jones Sportsman -6 laps
70 77 Daniel Hern Sportsman -6 laps
71 23 Jack Packer Clubman -6 laps
72 460 Stewart Jarvis Clubman Over40's -6 laps
73 18 Ben Dyer Sportsman -6 laps
74 88 Robert Aldworth Clubman -6 laps
75 263 Kieran Price Clubman -6 laps
76 131 Philip Hull Clubman Over40's -6 laps
77 469 Craig Osment Clubman -6 laps
78 110 Michael Harlow Sportsman Over40's -6 laps
79 91 Graham Reid Clubman Over40's -7 laps
80 264 Ryan Daniels Sportsman -7 laps
81 712 DAVID COLTON Sportsman -7 laps
82 310 Ian Marcovitch Sportsman -7 laps
83 190 Kieran McLelland Clubman -7 laps
84 214 Alan Stringer Experts -7 laps
85 72 Stuart Westcott Sportsman -7 laps
86 771 Will Palmer Clubman -7 laps
87 555 Leo Swinfen Clubman -7 laps
88 52 Jack Ellis Sportsman -7 laps
89 172 Lee Lawton Clubman -7 laps
90 36 Matthew Cahill Sportsman -7 laps
91 70 Christian Shipley Clubman Over40's -7 laps
92 58 Scott Lintott Novice -7 laps
93 112 Ian Fortune Experts -8 laps
94 46 Jon Sheppey Sportsman Over40's -8 laps
95 222 Luke Hughes Lp Racing Novice -8 laps
96 273 Toni Burrows Clubman Over40's -8 laps
97 6 Stephen Gibbs Novice -8 laps
98 371 Simon Ring Sportsman Over40's -8 laps
99 261 Stefanie Jewell Clubman -8 laps
100 269 Gareth Rees Sportsman -8 laps
101 161 Jack Larcombe Novice -8 laps
102 89 Owen Richards Experts -9 laps
103 196 Ryan Curry Clubman -9 laps
104 54 Gareth Brook Novice -9 laps
105 49 Sam Morrison Clubman -9 laps
106 268 Robert Evans Novice -9 laps
107 471 Ben Lyons Sportsman Over40's -9 laps
108 444 Simon Kenchington Sportsman Over40's -9 laps
109 102 George Lovell Novice -9 laps
110 340 Matthew Guppy Clubman Over40's -9 laps
111 41 Mark Beer Clubman -10 laps
112 250 Adrian Francis Clubman Over40's -10 laps
113 119 Tom Bird Clubman -10 laps
114 198 David Nash Novice -10 laps
115 288 Garry Owens Sportsman Over40's -10 laps
116 822 Nicholas Lee Sportsman Over40's -10 laps
117 651 Rowan Penhaligon Clubman -10 laps
118 115 John Broomfield Novice -10 laps
119 167 John Foley Novice -10 laps
120 33 Chris Coward Sportsman Over40's -11 laps
121 996 Matt BUSBY Novice -11 laps
122 245 Nathan Twigg Novice -11 laps
123 130 Sam Wilson Experts -12 laps
124 27 Sam Lewis Sportsman -12 laps
125 411 Callum Powell Novice -12 laps
126 272 Adam Edwards Clubman -12 laps
127 138 Dean Bell Novice -12 laps
128 122 Robin Moulding Clubman Over40's -12 laps
129 136 Paul Kingston Clubman Over40's -12 laps
130 121 Harvey Jones Sportsman -12 laps
131 76 Martin Bell Sportsman Over40's -12 laps
132 314 Sean Clune Sportsman -12 laps
133 279 Rob Elliot Novice -12 laps
134 369 Thomas White Experts -13 laps
135 64 Ian Sandercock Sportsman Over40's -13 laps
136 396 -13 laps
137 991 Corey Bond Sportsman -13 laps
138 139 Josh Thomas Clubman -13 laps
139 35 Ryan Culverhouse Sportsman Over40's -13 laps
140 233 Ant Guppy Clubman Over40's -13 laps
141 78 Ryan Moore Clubman Over40's -13 laps
142 44 Steven Palmer Sportsman -13 laps