Harris & Cossar come out Swinging at the Masters! 2021 British Masters Grasstrack Championship – Race Report & Results
Chris Harris became the 17th name to go down in history as a British Masters champion last Sunday, whilst Mark Cossar added a record-breaking sixth British Masters crown to his already impressive CV. A packed crowd and stunning weather at ASTRA Grasstrack Club's Swingfield venue witnessed some furiously tough racing throughout the day, with plenty of highs and lows along the way.
Report and Results Images courtesy of Gareth Bemister – Action images courtesy of Tracy Habgood
Harris, who has always been plagued with bad luck at the British Masters, took a personal best 4th place in this season's FIM World Longtrack Championships, so was brimming with confidence. He won two of his four qualifying rides, making him second-highest point scorer at this stage. He had suffered a fall in an earlier heat which cost him some points, but it seemed that so many of the front runners were struggling to stay mounted aboard their machines.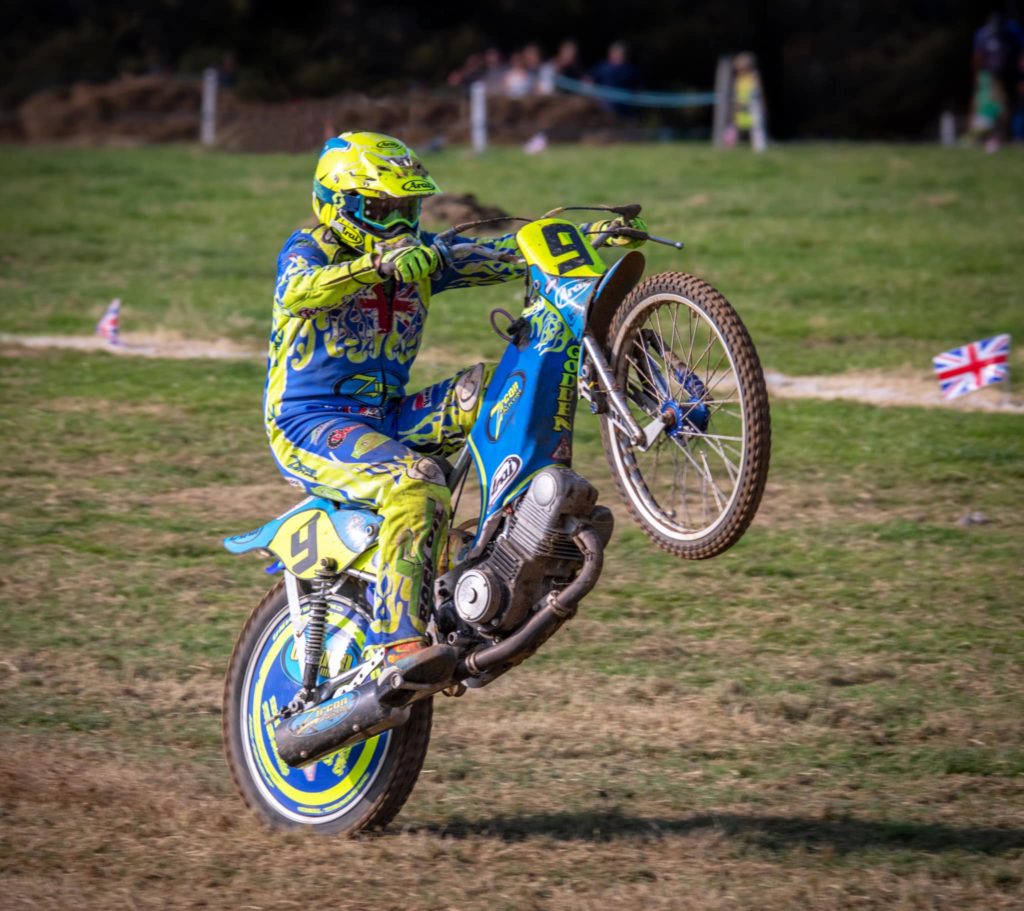 Defending champion James Shanes top-scored heading into the semi finals despite having an off himself in the heats. Another former champion, Zach Wajtknecht, went through his first three heats unbeaten and looked tremendously fast. But he too fell in his final heat, failing to finish.
Plenty of drama and misery was suffered by some of the other pre-meeting favourites. Paul Hurry took a nasty tumble when his primary belt drive failed in his opening ride, dumping the 4x champion onto the Swingfield dirt unceremoniously. Edward Kennett was another rider having a torrid day. The former Eastbourne Eagle just couldn't get to grips with the tough, demanding circuit and was down the scorechart by the semi finals.
However, several 'surprise packages' were relishing the conditions. Newcomer Alfie Bowtell rode consistently well throughout the meeting, picking up a solid heat win in his second ride and never being out of the top 4. The Plymouth Gladiators rider stepped in as wild card to replace Tim Nobes and certainly turned plenty of heads.
Dorset youngster Chad Wirtzfeld had one of his best rides to date. He looked in great form in the heats, winning two rides convincingly, finishing second in another. Charley Powell had also ridden consistently all afternoon, though a mechanical problem in his semi final almost cost him a place in the winner-take-all final. He narrowly elbowed out Daniel Winterton for the 8th spot, needing countback to split the two.
Mitch Godden, who was returning to solo racing having concentrated on the sidecars in more recent years, had a fantastic day. He was the 4th qualifier for the final, having won a heat. As the circuit became more challenging, Godden relished the conditions. But what was to come will be a memory for him that will last forever.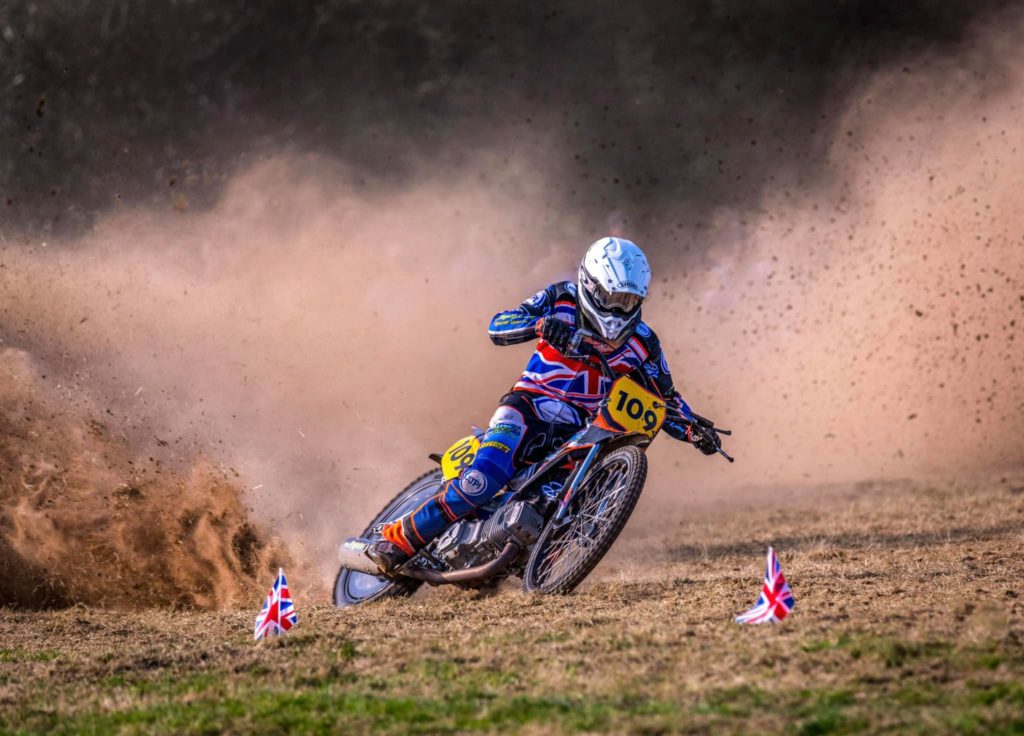 The high-pressure situation that is the winner-take-all final saw Zach Wajtknecht hunt down and pass Chris Harris in the opening lap. Wajtknecht, though being pushed by Harris, looked to have the victory in the bag but disaster would strike as he entered the third lap. Wajtknecht crashed to the ground in the middle of the pit corner, handing the lead to the hard-charging Harris who never looked back from there. James Shanes, who later discovered he had broken his wrist in an earlier crash, bravely rode on to finish second to 'Bomber'. Charley Powell looked set to take the final spot on the podium, but slowed drastically in the last half a lap. And in position, ready to pounce was none other than Mitch Godden, claiming his very first British Masters podium. Tony Atkin once again finished in the top 8, finishing with an outstanding 5th. Bowtell finished 6th in a remarkable performance in his very first British Masters. Chad Wirtzfeld finished a highly credible 7th. Such was Wirtzfeld's form on the day, he felt slightly disappointed with 7th place, feeling he had the speed to make the podium.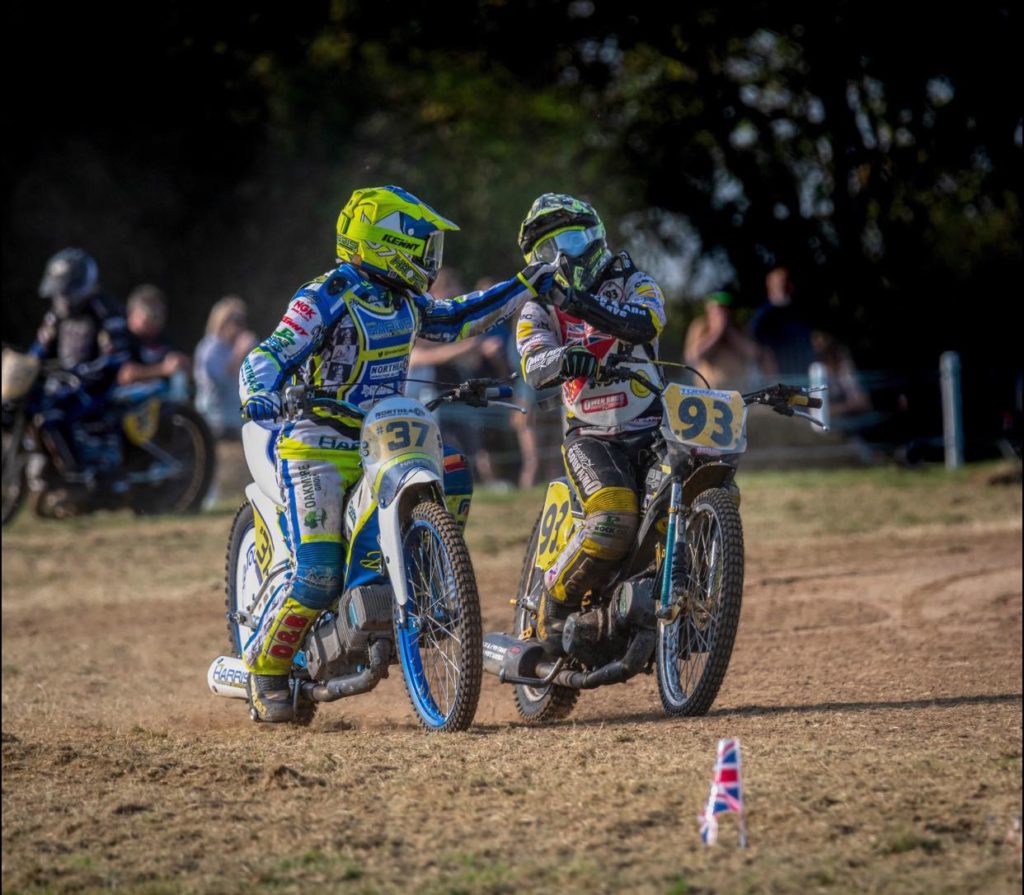 The sidecar class was as unpredictable as ever, with most outfits fighting over every position. Rob Wilson, who was partnered with the returning Alan Elliott, was involved in a high speed collision with Colin Blackbourn/Carl Pugh in the first group of heats. Sadly, Elliott had to be taken to hospital. Wilson was able to commandeer the services of Robbie Simmons as ballast for the remainder of what turned out to be Wilson's last meeting as a sidecar driver.
Old adversaries Gareth Winterburn/Liam Brown and Mark Cossar/Gareth Williams clashed in the first heat, with the latter coming out on top. From then on until the final, it was plain sailing for the Rugby racers, storming to 4 more wins with relative ease. For Winterburn/Brown, it was not quite so straightforward, though they performed brilliantly to win their remaining 4 rides, often fighting their way through some tough first corners.
Paul Whitelam/Richard Webb were never too far from the front. They had notched a win in their opening ride and then never fell out of the top 3. Welshman Neal Owen and Cornish passenger Jason Farwell were in tremendous form, driving the v-twin Godden to four impressive 2nd places, and a second in their semi final. Tom Cossar/Wayne Rickards were showing incredible speed, but a run of poor starts meant that they were having a lot of work to do to hit the front. Despite this, they headed into the final as the 6th point scorers.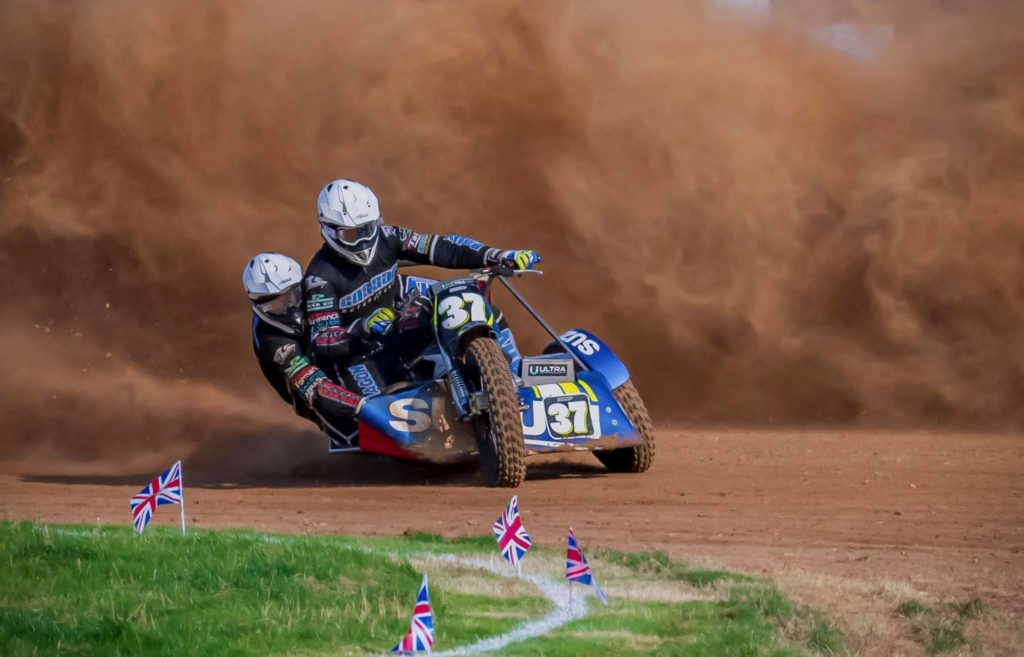 The winner-take-all final has been a sticking point for Mark Cossar in the past. Several times he has top scored in the heats, only to see things cruelly snatched from him in the final. As the opening two laps played out in the final, it looked like history might inexplicably repeat itself as Cossar/Williams saw Winterburn/Brown leading them and blocking their every move. But it was Winterburn/Brown who lady luck would play her final sinister hand to. Further back in the race, Neal Owen's passenger Jason Farwell fell from the machine and was stricken on the circuit, forcing clerk of the course Graham Hurry to stop the race. A restart would be required. Surely, it would be a big ask to head Cossar/Williams for a second time? As the rerun took place, it was Cossar/Williams who this time flawlessly hit the front and stormed away from the rest of the pack. Winterburn/Brown, who must've been fuming under their helmets, rode comfortably in second but couldn't eat into Cossar/Williams' healthy lead. The race for the final podium spot saw another fight through the field from Tom Cossar/Wayne Rickards.
They picked up their best ever Masters by finishing 3rd. A thought must be spared for the brothers Cossar, who sadly lost father Andy just over a year ago. This was a performance a father would be proud of from both Cossar brothers.
As mentioned above, it turned out to be the final meeting for Rob Wilson. After 34 British Masters appearances, 2 British Masters championships, 28 top ten finishes and 48 race wins, it finally came to an end this Sunday with a fantastic fourth place. He has been a tremendous ambassador for the sport and will be greatly missed by all. However, he will still be heavily involved as long-time passenger Terry Saunters will take the bars of the outfit over for 2022.
The names Chris Harris and Mark Cossar/Gareth Williams are etched in history as the 38th British Masters champions. Interestingly, both champions were racing the number 37 and both live on the same estate in Rugby! A huge well done to all of the competitors taking part in the event. It was a meeting to be remembered for all.
Results