Duncan wins WMX in France to increase her winning streak to three in a row – Race Report, Results and Highlights
The fourth round of the FIM Women's Motocross World Championship in Villars sous Ecot has held all its promises as Big Van World MTX Kawasaki's Courtney Duncan dominated once again, affirming and extending her lead in the Championship.
The races of Saturday and Sunday were marked by the new layout which gave great challenges for riders while the public responded present with lots of cheering throughout the whole weekend.
In the first race, MX Fonta Racing's Kiara Fontanesi made an excellent start and found herself leading the race in front of RFME GasGas WMX Team's Daniela Guillen, Larissa Papenmeier's Yamaha Racing 423 and Courtney Duncan.
While Fontanesi edged away at the lead, it was Duncan who started to let her talent speak as she overtook Papenmeier for 3rd on lap 2 and power through to catch up Guillen. Duncan finally was close enough to Guillen on lap 4 and breathed pass the Spanish rider. Duncan was really on form and ready to make a charge on Fontanesi. Fontanesi fought well as she even increased her lead but Duncan was simply too quick as she set a couple of fastest laps and was particularly quick on sector 2 as she incredibly set the fastest sector 4 times in a row. On lap 8, Duncan kept pushing and eventually passed Fontanesi who couldn't contain her.
Duncan finally won the race comfortably while Fontanesi settled for a good 2nd place.
Guillen maintained her good pace and consistency as she finished 3rd in the end. Papenmeier mirror the same kind of race as Guillen as she got overtaken once by Duncan and finished 4th in the end.
The 3rd in the Championship before the round of France, Lotte Van Drunen had to fight her way up after an average start that saw her crossing the line of the first lap in 13th place. However, the young Dutch rider got us used to see her fighting spirit this season and was quick to pick up her pace. She went up to 6th already on lap 3 showing and keeping on that position until the last lap where she found the way to pass Fantic Maddii Factory Racing's Lynn Valk for 5th.
Valk also showed a good consistency on the back of her podium in Spain as she delivered great quality and pace to move up from 7th on lap 1 to 5th on lap 2 only to get overtaken by Van Drunen and finish 6thth in the ned.
Sara Andersen keeps showing good quality as she has often done this season and finished at a good 7th place while also overtaking Giorgia Blasigh and Amandine Verstappen to move up to 7th on lap 2 and stay there until the end. Home rider Mathilde Martinez rode strongly at home supported by the crowd as she managed to capitalise on few mistakes from other riders early in the race to get to 8th on lap 43 and never give up her position. Verstappen after a mistake on lap 3 moved down from 6th to 9th to finish 9th in the end. Blasigh could not do better than 13th in the end.
JK Racing Yamaha's Charli Cannon who started the race very well and was 5th on the turn of lap 1 got clipped by behind and crashed. The other rider involved was Ceres 71 Racing's Nancy Van De Ven who unfortunately could not finish the race and retired from the round of France. Further updates on her conditions will be given shortly.
Cannon could only pick up the race on 14th and went down another time the race. In the end she got disqualified for cutting the track and had to focus on race 2.
In race 2, Duncan took control of the race from start to finish and was uncatchable as she created a 10 second gap with the second quickly. With another perfect 1-1 Duncan asserts herself at the top of the Championship and increase her lead.
Behind her Fontanesi continued to show great pace this weekend as she quickly found herself in 2nd but also had to show all her determination to stay 2nd as she was pushed by Daniela Guillen.
Guillen displayed some amazing speed as she set the fastest laps few times during the race to go up from 6th on lap 1 to right behind Fontanesi on lap 5. Guillen managed to pass Fontanesi for 2nd on lap 6 as the Spanish was too quick for Fontanesi. That is when Fontanesi never gave up and increased her pace to take back her 2nd spot a couple of laps later. Fontanesi showed great speed and finished 2nd while a valiant Guillen settled for 3rd after a strong race.
Similarly to race 1, Van Drunen had to battle her way up after getting to 8th on lap 1. The young talent showed very good skills to make several overtakes and get to 5th on lap 4. She quickly caught up with Papenmeier who rode well this weekend. Van Drunen managed to pass Papenmeier for 4th after a give and take for few turns. Van Drunen kept a 4th place until the end while Papenmeier settled for 5th.

Valk didn't start very fast as she found herself 10th on lap 1. Valk is starting to show great consistency as she didn't shy away from making passes and muscled her way to the 6th place with a skilful pass on Verstappen on lap 5 to stay there until the end. Verstappen had to settle for 8th in the end.
Another consistent rider was Andersen who is regularly making top 10s. Andersen rode within the top 10 during the whole race to move up form 9th on lap 1 to another 7th place while she never got overtaken. Danee Gelissen and Mathea Seleboe managed to get to 9th and 10th respectively which is promising for the following rounds.
In the end Courtney Duncan keep a winning streak going with now three wins in a row in front of a very good Kiara Fontanesi who proudly comes back to the podium in second with a 2-2 and the consistent Daniela Guillen who keeps performing to very high standards with 3-3 and clinched podiums in every race this season.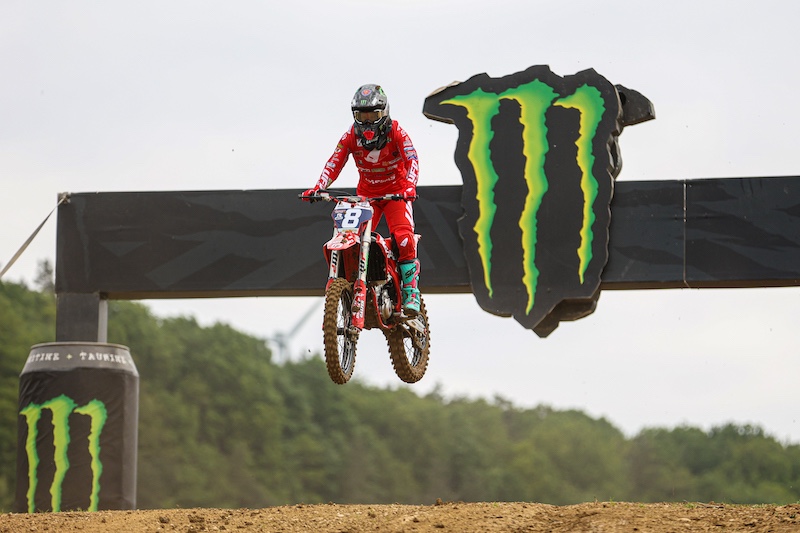 Courtney Duncan: "It is a really good weekend for me, I cannot ask for much more. The first race was really challenging and the second race was easier in term of conditions. So I'm very happy with 2 race wins and extending the lead in the championship. It was great racing and it is good to see Kiara (Fontanesi) back on the podium too. I'm looking forward to next round"
WMX – Race 1 – Top 10 Classification: 11. Courtney Duncan (NZL, Kawasaki), 26:40.276; 2. Kiara Fontanesi (ITA, GASGAS), +0:27.263; 3. Daniela Guillen (ESP, GASGAS), +0:35.187; 4. Larissa Papenmeier (GER, Yamaha), +0:41.001; 5. Lotte Van Drunen (NED, Kawasaki), +0:44.094; 6. Lynn Valk (NED, Fantic), +0:47.843; 7. Sara Andersen (DEN, KTM), +1:25.376; 8. Mathilde Martinez (FRA, GASGAS), +1:38.506; 9. Amandine Verstappen (BEL, Yamaha), +1:45.255; 10. Martine Hughes (NOR, Husqvarna), +2:04.735
WMX – Race 2 – Top 10 Classification: 1. Courtney Duncan (NZL, Kawasaki), 25:33.282; 2. Kiara Fontanesi (ITA, GASGAS), +0:07.444; 3. Daniela Guillen (ESP, GASGAS), +0:09.403; 4. Lotte Van Drunen (NED, Kawasaki), +0:17.509; 5. Larissa Papenmeier (GER, Yamaha), +0:31.275; 6. Lynn Valk (NED, Fantic), +0:37.028; 7. Sara Andersen (DEN, KTM), +0:57.815; 8. Amandine Verstappen (BEL, Yamaha), +1:07.731; 9. Danee Gelissen (NED, KTM), +1:18.948; 10. Mathea Seleboe (NOR, Yamaha), +1:21.736
WMX – Overall Top 10 Classification: 1. Courtney Duncan (NZL, KAW), 50 points; 2. Kiara Fontanesi (ITA, GAS), 44 p.; 3. Daniela Guillen (ESP, GAS), 40 p.; 4. Lotte Van Drunen (NED, KAW), 34 p.; 5. Larissa Papenmeier (GER, YAM), 34 p.; 6. Lynn Valk (NED, FAN), 30 p.; 7. Sara Andersen (DEN, KTM), 28 p.; 8. Amandine Verstappen (BEL, YAM), 25 p.; 9. Mathilde Martinez (FRA, GAS), 22 p.; 10. Danee Gelissen (NED, KTM), 21 p
WMX – Championship Top 10 Classification: 1. Courtney Duncan (NZL, KAW), 185 points; 2. Daniela Guillen (ESP, GAS), 165 p.; 3. Lotte Van Drunen (NED, KAW), 150 p.; 4. Lynn Valk (NED, FAN), 128 p.; 5. Kiara Fontanesi (ITA, GAS), 127 p.; 6. Larissa Papenmeier (GER, YAM), 105 p.; 7. Sara Andersen (DEN, KTM), 103 p.; 8. Charli Cannon (AUS, YAM), 91 p.; 9. Britt Jans-Beken (NED, YAM), 84 p.; 10. Giorgia Blasigh (ITA, KTM), 73 p