Dirty Dozen with Tim Greig
Track racing globetrotter Tim Greig unleashes his Dirty Dozen answers…
Feature Image Courtesy of Mick Jenness Photography
Dirt Hub: Do you have a pre-race playlist?
Tim: I grew up racing long before i-pods and mobile phones had been invented and I have never really got into listening to music at meetings. Plus, our races come pretty thick and fast once the meetings are underway so you kind of get used to quickly getting into the zone once you start your engines and get your goggles on.
DH: When was the last time you cried?
Tim: I'm not really an emotional person. I don't get particularly excited in the good times, but, conversely, I don't let the bad times get to me either. I know that probably makes me a bit boring…..but it's true! I'd like to think, though, that it does mean I can stay calm in most situations.
DH: What is your favourite inspirational quote?
Tim: I'm full of quotes and sayings and use different ones at different times. Probably my favourite racing one over the years has been ….."to finish first, first, you've got to finish". I firmly believe that you've got to make sure that both you and your machinery are very well prepared and equally you've also got to have that determination to get to the end of a race no matter what.
DH: Do you have any weird superstitions or pre-race rituals?
Tim: I have raced for many years now and kind of just get on with the job. I do go through a routine of visualising the start of the race before I go out and always make a point of watching the start officials for their routines before my own race – I guess this is more about pre-race planning rather than a ritual as such. I do have a bad habit, once I get to the start line, of checking multiple times that my fuel is switched on – even though, of course, with the introduction of fuel injection we no longer have fuel taps! I just can't get out of the habit.
DH: What drives you most to get up in the morning and go training?
Tim: I've always liked all sports and enjoy any form of physical exercise so have never really struggled to go out training. I particularly like cycling and love to get out into the fresh air and open countryside of the Lincolnshire Wolds – there's nothing better on a summer's day. We used to have a large group of us that would meet at my house at least twice a week and we would go out in all weathers – it included quite a few top level road racers at the time and our regulars for a few years included Karl Harris, Guy Martin, Rob McElnea (who was running the Yamaha BSB Team at the time) and some of the Honda BSB Mechanics. Josh Brookes made a guest appearance one week too. I think it's regular training that's helped me continue racing for so long. Looking back I also think my best year's of racing have also been when I've also been at my fittest (which is probably no coincidence).
DH: If you didn't race what sport would you play or take part in?
Tim: Whilst I enjoy most sports my favourite is definitely cycling whether that be mountain biking or road cycling. I have over many years taken part in lots of cycle events and there are so many more to choose from these days with lots of sportives being organised up and down the country most weekends. I try and take in as many as I can.
DH: What is your biggest phobia?
Tim: Double Jumps – never enjoyed them when I was motocrossing tbh. It always took all of my courage to give them a go. It's probably why I ended up in sports that simply required me to go in a circle on a flat track!
DH: Who is your biggest sporting idol?
Tim: Dave Thorpe. He achieved so much in what was a golden era for the sport. He always comes across as very humble and he's a nice bloke too. He continues to be a great role model for everyone in off-road sport.
DH: Where do you see yourself in 5 years time?
Tim: Probably retired! I've raced for many years and will try and continue racing for as long as I can be reasonably competitive. After 45 years of racing though, it does get a little harder each year and I know I get slower too! I am, though, now in a sport where age is less of a barrier as it's not particularly demanding on your body – so hopefully I've got a few more years still left in me.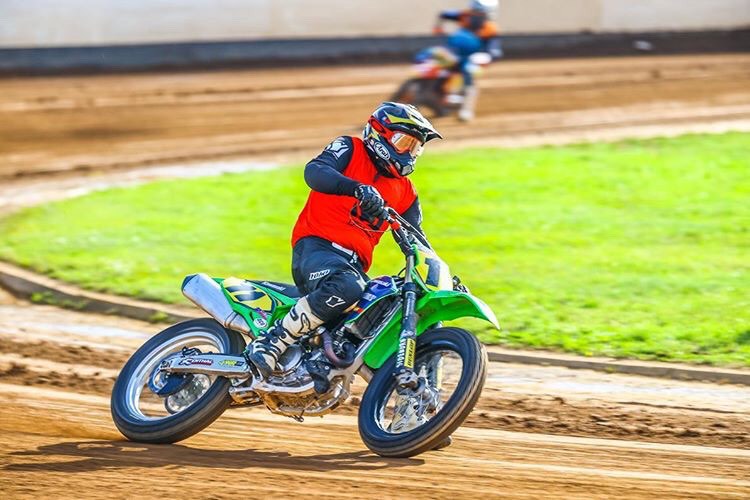 DH: What's your all-time favourite movie?
Tim: It has to be "On Any Sunday". I saw it the first time at the local cinema back in the 1970s and it got me hooked. I've been lucky enough to race against American Dave Aldana, who was one of the stars of the film. I'd recommend it if you've not seen it yet – even though it'll be nearly 50 years old now I think anyone who races will still find some inspiration in it.
DH: Who has had the biggest impact on your career?
Tim: Initially, my Dad who was a former club road racer. I always had a motorbike from an early age and he got me into Schoolboy Scrambling. Initially, I only rode round the fields at home until I got invited by a friend to go and watch a local schoolboy scramble meeting with the YMSA and I remember being mesmerised watching kids my age racing around (I'd only seen adults road racing until then and didn't know that kids could race)….. we were racing from that point onwards. Once I reached 20 he wanted me to go road racing, which was always his passion, but at the time I declined and continued to do my own thing off -road from that point onwards. Looking back it is probably my only regret that I didn't give it a go. Later in racing, I met Pete Boast, when he was first setting up flattrack racing in the UK – he convinced me to give it a go. For the next few years we raced around Europe and in America too so Pete's introduction to Flattracking definitely opened up new chapters in racing for me and which is probably why I am still racing today.
DH: What is your philosophy on life?
Tim "To discover new lands, you've got to have courage to leave the shore" i.e. you've got to take a few risks in life to take advantage of the many opportunities that exist, some of which you may not even know about. You usually find that most things work out pretty well in the end so give them a go….and if things don't work out they often lead into something else.