Debut Barnstormer for Bainbridge! Dragon Quad XC Championship Round 1 – Race Report & Results
The Dragon Quad Racing club finally got some racing action underway in 2020 after what seems like a lifetime since last season finished!
Report by Ashley Holt – Images courtesy of Lisa-Williams-Holt
Round 1 of our shortened 4 round season was at the fantastic Allercott Pits venue which is arguably one of the best Enduro tracks on the calendar.
A superb 6.7 Mile track awaited the riders. Under clear blue skies, the Youth Race kicked off the day on Sunday morning in near perfect racing conditions. Run over 1.5 hours the 250cc saw some close racing in the first two laps with James Maybury and Charlie Wheatley setting a blistering pace. Charlie managed to break away from the chasing pack to lead for most of the Race and ultimately take the first race win of 2020. James was 2nd and Louie Holt 3rd on his 250cc class debut.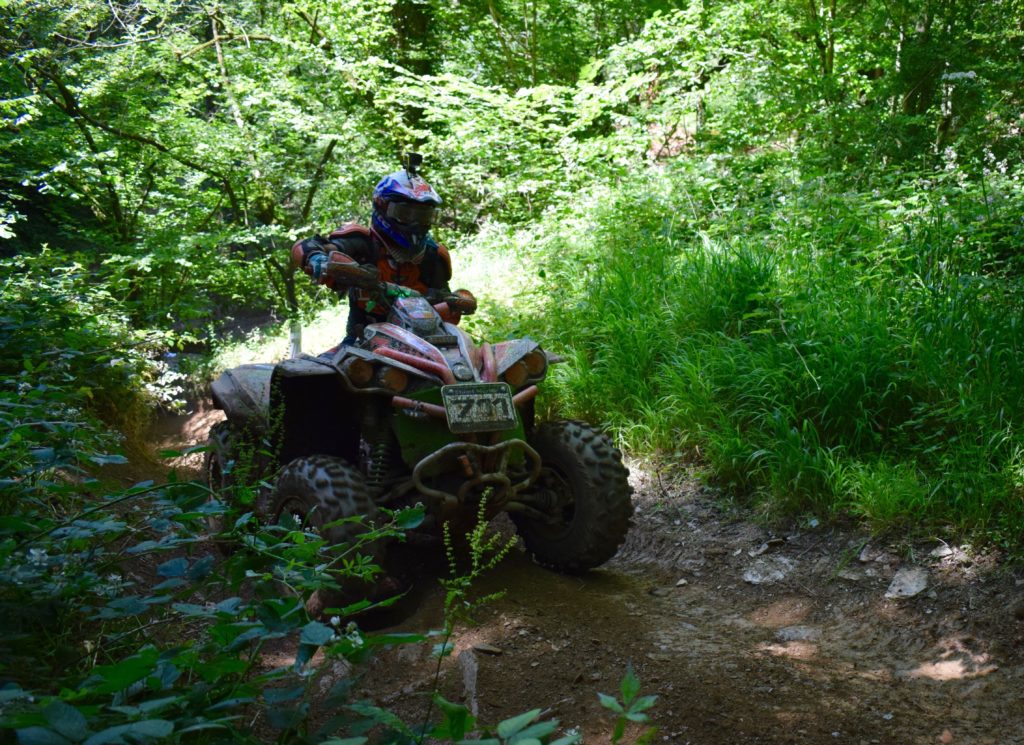 In the 125cc class, there were debuts for a number of riders who had moved up from last years MINI Quad class, Jake Robson, Owain Stephens and Ronnie Burnett all taking on the full Adult course for 1.5hrs for the 1st time.
Owain Stephens made the holeshot, but it was soon local rider Alex Edmed-Kellaway who took the lead and went on to win, with Jake Robson 2nd and Jamie Burnett in 3rd.

The afternoons Adult racing got underway just after midday with a packed 4×4 class it was going to be an interesting race.
The Experts and Expert Plus class combined and it was Luke Richards who led away from the flag, unfortunately suffering from mechanical failure on lap 2, Alex Bethell moved up into the lead and stayed there for most of the Race until a crash brought a premature end to his day with a snapped steering stem and a bang to the head it was all over for Alex, Chris Tite eventually taking the win from Will Dunlop in 2nd on his expert debut and Michael Williams in 3rd.
Tom Stevens clinched the win in the Clubman class, the only rider on ten laps in his class with Daniel Evans 2nd and Simon Burnett 3rd.
The story of the day was in the Sportsman class. Young Tom Bainbridge making his debut, Tom took the holeshot and set off after the leaders and was setting an unbelievable pace with the fastest lap of the Race on lap 4, he soon settled in a Rhythm and was soon in the top 2 overall! Once Alex was out, it was a straight battle between Tom and Chris Tite for the Overall win, it was a tense lap for those watching with Tom coming out on top by 7 seconds! What a win on his debut not only the sportsman class but the overall as well.
2nd spot in the sportsman Race went to Daniel Barrow with Jack Evans in 3rd.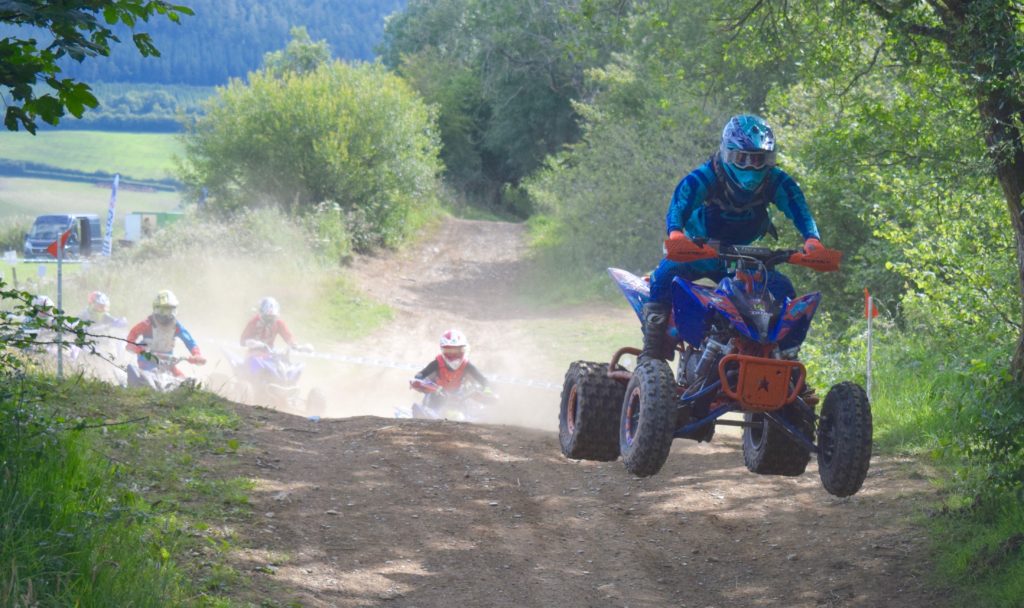 Harry Stevens took the win in the 4×4 Lights with Lawrence Dascombe 2nd and Oliver Weaver 3rd.
In the 4×4 Clubman class, Adam Twine was the victor with Derek Burns 2nd and Laura Linton putting in a great performance to clinch 3rd spot.
The 4×4 expert class was as competitive as always. Simon David took the early lead, but an engine failure on lap 2 put an end to his Race. Jason Wildman also retired with mechanical failure early on, and it was left to Stuart Marley and Graham Guy to battle it out with Stuart coming out on top and taking the win from Graham in 2nd and Richard Harvey on his expert debut in 3rd.
Well done to all the winners today and each and every rider who took part!
A big Thanks to our Title Sponsor ATV's Only and associate GML ATV for the support this season and Series and to the Marshalls, Medics, photographer and Caterers who make the events possible.
Results
Youth Race
Youth 250
Pos Competitor Total Time Diff Laps Best Lap Best Lap No. Best Speed
1 333 Charlie Wheatley 1:34:22.064 6 15:18.592 2 0 km/h
2 16 James Maybury 1:38:03.005 3:40.941 6 15:30.102 2 0 km/h
3 30 Louie Holt 1:42:55.284 8:33.220 6 16:53.827 5 0 km/h
4 99 Cai Evans 1:47:33.195 13:11.131 6 15:44.913 2 0 km/h
5 77 Morgan Junge 1:38:41.939 1 lap 5 18:41.469 3 0 km/h
6 64 Mathew Merry 1:40:06.836 1 lap 5 19:56.228 3 0 km/h
7 15 Chloe Maybury 1:41:57.877 1 lap 5 19:55.209 5 0 km/h
Youth 125
Pos Competitor Total Time Diff Laps Best Lap Best Lap No. Best Speed
1 55 Alix Edmed-Kellaway 1:55:11.579 5 20:36.111 2 0 km/h
2 199 Jake Robson 1:31:53.273 1 lap 4 22:08.264 4 0 km/h
3 14 Jamie Burnett 1:32:08.863 1 lap 4 21:26.234 4 0 km/h
4 1 Owen Stephens 1:40:21.491 1 lap 4 24:05.465 2 0 km/h
5 20 Ronnie Burnett 1:31:08.298 2 laps 3 28:33.635 2 0 km/h
Youth 250 Hybrid
Pos Competitor Total Time Diff Laps Best Lap Best Lap No. Best Speed
DNF 646 Oliver Pinder 19:11.136 1 0.000 – 0 km/h
Adult Race
Adult Sportsman
Pos Competitor Total Time Diff Laps Best Lap Best Lap No. Best Speed
1 50X Tom Bainbridge 2:42:37.848 11 13:32.490 4 0 km/h
2 33 Daniel Barrow 2:38:07.208 3 laps 8 15:43.066 6 0 km/h
3 40 Jack Evans 2:39:05.797 3 laps 8 17:06.079 6 0 km/h
DNF 8 Borja Castro 2:15:19.511 6 17:38.571 2 0 km/h
DNF 204 Fraser Lunt 1:28:33.869 4 17:45.509 2 0 km/h
DNF 789 Lewis Williams 1:34:14.394 2 1:10:05.602 2 0 km/h
Adult Expert
Pos Competitor Total Time Diff Laps Best Lap Best Lap No. Best Speed
1 23 Chris Tite 2:42:44.916 11 13:43.753 11 0 km/h
2 93 William Dunlop 2:37:09.017 1 lap 10 14:30.077 8 0 km/h
3 291 Michael Williams 2:33:33.993 2 laps 9 14:52.645 7 0 km/h
4×4 Heavy
Pos Competitor Total Time Diff Laps Best Lap Best Lap No. Best Speed
1 711 Stuart Marley 2:34:29.819 10 14:28.813 6 0 km/h
2 181 Graham Guy 2:34:59.827 30.008 10 14:52.543 6 0 km/h
3 66 Richard Harvey 2:36:01.521 1:31.702 10 14:21.445 9 0 km/h
4 432 Oli Keen 2:41:18.673 6:48.854 10 15:37.620 3 0 km/h
5 55 Harry Hinkley 2:32:49.582 3 laps 7 15:14.028 3 0 km/h
6 50 Simon David 2:43:47.628 3 laps 7 13:52.697 6 0 km/h
DNF 113 Jason Wildman 47:44.455 3 13:58.208 2 0 km/h
4×4 Clubman
Pos Competitor Total Time Diff Laps Best Lap Best Lap No. Best Speed
1 16 Adam Twine 2:37:16.458 10 14:50.226 6 0 km/h
2 611 Derek Burns 2:44:51.142 7:34.684 10 15:58.095 5 0 km/h
3 424 Laura Linton 2:30:48.904 1 lap 9 15:36.681 9 0 km/h
4 415X Stefan Cook 2:37:03.257 1 lap 9 16:33.788 6 0 km/h
5 161 Joshua Brown 2:38:01.855 1 lap 9 16:44.239 2 0 km/h
6 60 Colin Burnett 2:32:36.314 3 laps 7 18:04.482 2 0 km/h
7 27 John Keys 2:30:10.761 4 laps 6 18:30.930 2 0 km/h
8 42 David Owen 2:44:42.459 5 laps 5 18:04.879 3 0 km/h
4×4 Lights
Pos Competitor Total Time Diff Laps Best Lap Best Lap No. Best Speed
1 104 Harry Vaughan Stevens 2:37:34.119 10 15:09.382 2 0 km/h
2 38 Lawrence Dascombe 2:29:59.837 1 lap 9 15:26.161 4 0 km/h
3 66 Oliver Weaver 2:33:04.852 1 lap 9 15:46.662 8 0 km/h
4 371 Neil Martin 2:37:15.086 1 lap 9 16:37.039 7 0 km/h
5 223 Victoria Andrews 2:31:37.594 2 laps 8 16:38.545 7 0 km/h
DNF 30 Lloyd Gove 1:46:37.653 6 16:18.168 3 0 km/h
DNF 700 Mark Williams 18:44.084 1 0.000 – 0 km/h
Adult Clubman
Pos Competitor Total Time Diff Laps Best Lap Best Lap No. Best Speed
1 701 Tom Stevens 2:41:54.515 10 15:30.005 5 0 km/h
2 88 Daniel Evans 2:37:33.070 1 lap 9 16:48.498 5 0 km/h
3 11 Simon Burnett 2:42:37.080 1 lap 9 16:31.149 7 0 km/h
4 39 Michael Pittaway 2:43:29.516 1 lap 9 16:58.183 3 0 km/h
5 193 Ryan Johnson 2:37:31.745 4 laps 6 21:06.053 4 0 km/h
DNF 415 Tyrone Guy 2:24:17.838 8 15:23.204 4 0 km/h
DNF 172 Dale Roberts 1:55:11.767 6 18:17.939 2 0 km/h
DNF 72 Liam John Griffiths 1:12:35.629 2 48:44.391 2 0 km/h
Adult Expert +
Pos Competitor Total Time Diff Laps Best Lap Best Lap No. Best Speed
DNF 1 Alex Bethell 1:41:25.674 7 13:43.211 3 0 km/h
DNF 124 Luke Richards 28:15.666 2 14:00.472 2 0 km/h