Daly does it again! British Minibike Championships Rounds 3 & 4 – Race Report and Results
The MBC crew worked minor miracles to get the Champs Parc circuit primed and prepped and in racing order at the weekend after biblical rainstorms on Friday threatened the running of rounds 3 and 4 of the 2020 British Minibike Championship.
Images courtesy of Dan Webb – Killer Minis
After the rain the previous day the track was rotavated on Saturday morning creating a really tacky but excellent surface where the ruts turned into massive berms with the circuit being perfect come Sunday.
In the Kids 50cc class Riley-Ray Barrow was at his supreme best again on Saturday, piling in another three faultless wins to take the round 3 overall over Flynn Kennard who made a good impression on the series in second. Aaron Shepherd-Smith backed up his round one performance with third, ahead of Ethan Georgiou fourth, Freddie Darvill in fifth and Jenson Batner sixth.
On Sunday Barrow would step up to the 65cc class leaving Kennard to show his quality with two moto wins and the overall from Georgiou who rode a storming final moto to take the chequers and second overall. Zach White was consistent all day long with a trio of thirds and the number three spot on the box ahead of Shepherd-Smith, Harry Dearle and Batner.  Talking of Jenson Batner, the lad has made huge improvements this year after being a raw beginner in 2019 and now he is a real contender in this class. Well done Jenson!
With Barrow missing Sunday he now holds a slender 6 point lead over White in the series standings.
Robbie Daly once again turned in a masterclass performance going unbeaten on both days, taking the overall on each occasion giving him a 49 point advantage in the standings. Behind Daly, Jamie Thorpe and Marty Spires swapped second and third places on both days with Frankie Donoghue in fourth both times. On Saturday Riley Northcote was fifth with Kieran Bullock in sixth, while on Sunday Riley-Ray Barrow of 50cc fame brought his A game to the 65cc class and showed he has what it takes to mix it with the front runners with fifth. Bullock was again sixth.
Miley Hodgson was a new name in the Youth Junior class notching the overall on both days. Maddie Banks was second on Saturday over series leader Jamie Clarke who took two race wins and second position on Sunday with Lillie May Stokes third, Banks fourth and Harry Banks fifth.
In the Youth Senior class Ben Casey made his first 2020 appearance and showed his speed to fire in with two moto victories and the overall on Saturday over Series leader Leo Vowles and Championship contender Jake Speller. Jack Perry put in some good rides for fourth, Rocco Lanza was fifth and Ethan Lochrie was sixth.  On Sunday though Speller came back to the fore after winning moto one and keeping consistently in the top three during the day whereas Casey suffered a final moto DNF and Vowles had a low scoring first moto. Vowles would still finish Sunday in second with Lanza making a welcome visit to the podium in third.  Perry was fourth, Lochrie fifth, and Ben Moran sixth.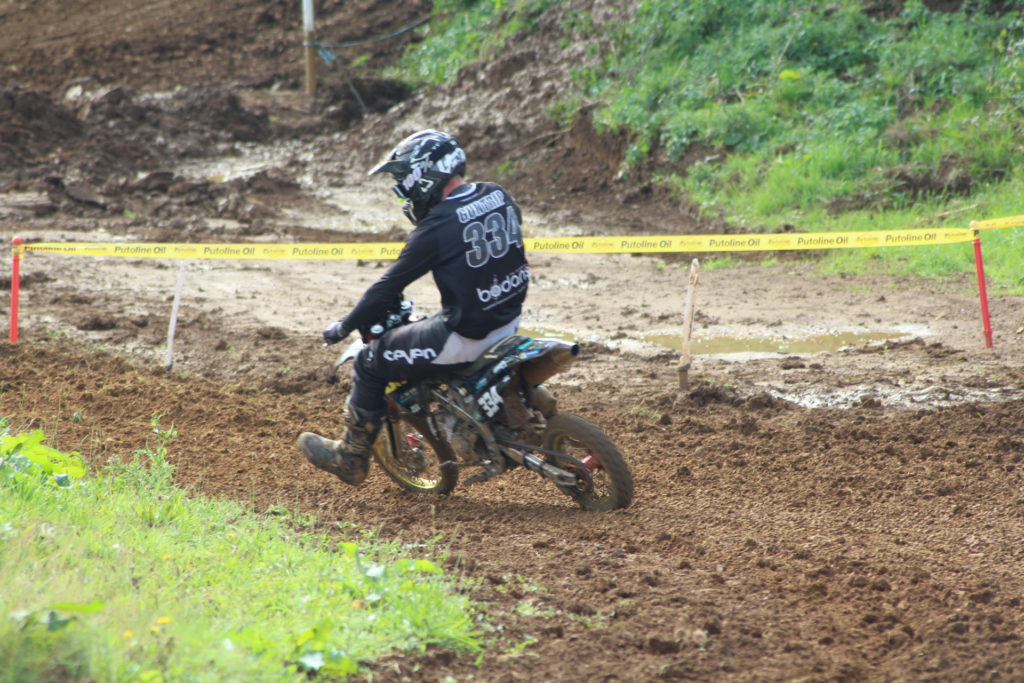 Word has spread about the Farm Bike class and a full entry lined up on both days giving great entertainment too with some top line Pro MX riders getting involved.  Chris Bayliss went 1-2-1 to win out over former MXGP racer Mel Pocock and series leader Matt Bayliss. On Sunday Matt returned to the top spot fending off his younger brother Chris for the victory with Pocock third.
Jason Edwards was in top form on Saturday taking max points in the Funbike class over Tyrone Tugwell and and Daniel Edwards with the top duo swapping places on Sunday with Edwards third again.
Daniel Foreman continued where he left off at round two in the Masters by taking the victory on Saturday from Scott Joyner and Spencer Howard however the roles were reversed on Sunday with Joyner upping his game and taking all three moto wins and the overall ahead of Foreman and Howard.
It was tight at the top in the Vets class on Saturday with Jay Taylor, Adam Burton and Phil Thomas all taking the chequers in a moto and being separated at the end of the day by just three points and finishing in the order mentioned.  On Sunday though Burton was a different class and he shared the wins with no one and took the overall from Paul Gell and Colin Blackwell with Taylor suffering a costly DNF in moto one which gives Burton a 34 points at the head of the standings.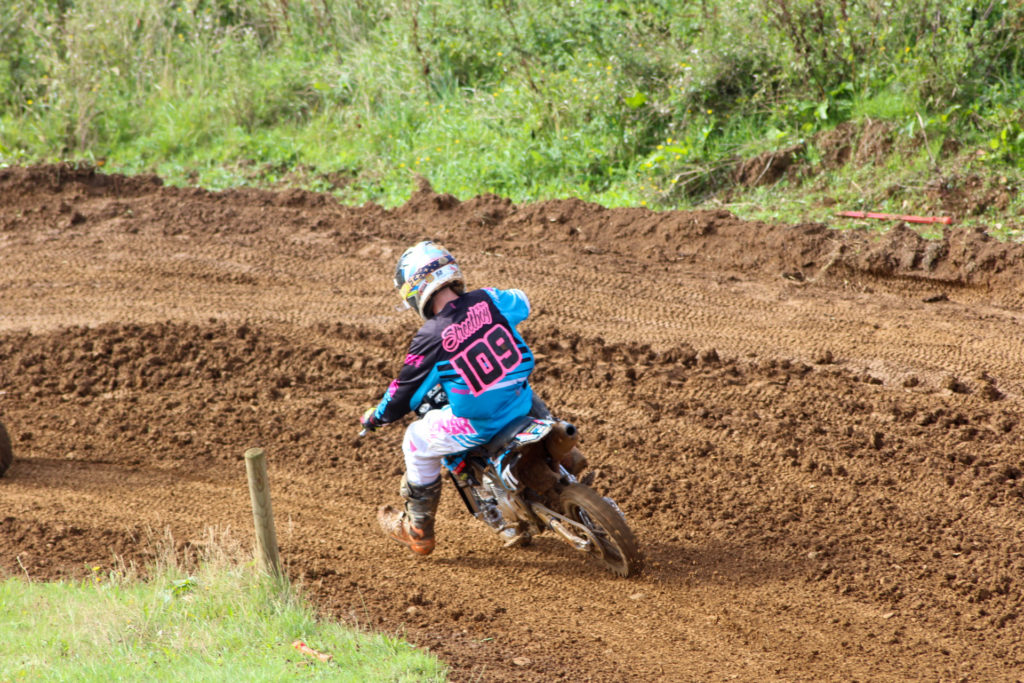 The Stockmod class only took place on Sunday and it was Dan Lee who would finish as the number one over Joe Banks and John Pohlman.
Ash Gorman is the supreme being of the Superstocks once again going through the card meaning he has been unbeaten in 2020. On both days he was followed home by Lewis and Ben Rose in that order.
In the Pro Class 7-One Racing Bucci rider Blaine Blackwell is having the time of his life and rifled through six race victories over the weekend, taking both overalls and extending his championship lead to 65 points in the process.
Jody Burton and Harry Streeter are at both ends of the experience tree and battled it out for second on Saturday with Burton taking the advantage. On Sunday though Burton crashed out in the first moto while in second knocking himself out and sustaining a shoulder injury counting him out for the rest of the day. Streeter showed his potential and speed with second overall with Daniel Muddiman a solid third.
The final two rounds of the Championship take place on the 26th and 27th September again at Champs Parc. For more info on the series head to https://minibikechamps.com/
Results
Round 3 – Saturday
Kids 50cc
Pos Competitor Total Points r 1 r 2 r 3
1 118 Riley-Ray Barrow 75 25 25 25
2 4 Flynn Kennard 62 22 18 22
3 709 Aaron Shepherd-Smith 60 20 20 20
4 275 Ethan Georgiou 48 14 16 18
5 24 Freddie Darvill 45 16 15 14
6 829 Jenson Batner 41 15 14 12
7 900 Jake Pridmore 39 18 12 9
8 913 Zach White 38 – 22 16
9 143 Chae Johnson 38 12 11 15
10 944 Lola Etheridge 34 13 10 11
11 317 Harry Dearle 31 5 13 13
12 66 Zach Tilbury 27 8 9 10
13 100 Seth Golding 27 11 8 8
14 124 Mason Foreman 19 10 7 2
15 38 Tyler Moss 18 9 2 7
16 188 Harley-James Barrow 18 6 6 6
17 17a Eddie Pearce 12 4 3 5
18 747 Brad Lee Aspden 12 7 4 1
19 31 Oakley Summers 11 3 5 3
20 382 Joey Buckingham 6 2 – 4
21 812 Joey Livingstone 1 1 – –
22 94a Ollie Rose 1 – 1 –
Kids 65's
Pos Competitor Total Points r 1 r 2 r 3
1 800 Robbie Daly 75 25 25 25
2 11 Jamie Thorpe 66 22 22 22
3 22a Marty Spires 58 20 18 20
4 99 Frankie Donoghue 51 18 15 18
5 8 Riley Northcote 49 15 20 14
6 816 Kieran Bullock 48 16 16 16
7 100 Daniel Hollis-Reeves 43 14 14 15
8 213 Louie Moss 35 12 11 12
9 171 Daniel Marr 34 10 13 11
10 54 Leo Ormondroyd 29 11 8 10
11 88 Tyler Griffiths 29 9 12 8
12 26 Louie Turner 26 13 – 13
13 66 Rylea Tilbury 25 6 10 9
14 107 Lewis Day 21 8 7 6
15 51 George Everest 20 4 9 7
16 333 Joshua Tilley 16 7 4 5
17 615 Alfie Marshall 12 2 6 4
18 15 Mason Havrod 10 3 5 2
19 28 Luca James Allen-Harvey 8 5 – 3
20 22 Jessica Cooling 1 1 – –
Youth Junior
Pos Competitor Total Points r 1 r 2 r 3
1 414 Miley Hodgson 69 22 25 22
2 36 Maddy Banks 62 20 22 20
3 16 Jamie Clarke 50 25 – 25
Youth Senior
Pos Competitor Total Points r 1 r 2 r 3
1 1 Ben Casey 70 20 25 25
2 2 Leo Vowles 69 25 22 22
3 06 Jake Speller 62 22 20 20
4 211 Jack Perry 51 18 18 15
5 7 Rocco Lanza 47 16 13 18
6 9 Ethan Lochrie 46 15 15 16
7 39 Ben Moran 42 14 14 14
8 826 Owen Haswell 41 13 16 12
9 19 Ben Johnstone 37 12 12 13
10 94 David Maw 33 11 11 11
11 457 Jack Harrison 10 – – 10
140 Fun class
Pos Competitor Total Points r 1 r 2 r 3
1 214 Jason Edwards 75 25 25 25
2 784 Tyrone Tugwell 66 22 22 22
3 24 Daniel Edwards 60 20 20 20
4 881 Alex Hepher 18 18 – –
Farmbike Class
Pos Competitor Total Points r 1 r 2 r 3
1 3 Chris Bayliss 72 25 22 25
2 119 Mel Pocock 67 22 25 20
3 17 Matthew Bayliss 60 18 20 22
4 38 Freddie Lambeth 46 12 16 18
5 19 Matt Pocock 45 14 18 13
6 5 Aaron OMahony 44 20 8 16
7 461 Cam MacDonald 42 16 11 15
8 79 George Clarke 40 15 13 12
9 99 Daniel Lee 36 11 15 10
10 171 Tallon Aspden 30 5 14 11
11 22 Luke Tucker 29 8 12 9
12 121 Dom Foreman 27 13 – 14
13 29 James Lee 22 7 10 5
14 36 Shay Botcher 20 9 4 7
15 66 Sam Rogers 16 3 5 8
16 31 Senna Summers 13 6 3 4
17 76 Aaron Jackson 13 4 9 –
18 774 Scott Kennedy 12 10 – 2
19 64 Alex Dutton 11 2 6 3
20 555 Freddie Oleary 8 – 2 6
21 62 Louie Dutton 8 1 7 –
22 901 Jasper Parsons 1 – – 1
23 3. George Hunter 1 – 1 –
Masters
Pos Competitor Total Points r 1 r 2 r 3
1 131 Daniel Foreman 72 25 25 22
2 602 Scott Joyner 69 22 22 25
3 159 Spencer Howard 58 20 18 20
4 117 Jeff Pike 50 18 16 16
5 7 Glenn Wilson 38 – 20 18
Vets
Pos Competitor Total Points r 1 r 2 r 3
1 2 Jay Taylor 67 25 20 22
2 414 Adam Burton 65 18 22 25
3 211 Philip Thomas 65 22 25 18
4 10 Paul Gell 58 20 18 20
5 71 Colin Blackwell 48 16 16 16
6 716 Andrew Cheshire 45 15 15 15
SuperStock
Pos Competitor Total Points r 1 r 2 r 3
1 72 Ashley Gorman 75 25 25 25
2 822 Lewis Rose 66 22 22 22
3 133 Ben Rose 58 20 20 18
4 1 Craig Powell 54 18 16 20
5 45 Craig Sharp 50 16 18 16
6 29 George Pym 44 14 15 15
7 140 Will Short 40 13 13 14
8 16 Freddie Williams 37 12 12 13
9 3 Tom Burrill 29 15 14 –
10 0 Jamie Stokes 21 – 9 12
11 89 Adam Crowther 21 11 10 –
12 17 Simon Crowther 11 – 11 –
Pro
Pos Competitor Total Points r 1 r 2 r 3
1 71 Blaine Blackwell 210 70 70 70
2 717 Jody Burton 197 63 67 67
3 109x Harry Streeter 195 67 65 63
4 66 Daniel Muddiman 187 65 63 59
5 210 Scott Thomas 179 60 58 61
6 9 Scott Pohlman 179 59 60 60
7 63 Callum Gutteridge 172 61 54 57
8 155 Paul Benham 169 43 61 65
9 101 Freddy Hills 168 55 55 58
10 13 Cole Howard 168 57 59 52
11 211 Criag Griffiths 160 53 52 55
12 16 Pryce Howard 160 56 56 48
13 334 Jack Guntrip 159 52 53 54
14 319 Steve Ledger 158 58 57 43
15 147 Max Hadlington 152 54 47 51
16 12 Jordan Lane 147 44 50 53
17 710 Anthony Dalton 147 49 48 50
18 93 Ryan Jukes 142 50 46 46
19 5 Tegan Parnell 134 47 42 45
20 24 Leon Cotterill 134 45 45 44
21 116 Josh Cheshire 130 46 43 41
22 77 Jordan Burton 121 38 41 42
23 22 Casey Dommett 121 41 40 40
24 88 Carl Elliott 117 40 38 39
25 14 Ashley Arrowsmith 107 – 51 56
26 106 Alex Cheshire 100 51 49 –
27 109 Rhys Streeter 97 48 – 49
28 511 Jack Arrowsmith 91 – 44 47
29 43 Kevin Rawlings 81 42 39 –
30 36 Lizzie Banks 74 37 37 –
31 420 Darren Macauley 39 39 – –
32 18 Alex Macaulay 36 – 36 –
Sunday – Round 4
Kids 50's
Pos Competitor Total Points r 1 r 2 r 3
1 4 Flynn Kennard 72 25 25 22
2 275 Ethan Georgiou 69 22 22 25
3 913 Zach White 60 20 20 20
4 709 Aaron Shepherd-Smith 52 18 18 16
5 317 Harry Dearle 50 16 16 18
6 829 Jenson Batner 42 12 15 15
7 944 Lola Etheridge 41 15 12 14
8 24 Freddie Darvill 37 10 14 13
9 100 Seth Golding 37 13 13 11
10 188 Harley-James Barrow 32 9 11 12
11 143 Chae Johnson 28 14 10 4
12 900 Jake Pridmore 27 11 9 7
13 31 Oakley Summers 22 5 7 10
14 38 Tyler Moss 22 8 6 8
15 124 Mason Foreman 19 6 8 5
16 812 Joey Livingstone 15 4 2 9
17 382 Joey Buckingham 13 3 4 6
18 66 Zach Tilbury 12 7 5 –
19 94a Ollie Rose 7 1 3 3
20 17a Eddie Pearce 4 2 1 1
21 747 Brad Lee Aspden 2 – – 2
Kids 65's
Pos Competitor Total Points r 1 r 2 r 3
1 800 Robbie Daly 75 25 25 25
2 22a Marty Spires 66 22 22 22
3 11 Jamie Thorpe 60 20 20 20
4 99 Frankie Donoghue 54 18 18 18
5 118 Riley-Ray Barrow 46 16 15 15
6 816 Kieran Bullock 44 14 14 16
7 100 Daniel Hollis-Reeves 42 12 16 14
8 54 Leo Ormondroyd 35 11 12 12
9 88 Tyler Griffiths 31 7 11 13
10 213 Louie Moss 31 10 10 11
11 51 George Everest 30 9 13 8
12 28 Luca James Allen-Harvey 22 5 8 9
13 107 Lewis Day 21 2 9 10
14 333 Joshua Tilley 20 6 7 7
15 171 Daniel Marr 16 8 4 4
16 8 Riley Northcote 15 15 – –
17 615 Alfie Marshall 14 4 5 5
18 26 Louie Turner 13 13 – –
19 15 Mason Havord 13 1 6 6
20 22 Jessica Cooling 6 – 3 3
21 66 Rylea Tilbury 3 3 – –
Youth Junior
Pos Competitor Total Points r 1 r 2 r 3
1 414 Miley Hodgson 69 22 25 22
2 16 Jamie Clarke 66 25 16 25
3 444 Lillie May Stokes 60 20 22 18
4 36 Maddy Banks 56 18 18 20
5 36 Harry Banks 52 16 20 16
Youth Senior
Pos Competitor Total Points r 1 r 2 r 3
1 06 Jake Speller 67 25 20 22
2 2 Leo Vowles 59 12 22 25
3 7 Rocco Lanza 52 20 18 14
4 211 Jack Perry 51 16 15 20
5 9 Ethan Lochrie 50 18 14 18
6 39 Ben Moran 47 15 16 16
7 1 Ben Casey 47 22 25 –
8 19 Ben Johnstone 39 14 12 13
9 457 Jack Harrison 35 13 10 12
10 94 David Maw 33 11 11 11
11 826 Owen Haswell 28 – 13 15
140 Fun class
Pos Competitor Total Points r 1 r 2 r 3
1 784 Tyrone Tugwell 70 20 25 25
2 214 Jason Edwards 47 25 22 –
3 24 Daniel Edwards 42 22 20 –
Farmbike Class
Pos Competitor Total Points r 1 r 2 r 3
1 17 Matthew Bayliss 72 25 25 22
2 3 Chris Bayliss 65 20 20 25
3 119 Mel Pocock 60 18 22 20
4 5 Aaron OMahony 58 22 18 18
5 38 Freddie Lambeth 47 16 16 15
6 79 George Clarke 44 13 15 16
7 22 Luke Tucker 36 11 12 13
8 121 Dom Foreman 36 14 10 12
9 19 Matt Pocock 32 12 9 11
10 171 Tallon Aspden 31 3 14 14
11 461 Cam MacDonald 28 15 13 –
12 555 Freddie Oleary 24 7 8 9
13 99 Daniel Lee 21 10 11 –
14 66 Sam Rogers 20 6 7 7
15 36 Shay Botcher 17 9 – 8
16 29 James Lee 13 8 5 –
17 62 Louie Dutton 12 – 2 10
18 20 Toby Hales 12 – 6 6
19 64 Alex Dutton 8 4 – 4
20 76 Aaron Jackson 7 – 4 3
21 264 Freddie Hales 7 2 3 2
22 3. George Hunter 6 1 – 5
23 31 Senna Summers 5 5 – –
24 774 Scott Kennedy 1 – – 1
25 10 Rhett Wooldridge 1 – 1 –
Masters
Pos Competitor Total Points r 1 r 2 r 3
1 602 Scott Joyner 75 25 25 25
2 131 Daniel Foreman 64 22 20 22
3 117 Jeff Pike 54 18 18 18
4 43 Kevin Rawlings 47 16 16 15
5 7 Glenn Wilson 42 – 22 20
6 159 Spencer Howard 36 20 – 16
Vets
Pos Competitor Total Points r 1 r 2 r 3
1 414 Adam Burton 75 25 25 25
2 10 Paul Gell 66 22 22 22
3 71 Colin Blackwell 56 20 18 18
4 716 Andrew Cheshire 50 18 16 16
5 2 Jay Taylor 40 – 20 20
6 63 Jason Gutteridge 31 16 – 15
SuperMod
Pos Competitor Total Points r 1 r 2 r 3
1 99 Daniel Lee 72 22 25 25
2 36. Joe Banks 67 25 20 22
3 9 John Pohlman 42 20 22 –
SuperStock
Pos Competitor Total Points r 1 r 2 r 3
1 72 Ashley Gorman 75 25 25 25
2 822 Lewis Rose 66 22 22 22
3 133 Ben Rose 58 18 20 20
4 45 Craig Sharp 52 16 18 18
5 1 Craig Powell 52 20 16 16
6 140 Will Short 44 15 15 14
7 16 Freddie Williams 40 14 13 13
8 411 Michael Gwilliams 39 13 14 12
9 89 Adam Crowther 34 11 12 11
10 311 Ricky Tatum 31 10 11 10
11 29 George Pym 25 – 10 15
12 17 Simon Crowther 12 12 – –
Pro
Pos Competitor Total Points r 1 r 2 r 3
1 71 Blaine Blackwell 210 70 70 70
2 109x Harry Streeter 195 67 67 61
3 66 Daniel Muddiman 193 63 63 67
4 210 Scott Thomas 185 61 61 63
5 101 Freddy Hills 177 59 60 58
6 155 Paul Benham 172 42 65 65
7 63 Callum Gutteridge 172 60 52 60
8 319 Steve Ledger 171 58 54 59
9 16 Pryce Howard 167 56 59 52
10 14 Ashley Arrowsmith 166 55 58 53
11 334 Jack Guntrip 163 52 56 55
12 3 Tom Burrill 161 48 57 56
13 13 Cole Howard 158 57 47 54
14 109 Rhys Streeter 155 54 51 50
15 211 Criag Griffiths 153 53 49 51
16 106 Alex Cheshire 152 40 55 57
17 93 Ryan Jukes 145 50 46 49
18 710 Anthony Dalton 143 47 48 48
19 116 Josh Cheshire 135 46 43 46
20 77 Jordan Burton 133 43 45 45
21 24 Leon Cotterill 131 45 42 44
22 5 Tegan Parnell 129 44 44 41
23 84 Craig Swales 125 41 41 43
24 88 Carl Elliott 119 39 40 40
25 36 Lizzie Banks 115 38 38 39
26 9 Scott Pohlman 112 65 – 47
27 12 Jordan Lane 104 51 53 –
28 147 Max Hadlington 99 49 50 –
29 420 Darren Macauley 81 – 39 42