Allsopp on Top! Northampton MCC Return to Racing 2 – Race Report and Results
Northampton Motorcyclists Club ran their second Return to Racing motocross event at Long Buckby last Sunday. After a few weeks of hot dry weather the track was understandably hard packed, but some careful watering on Saturday night and Sunday morning from the track crew kept the worst of the dust at bay until late in the afternoon.
Report and Images by Fraser Law
In the Expert class Laurence Wiltshire lead all three races, starting very fast. Arm pump towards the end of the first two races saw him drop back to third towards the end. Thomas Allsopp came through to win the first race, and take the overall with a fine second place in the other two. A return to form for Simon Wyse saw him finish consistently in the top four to take the final place on the podium.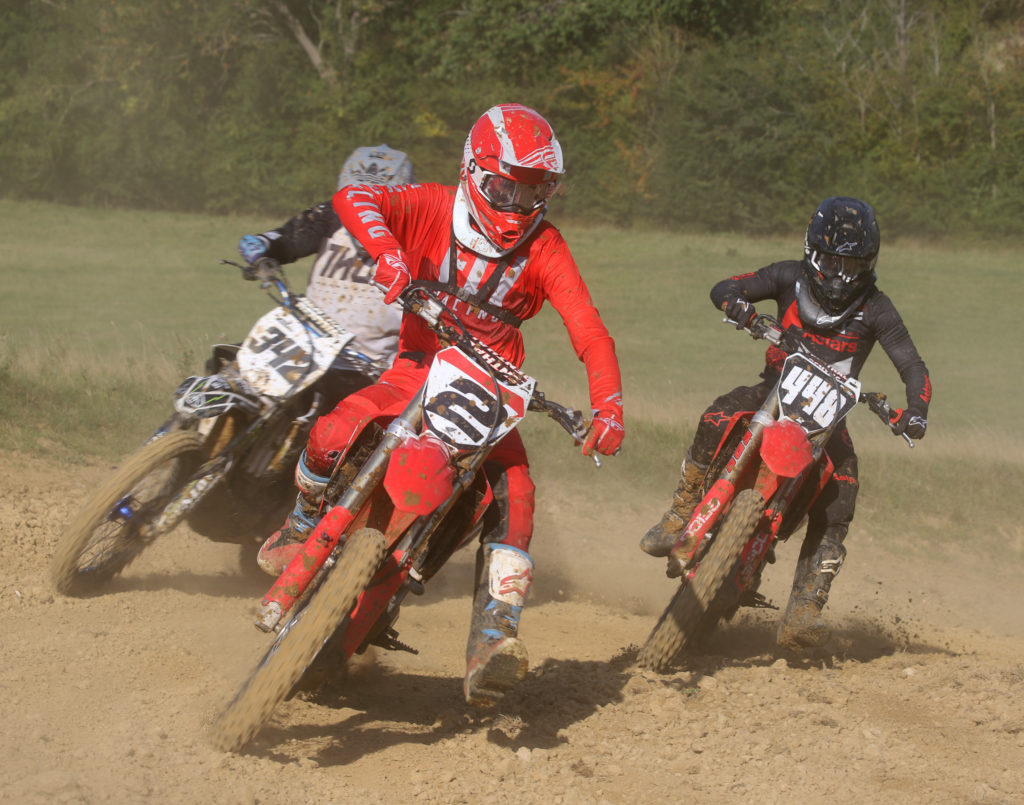 In the Junior class James Thompson took his first overall win after victory in race one followed by a couple of second places. Despite winning the final two races, Dan Whitehead was dropped down the order by mechanical issues in race one. Gavin Jakeman finished second overall from Sam Chapman, both riders finishing consistently in the top five. Sean Kettlewell won all three races in the Clubman Class. Joshua Bing finished second overall a single point ahead of Jake Mould, both trading second places.
In the Premier O40 class Ryan Griffiths muscled his way to first overall with wins in races two and three. First race winner Darren Ismay took second overall after battling at the front each time. John Barnes took his new 250 to three consistent third places on his way to third overall. Fraser Law won each time out in the Elite O50 class. Second place went to a different rider each time, Greg Cox came out second overall never dropping out of the top three. Second in race two, David Hamer took third place overall from Rupert Fairclough who got faster as the day went on.
First overall in the Super O60 class went to factory Suzuki's Vincent Wakerley with two race wins. Stephen Hollins moved up a place each time to take second overall after winning the last race. Richard Jochacy finished a fine third overall.
In the U40 class Frank Burton took first overall with two seconds and first in the final race. Joseph Wakerley took second overall ahead of Sam Chapman. In the two stroke class Frank also finished first with three straight wins. Sam Chapman finished second overall ahead of Ian Tindle. NMCC will return to Long Buckby on October 18th, covid permitting.
Results:
Expert: 1 Thomas Allsopp, 2 Laurence Wiltshire, 3 Simon Wyse, 4 Karl Jenkinson, 5 David Hamer, 6 Joseph Wakerley
Junior: 1 James Thompson, 2 Gavin Jakeman, 3 Sam Chapman, 4 Rob Harwood, 5 Jan Howells, 6 Jack Lee
Clubman: 1 Sean Kettlewell, 2 Joshua Bing, 3 Jake Mould, 4 Myles Taylor, 5 Guy Pickering, 6 Sam Menzies
Premier O40: 1 Ryan Griffiths, 2 Darren Ismay, 3 John Barnes, 4 Steven Chilvers, 5 Stuart McClurg, 6 Dave Goldsmith
Elite O50: 1 Fraser Law, 2 Greg Cox, 3 David Hamer, 4 Rupert Fairclough, 5 Steve Bottoms, 6 Tony Fricker
Super O60: 1 Vincent Wakerley, 2 Stephen Hollins, 3 Richard Jochacy, 4 Reg Willis, 5 Ross Dover, 6 Stephen Morgan
U40: 1 Frank Burton, 2 Joseph Wakerley, 3 Sam Chapman, 4 Ian Tindle, 5 Graham Lee, 6 Corey Blackwell
2 Stroke: 1 Frank Burton, 2 Sam Chapman, 3 Ian Tindle, 4 Ben Owen, 5 David Hamer, 6 Jack Lee
Workers: 1 Fraser Law, 2 Stephen Hollins, 3 Sam Waterman, 4 Ashley Batten, 5 Luke Twelvetree