Mear storms the Lynn! DTRA Barnstormer Round 1 – Race Report and Results
Since last September DTRA finally got their first race last weekend at Kings Lynn with the first round of their two-round Barnstormer series.
Report by Max Inman – Images courtesy of Paul France
As you can imagine, people were raring to go after such a long wait. However it was a bit different to what we're used to, the qualifying heat races were mixed up, usually, we race with more classes however this time the Pro and Inter class were mixed with Vintage and Thunderbike. I imagine the races would've been a bit short of people because due to Covid the entries were limited so organising it this way built up the number of racers in each group. Rookies and Hooligans had their own groups as usual, as did Minibikes and all Youth classes.
The Pro class is always my favourite to watch. After Gary Birtwistle crashed out in the early stages of the final, #500 Rob Mear finished on the top spot, #93 Jack Bell, on his Pro debut after moving up from the Youths finished in 2nd, and #20 Toby Hales with fastest lap time came 3rd on the 250 two-stroke.
Again, Jack Bell finished 2nd in the Hooligan class, behind #11 Gary Birtwistle. #704 Jake Young finished in 3rd on his Stockwell Design's Harley. Leah Tokelove was on track for a podium until the final where she had mechanical problems on her Indian FTR1200.
In the Intermediate class #555 Simon Bird finished in 1st place, just in front of #56 Fergus Bluff who had moved up from the youth classes with Team Greenfield, another impressive result for an adult debut race. Behind Bluff was #126 Andrew Horner-Glister who got the last spot on the podium.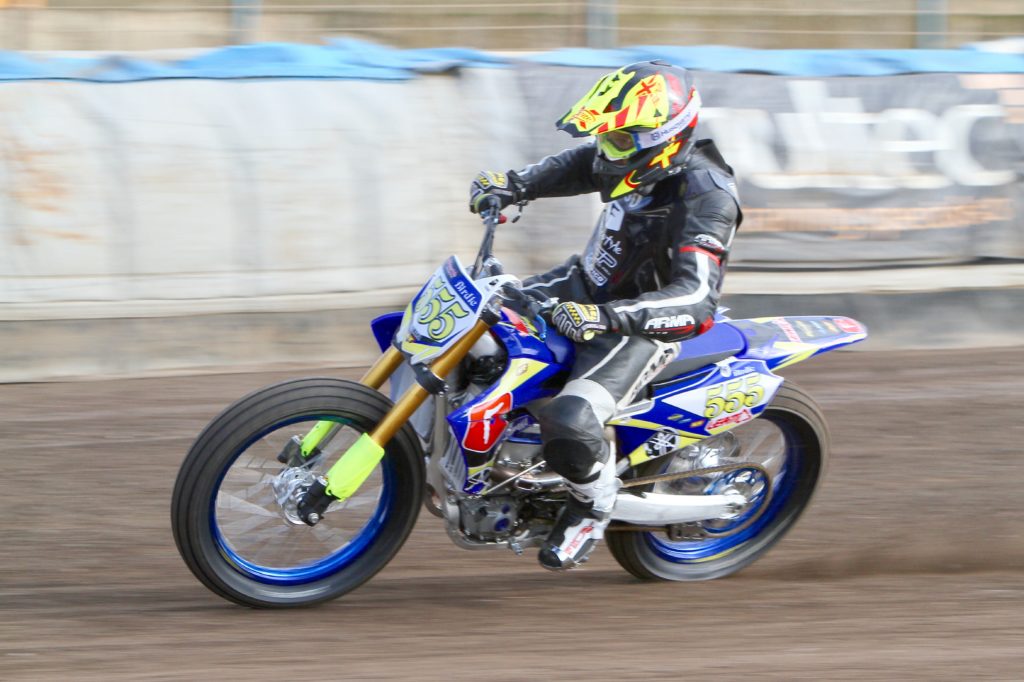 In the Thunderbike class, #134 Chris Jenner won by 0.3 of a second just in front of #52 Ross Herrod. Herrod had a great race meeting considering the time he's had off compared to other racers. #199 Jake Edey finished 3rd in his first DTRA race.
The Vintage class podium was filled with two-stokes. #33 Sean Kelly came 1st, over two seconds in front of 2nd place, #404 Ben Eddings on his Bultaco. #131 Gareth Howes finished in a comfortable 3rd place.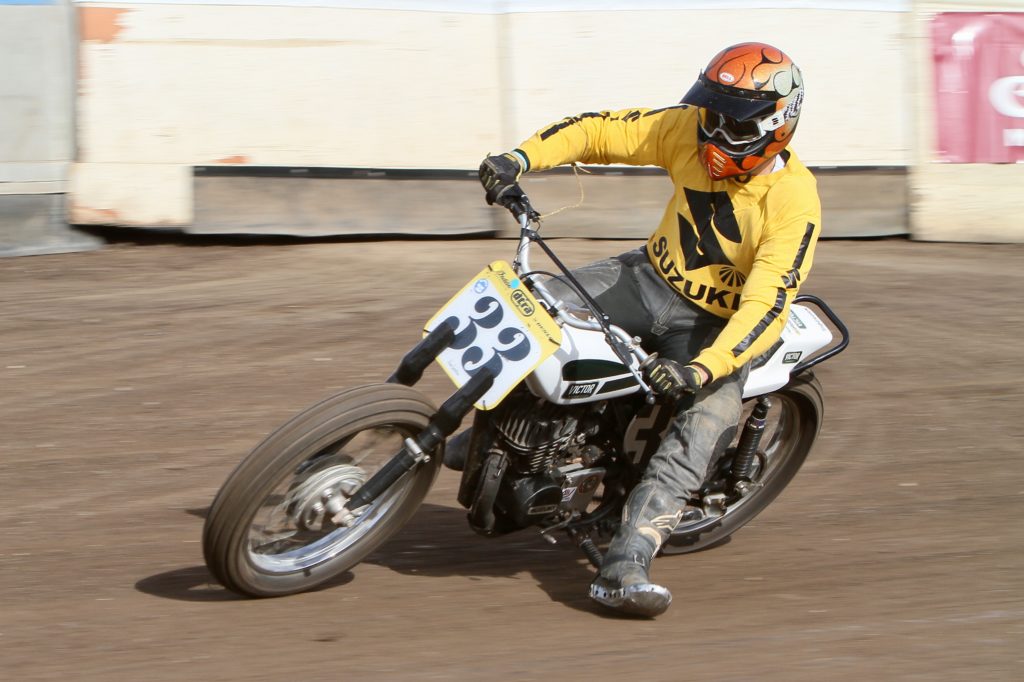 #696 Chris Bailey got the top spot in the Modified Minibike class, just over 0.3 seconds in front of #7 Neil Macqueen. #8 Adam Brinkworth came 3rd on his Sunday Motors.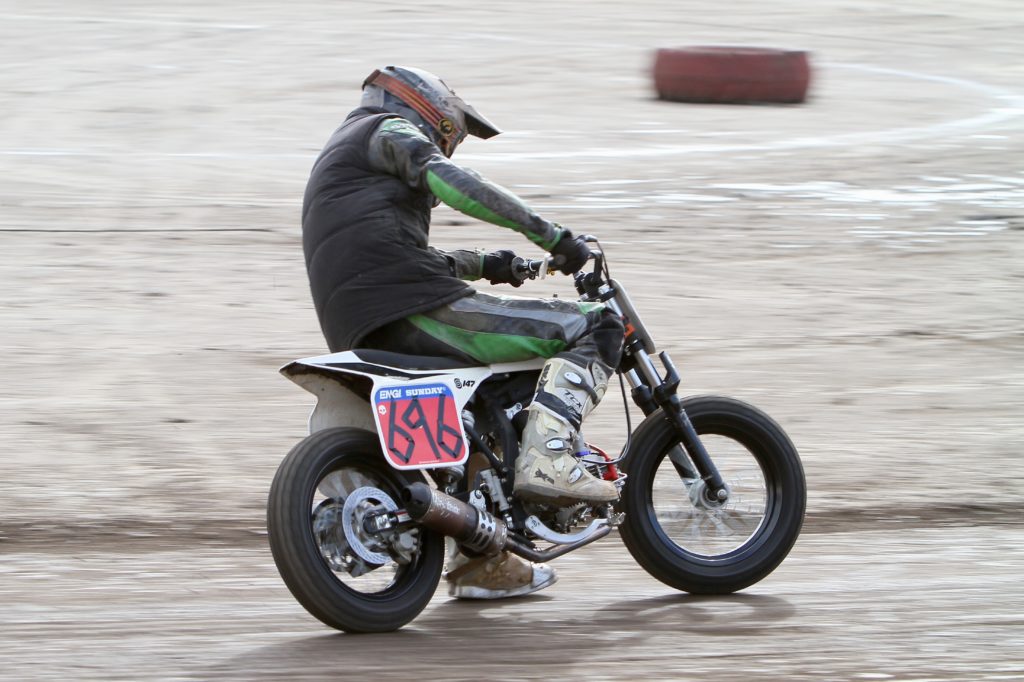 There was some great racing in the Stock Minibike class, you would've struggled to predict the winner, but after crashing in one of his heats, #246 Freddie Hales bounced back strong to get the top spot. There was only 0.4 seconds between 2nd and 4th places, #831 Jamie Robertson managed to scrape 2nd place and #76 Skye Adams got 3rd. That class is always a crowd pleaser.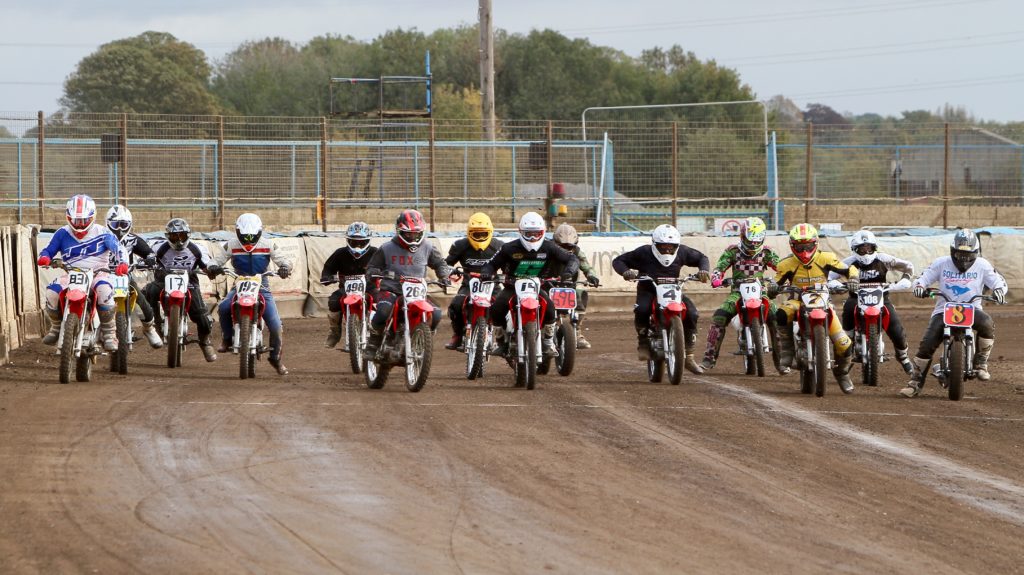 It was great to be back racing again, fingers crossed for more soon. Thanks for reading.
Results
Pro Final
Pos Competitor Total Time Diff Laps Best Lap Best Lap No. Best Speed
1 500 Rob Mear 5:10.237 0.000 12 17.020 10 72.338 km/h
2 93 Jack Bell 5:10.678 0.441 12 16.963 11 72.582 km/h
3 20 Toby Hales 5:11.017 0.780 12 16.872 11 72.973 km/h
4 41 Angus Gough 5:13.416 3.179 12 17.133 9 71.861 km/h
5 54 peter boast 5:15.259 5.022 12 17.299 7 71.172 km/h
6 37 Leah Tokelove 5:17.604 7.367 12 17.466 9 70.491 km/h
7 69 Conrad Little 5:18.385 8.148 12 17.503 7 70.342 km/h
8 147 Gareth Williamson 5:23.114 12.877 12 17.785 9 69.227 km/h
9 76 Skye Adams 5:24.114 13.877 12 17.907 10 68.755 km/h
10 7 Neil Macqueen 5:24.613 14.376 12 18.035 11 68.267 km/h
11 36 Joe Banks 5:21.582 1 lap 11 18.711 11 65.801 km/h
12 11 Gary Birtwistle 5:30.547 2 laps 10 17.443 7 70.584 km/h
Inter Final
Pos Competitor Total Time Diff Laps Best Lap Best Lap No. Best Speed
1 555 Simon Bird 3:08.502 0.000 8 17.722 6 69.473 km/h
2 56 Fergus Bluff 3:09.575 1.073 8 17.809 8 69.134 km/h
3 126 Andrew Horner-Glister 3:10.392 1.890 8 18.029 3 68.29 km/h
4 217 steven gurnhill 3:12.656 4.154 8 18.241 3 67.496 km/h
5 331 Matt BainBridge 3:13.149 4.647 8 18.187 3 67.697 km/h
6 68 Dan Berwick 3:13.272 4.770 8 17.832 5 69.044 km/h
7 831 Jamie Robertson 3:14.985 6.483 8 18.346 8 67.11 km/h
8 170 Keith Strudwick 3:17.371 8.869 8 18.927 3 65.05 km/h
9 16 Simon Gray 3:18.167 9.665 8 18.736 6 65.713 km/h
10 85 Tom Busfield 3:18.294 9.792 8 18.632 5 66.08 km/h
11 55 George Sturgess 3:19.222 10.720 8 18.573 2 66.29 km/h
12 129 William Smith 3:19.971 11.469 8 18.056 7 68.188 km/h
13 14 Max Inman 1:05.575 7 laps 1 20.868 1 58.999 km/h
Vintage Final
Pos Competitor Total Time Diff Laps Best Lap Best Lap No. Best Speed
1 33 sean kelly 1:54.890 0.000 6 18.809 3 65.458 km/h
2 404 Ben Eddings 1:57.263 2.373 6 18.938 2 65.012 km/h
3 131 Gareth Howes 1:57.907 3.017 6 19.188 2 64.165 km/h
4 39 Rick Bearcroft 2:01.117 6.227 6 19.492 4 63.164 km/h
5 556 John Bird 2:02.314 7.424 6 19.785 4 62.229 km/h
6 72 John Harrison 2:02.832 7.942 6 19.747 5 62.349 km/h
7 585 Danny Williams 2:04.572 9.682 6 19.368 6 63.569 km/h
8 8 Adam Brinkworth 2:05.033 10.143 6 19.662 5 62.618 km/h
9 101 Jon Dyer 2:09.730 14.840 6 20.708 5 59.455 km/h
Thunder Final
Pos Competitor Total Time Diff Laps Best Lap Best Lap No. Best Speed
1 134 Christopher Jenner 1:54.270 0.000 6 18.301 6 67.275 km/h
2 52 Ross Herrod 1:54.628 0.358 6 18.399 6 66.917 km/h
3 199 Jake Edey 1:57.131 2.861 6 18.956 3 64.95 km/h
4 32 Andrew Andrew Murphy 1:57.517 3.247 6 18.751 6 65.66 km/h
5 143 james Smith 1:58.892 4.622 6 18.984 5 64.855 km/h
6 75 Jason Cursley 2:01.254 6.984 6 19.546 6 62.99 km/h
7 13 Gary Inman 2:04.046 9.776 6 19.426 4 63.379 km/h
Hooligan Final
Pos Competitor Total Time Diff Laps Best Lap Best Lap No. Best Speed
1 11 Gary Birtwistle 2:57.531 0.000 6 18.058 4 68.18 km/h
2 93 Jack Bell 2:59.470 1.939 6 18.075 6 68.116 km/h
3 704 Jake Young 2:59.825 2.294 6 18.346 6 67.11 km/h
4 148 vinnie Snell 3:07.016 9.485 6 19.407 5 63.441 km/h
5 786 Chris Northover 3:12.484 14.953 6 20.316 3 60.602 km/h
6 37 Leah Tokelove 3:08.365 2 laps 4 18.983 4 64.858 km/h
Rookie A Final
Pos Competitor Total Time Diff Laps Best Lap Best Lap No. Best Speed
1 79 Jason Burrill 2:09.369 0.000 6 18.332 3 67.161 km/h
2 168 Joseph Brindley 2:10.887 1.518 6 18.335 2 67.15 km/h
3 149 Chris Pugh 2:12.896 3.527 6 18.752 3 65.657 km/h
4 234 Matt Smith 2:13.331 3.962 6 18.835 5 65.368 km/h
5 233 Guy Horner 2:14.028 4.659 6 18.752 5 65.657 km/h
6 160 Daniel Newlove 2:15.957 6.588 6 19.144 2 64.313 km/h
7 911 Jonathan James 2:18.707 9.338 6 19.596 3 62.829 km/h
8 225 Julien Ramier 1:54.939 1 lap 5 18.348 4 67.103 km/h
Rookie B Final
Pos Competitor Total Time Diff Laps Best Lap Best Lap No. Best Speed
1 327 Nigel Coleman 2:49.945 0.000 6 19.113 4 64.417 km/h
2 227 Emily Moore 2:52.079 2.134 6 19.292 3 63.819 km/h
3 197 Wag Scott 2:52.559 2.614 6 19.212 5 64.085 km/h
4 17 Mark Peatfield 2:57.577 7.632 6 20.085 5 61.299 km/h
5 144 Rupert Farnsworth 2:59.370 9.425 6 20.336 5 60.543 km/h
6 207 Stuart Cope 3:00.254 10.309 6 20.294 5 60.668 km/h
7 818 Dave Talton 3:02.093 12.148 6 20.643 2 59.642 km/h
8 808 Robert Nichols 3:02.365 12.420 6 20.602 4 59.761 km/h
Minibike Stock Final
Pos Competitor Total Time Diff Laps Best Lap Best Lap No. Best Speed
1 696 Chris Bailey 2:52.884 0.000 6 21.074 4 58.423 km/h
2 7 Neil Macqueen 2:53.242 0.358 6 20.917 6 58.861 km/h
3 8 Adam Brinkworth 3:09.984 17.100 6 23.223 6 53.016 km/h
Minibike Mod Final
Pos Competitor Total Time Diff Laps Best Lap Best Lap No. Best Speed
1 264 Freddie Hales 2:30.641 0.000 6 21.091 5 58.376 km/h
2 831 Jamie Robertson 2:32.265 1.624 6 20.936 5 58.808 km/h
3 76 Skye Adams 2:32.391 1.750 6 21.028 5 58.551 km/h
4 14 Max Inman 2:32.667 2.026 6 21.295 5 57.816 km/h
5 17 Mark Peatfield 2:35.644 5.003 6 21.478 5 57.324 km/h
6 197 Wag Scott 2:36.944 6.303 6 21.352 5 57.662 km/h
7 811 stephanie oakes 2:40.573 9.932 6 22.374 5 55.028 km/h
8 808 Robert Nichols 2:40.981 10.340 6 22.244 4 55.35 km/h
9 108 Anne-lie North 2:43.405 12.764 6 22.611 4 54.451 km/h