Doncarter! Kensworth MXC Club Championship Round 3 – Race Report & Results
The Kensworth Schoolboy Motocross Club headed north to Doncaster Motoparc on Sunday for round three of their 2021 Club Championship.
Report by Leanne Scott – Images courtesy of Colin Brister – Image MX
The over 35's started the day, where Stevie Worts and Matty White, went head to head in the first race, Matty went down, which gave Worts the advantage to put his head down and take the first Moto, but White came back all guns blazing in the second and third to take the overall, Worts took second, with a consistent Paul Edge taking third on the Evo CR500
Richard Carter dominated the under 35's to take a 1-1-1. Daryl Wallis and Lewis Huckerby battled it out for the other podium positions, Wallis went 2-3-2 to take second, with Huckerby third.
In the Big Wheel 85 class Benny Bradley and Travis Webster went head to head Bradley had the speed to take the overall with Webster second. Bailey Ward-Clarke and Harry Jarvis battled it out for the third podium place, it was Ward-Clarke who took it though with a 3-4-3
The super fast Freddie Box dominated the Auto class to take first in all three motos, Ronan Watson took second with great consistency. Forest Roberts took the final podium place.
An on fire Riley-Ray Barrow completely dominated the Junior 65 class, with a 1-1-1. Leo Ormondroyd took second overall with a 2-4-2, with Sidney Monger taking third.
In the Small Wheel 85 class Rocco Hands excelled and checked out to take 1-1-1. A strong Aston Williams took second, with Riley Viase taking third.
Max Smith proved this weekend he could stay on two wheels and take the overall in the two stroke schoolboy class. Kyle Briggs took second with Louie Evans taking third.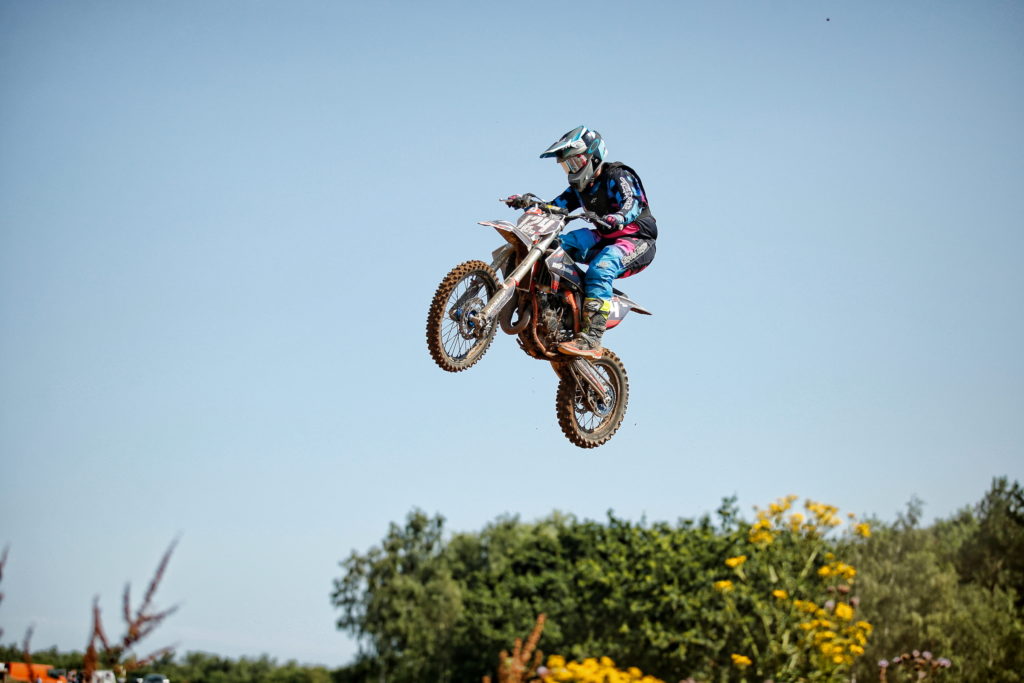 In the four stroke class a great consistent ride from Dexter Milbourne saw him take the overall on the day, with Charlie Sellick, who was slow to start , enjoyed the rough conditions in the last and took second overall with a 3-2-1. Tyler Etheridge and Ashton Humphries battled for the final podium position, Etheridge's consistency paid off for him to secure the final podium place.
Well done to all the committee, workers and track owners for providing a great day. KSMXC head to Wildtrax for round four of their championship on the 22nd August.
Results
Autos
| | | | | | |
| --- | --- | --- | --- | --- | --- |
| Pos | Competitor | Points | R1 | R2 | R3 |
| 1 | Freddie Box | 135 | 45 | 45 | 45 |
| 2 | Ronan Watson | 126 | 42 | 42 | 42 |
| 3 | Forrest Roberts | 120 | 40 | 40 | 40 |
| 4 | Tate Vincent | 111 | 38 | 36 | 37 |
| 5 | Stanley Lewis | 109 | 34 | 37 | 38 |
| 6 | Ozzy Faircloth | 107 | 37 | 38 | 32 |
| 7 | Freddie Nellist | 106 | 35 | 35 | 36 |
| 8 | Harley-James Barrow | 104 | 36 | 33 | 35 |
| 9 | Jesse King | 99 | 33 | 32 | 34 |
| 10 | Bailey O'Callaghan | 96 | 32 | 31 | 33 |
| 11 | Finlee Pope | 90 | 25 | 34 | 31 |
| 12 | Alfie Whittaker | 85 | 29 | 26 | 30 |
| 13 | Freddie Billington | 85 | 28 | 29 | 28 |
| 14 | Heeley Coyne | 85 | 31 | 30 | 24 |
| 15 | Thomas McDermott | 81 | 24 | 28 | 29 |
| 16 | Alex Clear | 81 | 27 | 27 | 27 |
| 17 | Oliver Flood | 80 | 30 | 25 | 25 |
| 18 | Benjamin Herzberg | 76 | 26 | 24 | 26 |
| 19 | Corey Heffernan | 68 | 23 | 23 | 22 |
| 20 | Dylan Dewsnap | 66 | 21 | 22 | 23 |
| 21 | Ollie Miller | 62 | 22 | 20 | 20 |
| 22 | Charlie Park | 60 | 18 | 21 | 21 |
| 23 | Zack Williams | 55 | 19 | 17 | 19 |
| 24 | Oliver Nicolson | 55 | 20 | 18 | 17 |
| 25 | Zak Stock | 54 | 17 | 19 | 18 |
| 26 | Jack Gregson | 32 | 16 | – | 16 |
Junior 65's
| | | | | | |
| --- | --- | --- | --- | --- | --- |
| Pos | Competitor | Points | R1 | R2 | R3 |
| 1 | Riley-Ray Barrow | 135 | 45 | 45 | 45 |
| 2 | Leo Ormondroyd | 120 | 40 | 38 | 42 |
| 3 | Sidney Monger | 114 | 36 | 40 | 38 |
| 4 | Robbie Gorrell | 111 | 35 | 36 | 40 |
| 5 | Jack Smith | 110 | 37 | 37 | 36 |
| 6 | Riley Butterworth | 106 | 38 | 31 | 37 |
| 7 | Lewis Railton | 100 | 30 | 35 | 35 |
| 8 | Eli Day | 95 | 28 | 33 | 34 |
| 9 | Mickey Angles-Hookey | 94 | 34 | 34 | 26 |
| 10 | Luca-James Allen-Harvey | 92 | 31 | 30 | 31 |
| 11 | Jimmy Boxall | 90 | 33 | 28 | 29 |
| 12 | Rylee Harrup | 89 | 25 | 32 | 32 |
| 13 | Jack Digby | 86 | 29 | 27 | 30 |
| 14 | Harry Worley | 85 | 26 | 26 | 33 |
| 15 | Franky Donoghue | 84 | 42 | 42 | – |
| 16 | Georgie Crossman | 80 | 27 | 29 | 24 |
| 17 | Ceejay Morris | 79 | 32 | 20 | 27 |
| 18 | Ricco Hardy | 73 | 24 | 24 | 25 |
| 19 | Henry Scott | 71 | 23 | 25 | 23 |
| 20 | Lola Etheridge | 69 | 20 | 21 | 28 |
| 21 | Joey Livingstone | 66 | 22 | 23 | 21 |
| 22 | Elliot Boggs | 65 | 21 | 22 | 22 |
| 23 | Eva Earl | 55 | 17 | 18 | 20 |
| 24 | Luke Worts | 54 | 19 | 16 | 19 |
| 25 | Charlie Hobbs | 53 | 16 | 19 | 18 |
| 26 | Alfie Andrews | 47 | 15 | 15 | 17 |
| 27 | Bobby Bower | 35 | 18 | 17 | – |
Small Wheel 85's
| | | | | | |
| --- | --- | --- | --- | --- | --- |
| Pos | Competitor | Points | R1 | R2 | R3 |
| 1 | Rocco Hands | 135 | 45 | 45 | 45 |
| 2 | Aston Williams | 124 | 40 | 42 | 42 |
| 3 | Riley Viase | 117 | 37 | 40 | 40 |
| 4 | Frankie Jubb | 113 | 38 | 37 | 38 |
| 5 | Sonny Rooney | 112 | 42 | 34 | 36 |
| 6 | Cailen Jai Griffiths | 111 | 36 | 38 | 37 |
| 7 | Alfie Best | 101 | 34 | 33 | 34 |
| 8 | Mason Zaccardelli | 97 | 32 | 32 | 33 |
| 9 | Rylee Mortimer | 96 | 26 | 35 | 35 |
| 10 | Harley O'Callaghan | 91 | 33 | 30 | 28 |
| 11 | Rylee Clark | 91 | 35 | 36 | 20 |
| 12 | Niahl Lewis | 84 | 29 | 24 | 31 |
| 13 | Reggie Gomm | 82 | 24 | 28 | 30 |
| 14 | Leo Swallow | 77 | 23 | 22 | 32 |
| 15 | Zach Worts | 73 | 25 | 26 | 22 |
| 16 | Reece Worts | 70 | 31 | 13 | 26 |
| 17 | Junior Weaver | 70 | 22 | 25 | 23 |
| 18 | Calum Evans | 70 | 28 | 27 | 15 |
| 19 | Tommy Knight | 68 | 21 | 20 | 27 |
| 20 | Kyron Worster | 65 | 20 | 21 | 24 |
| 21 | Harley Chamney | 62 | 14 | 23 | 25 |
| 22 | Connor Luke | 61 | 15 | 17 | 29 |
| 23 | Olly Walker | 61 | 30 | 31 | – |
| 24 | Kade Thomas | 59 | 19 | 19 | 21 |
| 25 | Tyler McKeown | 56 | 27 | 29 | – |
| 26 | Jay Earl | 53 | 18 | 16 | 19 |
| 27 | Olly McClurg | 49 | 16 | 15 | 18 |
| 28 | George Sugg | 47 | 17 | 14 | 16 |
| 29 | Oliver Case | 35 | – | 18 | 17 |
Big Wheel 85's
| | | | | | |
| --- | --- | --- | --- | --- | --- |
| Pos | Competitor | Points | R1 | R2 | R3 |
| 1 | Benny Bradley | 132 | 42 | 45 | 45 |
| 2 | Travis Webster | 129 | 45 | 42 | 42 |
| 3 | Bayley Ward-Clark | 118 | 40 | 38 | 40 |
| 4 | Harry Jarvis | 116 | 38 | 40 | 38 |
| 5 | Mikey Ward | 110 | 36 | 37 | 37 |
| 6 | Warren Boyce | 105 | 35 | 34 | 36 |
| 7 | Deegan Byers | 104 | 34 | 35 | 35 |
| 8 | Malachi Stratton | 104 | 37 | 36 | 31 |
| 9 | Riley Nicholls | 100 | 33 | 33 | 34 |
| 10 | Jayden Gregson | 94 | 30 | 31 | 33 |
| 11 | Tommy Hurst | 93 | 31 | 30 | 32 |
| 12 | Caiden Tomlin | 88 | 29 | 29 | 30 |
| 13 | Morgan Etheridge | 82 | 26 | 28 | 28 |
| 14 | Mason Andrews | 77 | 24 | 26 | 27 |
| 15 | Harrison Clarke | 74 | 23 | 25 | 26 |
| 16 | Harry Gamble | 64 | 32 | 32 | – |
| 17 | Jack Ferguson | 57 | 28 | – | 29 |
| 18 | Edward Kilmister | 52 | 25 | 27 | – |
| 19 | Ellis Atkins | 27 | 27 | – | – |
Schoolboy 2 Stroke
| | | | | | |
| --- | --- | --- | --- | --- | --- |
| Pos | Competitor | Points | R1 | R2 | R3 |
| 1 | Max Smith | 132 | 42 | 45 | 45 |
| 2 | Kyle Briggs | 124 | 40 | 42 | 42 |
| 3 | Louie Evans | 115 | 37 | 40 | 38 |
| 4 | Harvey Sambridge | 114 | 38 | 36 | 40 |
| 5 | Harry Smith | 106 | 33 | 37 | 36 |
| 6 | Cody Spacagna | 104 | 34 | 35 | 35 |
| 7 | Alby Smith | 101 | 35 | 34 | 32 |
| 8 | Finn Morgan | 99 | 32 | 33 | 34 |
| 9 | Owen Batty | 93 | 30 | 30 | 33 |
| 10 | Sam Beebe | 90 | 31 | 28 | 31 |
| 11 | Billy Mason | 88 | 28 | 31 | 29 |
| 12 | Rhys Roe-Hill | 86 | 27 | 29 | 30 |
| 13 | Harvey Antrobus | 83 | 45 | 38 | – |
| 14 | Ryeden Dennis | 73 | 36 | – | 37 |
| 15 | Henry Maynard | 61 | 29 | 32 | – |
Schoolboy 4 Stroke
| | | | | | |
| --- | --- | --- | --- | --- | --- |
| Pos | Competitor | Points | R1 | R2 | R3 |
| 1 | Dexter Milbourne | 132 | 45 | 45 | 42 |
| 2 | Charlie Sellick | 127 | 40 | 42 | 45 |
| 3 | Tyler Etheridge | 116 | 38 | 40 | 38 |
| 4 | Ashton Humphries | 116 | 42 | 37 | 37 |
| 5 | Alfie Gomm | 115 | 37 | 38 | 40 |
| 6 | Dom Cochrane | 107 | 36 | 36 | 35 |
| 7 | Evan Inskip | 106 | 35 | 35 | 36 |
| 8 | Brodie Ferguson | 102 | 34 | 34 | 34 |
| 9 | Spencer Taylor | 99 | 33 | 33 | 33 |
Adult Under 35
| | | | | | |
| --- | --- | --- | --- | --- | --- |
| Pos | Competitor | Points | R1 | R2 | R3 |
| 1 | Richard Carter | 135 | 45 | 45 | 45 |
| 2 | Daryl Wallis | 124 | 42 | 40 | 42 |
| 3 | Lewis Huckerby | 122 | 40 | 42 | 40 |
| 4 | Elliott Humphries | 112 | 38 | 36 | 38 |
| 5 | Ryan Gardiner | 111 | 36 | 38 | 37 |
| 6 | Kieran Ryan | 106 | 35 | 35 | 36 |
| 7 | Adam Hardy | 102 | 33 | 34 | 35 |
| 8 | Reece Bevan | 102 | 37 | 37 | 28 |
| 9 | Matt Sloman | 99 | 34 | 33 | 32 |
| 10 | Lewis Carter | 97 | 32 | 31 | 34 |
| 11 | Jack Ryan | 92 | 27 | 32 | 33 |
| 12 | Oakley Harrison | 91 | 30 | 30 | 31 |
| 13 | Luke Robinson | 88 | 31 | 28 | 29 |
| 14 | Gavin Jakeman | 81 | 25 | 29 | 27 |
| 15 | Adam Gustafson | 79 | 29 | 20 | 30 |
| 16 | Will Short | 78 | 26 | 27 | 25 |
| 17 | Stephen Edmonds | 75 | 24 | 25 | 26 |
| 18 | Matthew Hardwick | 72 | 22 | 26 | 24 |
| 19 | Aaron Brock | 70 | 23 | 24 | 23 |
| 20 | Teddy Clark | 65 | 21 | 22 | 22 |
| 21 | Dale Freeman | 62 | 20 | 21 | 21 |
| 22 | Chris McClurg | 41 | 18 | 23 | – |
| 23 | Adam Carter | 28 | 28 | – | – |
| 24 | Sam Waterman | 19 | 19 | – | – |
Adult Over 35
| | | | | | |
| --- | --- | --- | --- | --- | --- |
| Pos | Competitor | Points | R1 | R2 | R3 |
| 1 | Matty White | 132 | 42 | 45 | 45 |
| 2 | Stevie Worts | 129 | 45 | 42 | 42 |
| 3 | Paul Edge | 120 | 40 | 40 | 40 |
| 4 | Darren Knight | 114 | 38 | 38 | 38 |
| 5 | Leon Day | 109 | 36 | 37 | 36 |
| 6 | Ben Street | 106 | 33 | 36 | 37 |
| 7 | Stuart Milbourne | 103 | 35 | 34 | 34 |
| 8 | Stephen Pole | 102 | 34 | 35 | 33 |
| 9 | Elliott Lewis | 99 | 31 | 33 | 35 |
| 10 | Darren Williams | 93 | 30 | 31 | 32 |
| 11 | Morris Hefferman | 90 | 29 | 30 | 31 |
| 12 | Adrian Clear | 87 | 28 | 29 | 30 |
| 13 | Steve Worts | 64 | 32 | 32 | – |
| 14 | Richard Sawyer | 57 | – | 28 | 29 |
| 15 | Stuart Scott | 37 | 37 | – | – |