Dirty Dozen with Liam Knight
23-year-old Gabriel KTM Motocross Team Racer Liam Knight hammers home his Dirty Dozen answers…
Feature image courtesy of Nuno Laranjeira
Dirt Hub: Do you have a Pre-Race Playlist you listen too, and if so name a couple of tracks that are on it?
Liam: No never listened to any music before racing.
DH: When was the last time you cried?
Liam: Not much of a crier but my crash at Canada Heights must have been the closest that was pretty painful.
DH: What is your favourite inspirational quote?
Liam: Losers quit when they fail, winners fail until they succeed.
DH: Do you have any weird suspicions or pre-race rituals?
Liam: Always scratch a new helmet before I race in it, as I have crashed in a few brand new helmets before and done some damage to them.
DH: What drives you most to get up in the morning and go training?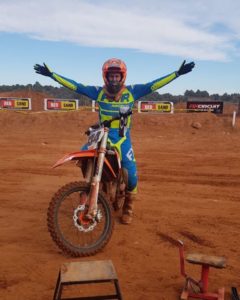 Liam: To have that race-winning feeling again, knowing all the training needs to be done to be able to get to that point.
DH: If you didn't race what sport would you play or take part in?
Liam: I haven't done much of it but I like going out on the mountain bike, so that would be something I'd do more of if I didn't race.
DH: What is your biggest Phobia?
Liam: Probably snakes not a fan of those that's for sure.
DH: Who is your biggest sporting idol and why?
Liam: Ken Roczen, just because of how he's recovered from all the injuries that would have ended others careers and he's now back winning races and battling for championships.
DH: Where do you see yourself in five years time?
Liam: Hopefully still racing and at the sharp end, but we all know how unpredictable this sport can be. I'll still be riding that's a definite.
DH: What is your all-time favourite movie?
Liam: Gentlemen, only came out a month or so ago in cinemas but definitely a favourite.
DH: Who has had the biggest impact on your career?
Liam: My Dad for sure, without him none of it would have been possible, always behind me even if no one else is.
DH: What is your philosophy on life?
Liam: Make improvements, not excuses.
For more Dirty Dozen interviews head here >> https://www.dirthub.co.uk/dirty-dozen/