Dirty Dozen with Jack Edmondson!
Sherco Factory Enduro Athlete, and 2016 World 125 Enduro Champion Jack Edmondson fires in with his Dirty Dozen answers…
Images courtesy of  Vanessa and Tilde Tighe
Dirt Hub: Do you have a Pre-Race Playlist you listen too, and if so name a couple of tracks that are on it?
Jack: Eminem is probably my go-to artist to get me hyped before a race.
Dirt Hub: When was the last time you cried?
Jack: When I smashed my elbow up in February, mainly just because I was frustrated after only just recovering from an injury in October.
Dirt Hub: What is your favourite inspirational quote?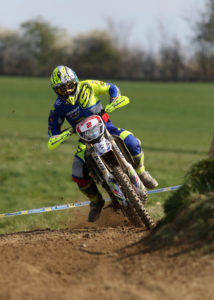 Jack: Don't really have one.
Dirt Hub: Do you have any weird suspicions or pre-race rituals?
Jack: Right knee brace has to go on before the left one.
Dirt Hub: What drives you most to get up in the morning and go training?
Jack: The thought of winning another world championship.
Dirt Hub: If you didn't race what sport would you play or take part in?
Jack: Some kind of cycling
Dirt Hub: What is your biggest Phobia?
Jack: I've got better but I still don't like heights
Dirt Hub: Who is your biggest sporting idol and why?
Jack: Tyson Fury. Purely because of the comeback he has made and what he has overcome these past couple years.
Dirt Hub: Where do you see yourself in five years time?
Jack: Pretty much the same situation as now. Racing for a good team and having a lot of fun!
Dirt Hub: What is your all-time favourite movie?
Jack: The Hangover
Dirt Hub: Who has had the biggest impact on your career?
Jack: My dad, he has put everything into getting me where I am today and motivates me to keep pushing!
Dirt Hub: What is your philosophy on life?
Jack: Take a chance. Don't be scared to do something different.
For more Dirty Dozen interviews head here>> https://www.dirthub.co.uk/dirty-dozen/