Dirty Dozen with Dan Thornhill
Cab Screens Deos Group Honda team racer Dan Thornhill put in some impressive motos at the Hawkstone International and was set for a big 2020 before the Lockdown halted him, so while he is kicking his heels we fire our Dirty Dozen questions at him…
Images courtesy of the Cab Screens Deos Group Honda team
Dirt Hub: Do you have a Pre-Race Playlist you listen too, and if so name a couple of tracks that are on it?
Dan: I don't really listen to music pre-race. I just try to visualise the track and think positive thoughts.
DH: When was the last time you cried?
Dan: Last year when my second shoulder operation went well and I was told I could continue racing.
DH: What is your favourite inspirational quote?
Dan: "If you don't believe in yourself.. No one will"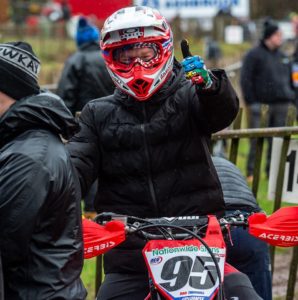 DH: Do you have any weird suspicions or pre-race rituals?
Dan: I will always fit the right piece of Gear before the left. I also always touch my helmet and punch the air when the green flag waves on the start line.
DH: What drives you most to get up in the morning and go training?
Dan: That feeling of bettering yourself every day!
DH: If you didn't race what sport would you play or take part in?
Dan: Good question, I enjoy a lot of sport but put everything into Mx so I suppose I don't really know is my honest answer.
DH: What is your biggest Phobia?
Dan: Tight spaces
DH: Who is your biggest sporting idol and why?
Dan: Stefan Everts. His skill on a bike is incredible and the mental strength he had to keep everything together to pull off 10 world titles.
DH: Where do you see yourself in five years time?
Dan: That's a long time away for me. I live for tomorrow! So as long as I'm doing what I enjoy the most in 5 years I'll be where I'm supposed to be.
DH: What is your all-time favourite movie?
Dan: Hangover
DH: Who has had the biggest impact on your career?
Dan: 100% my family. I would be nowhere without the drive and sacrifice from all my family over the years.
DH: What is your philosophy on life?
Dan: Treat everyone how you'd expect to be treated. And to live each day as it comes!
For more Dirty Dozen interviews head here >> https://www.dirthub.co.uk/dirty-dozen/