Chambers Racing Husqvarna set to tackle European MXGP's with Millward and Grimshaw!
Chambers Racing Husqvarna has unveiled a five-rider line-up for 2020 with new signing Tom Grimshaw joining existing team members Jake Millward, Jay Hague, Ben Franklin and Aaron McCarroll.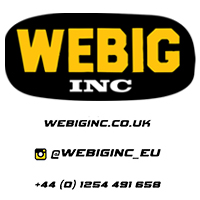 Jake and Aaron will race Husqvarna's potent FC 450 next season with Tom, Jay and Ben contesting the MX2 class on race-proven FC 250 machinery.
Jake and Tom will compete at European rounds of the FIM Motocross World Championship and the ACU British Motocross Championship along with pre-season international events and selected rounds of the Michelin MX Nationals and Bridgestone Masters. Jay, Ben and Aaron will race all three domestic series, selected EMX rounds and be on stand-by to fill in at GPs if needed.
In his first year in the MX1 class in 2019, 26-year-old Jake impressed as he raced to third overall in the British championship with three overall podiums and a career-first top-flight moto win. Tom also had a break-through season with the 18-year-old claiming ninth in the British championship and fifth in the MX Nationals in just his second full year as a professional rider.
Ben, who's 24, ended the season in sixth in the MX Nationals, 14th in the British championship – despite missing a round through injury – and second in the Bridgestone Masters and 27-year-old Aaron finished third in the MX Nationals Expert class which qualifies him for the Pro class in 2020.
Jay was sidelined for most of the year with injuries but the 21-year-old has the speed and skill to replicate his British championship moto win at Duns in 2018.
Tim Chambers (Team Principal)

"We'll have five main riders in British, European and international events with Jake and Tom doing GPs and Jay, Ben and Aaron ready to step up to the world championship if we need them. I just think that this year the guys have been maybe half-a-second or a second off winning and the only way to pull that back is to go and do bigger and better events so European rounds and GPs are the way forward.
"I'm excited. They are all very talented riders and I'm looking forward to seeing them progress next season."
Jake Millward

"I couldn't have asked for things to go any better than they have this season to be honest. It was my first year on the 450 and it all just seemed to click for me. My results have been much better than I expected and now the plan is to carry this momentum into next year.
"I've no expectations about doing GPs. It's all about the experience for me but I am hoping that racing at that level will bring me along and help me take that next step which I feel I'm capable of doing. I'm looking forward to it.
"There's a lot better line-up in the British championship next year than there was this year but I'm confident that no-one will have a better bike than me and I'm also confident in my ability so the goal is podiums and to challenge for the title in 2020."
Tom Grimshaw

"It's going to be a very exciting year doing the GPs and British championship. The world championship is a big step but I'm looking forward to it. I've raced two GPs this year – I was chucked in at the deep end – but it was always about learning and now I know the ropes I can prepare for them over the winter so we'll be ready.
"Obviously, next year will also be about learning but I'm aiming to get some top-20 finishes and score points at world championship level.
"The MX2 class was hit hard with injuries this year in the British championship but I feel that the way I was riding was good enough for a solid top-10 finish so next season I want to be pushing for top-seven and maybe even a few cheeky top-fives."
Jay Hague

"It's not really been the year I was hoping for – I started off riding well but then had the crash at the Bridgestone British Masters and broke my leg and shoulder and tore my MCL so I had a lot of time out. I then tried to get back on a bike a bit too soon which aggravated my injuries.
"When I came back again I crashed at Foxhill and sustained a concussion so I made the decision to sit the rest of the year out so I could get fully fit.
"Next season I'd like to be comfortably in the top five in the British championship and once I'm feeling more confident I'd like to do some GPs. I can't wait."
Ben Franklin

"Next year I'm aiming for the top 10 in the British championship and I want podiums at the MX Nationals. I'm too old for MX2 GPs but if I do some European stuff I'm planning to do them on a 450 which will be great practice for 2021 when I want to move up. I can't wait for the new season to kick off."
Aaron McCarroll
"I want to improve on this year, be closer to the sharp end of the British championship and move into the MX Nationals Pro class and just keep building. I'm also hoping to do the EMX Open series and see how I get on with that.
"It's been a bit of a late start for me – I've had a lot of injuries – so I want to make the most of the opportunities that Tim's giving me."