AMCA British Motocross Championship Round 1 – What the riders had to say!
Mike Wood caught up with the top racers from the weekends AMCA British Motocross Championship opening round at Boraston…
Here is what they had to say…
Josh Waterman MX1 Winner

"We were out first for qualifying so was unsure on how the track would turn out. It was tacky in places and slippy in the woods. Managed to put in a good lap for pole position! Race 1 had an ok start. Got through and took the lead with just over a lap to go. Race 2 I had another ok start but in turn two I nearly went down in the mayhem and ruts. Got myself going and pulled through to the lead by lap 4 and won. Race 3 I gated 4th dropped back a few positions then pushed through to 3rd but didn't have enough in the tank to catch the front two. I would like to thank all my family, sponsors and supporters who made it happen."
Neville Bradshaw MX1 Runner-up

"Had a super fun weekend. Really enjoyed riding the big 500 and got better as the weekend progressed. The win in race 3 felt amazing. Well done to the club on some awesome technical conditions and the AMCA for getting everyone back racing.".
Jamie Wainwright MX2 Winner
"It's nice to be back racing in the AMCA again after the plans we made didn't happen due to the Covid-19 pandemic but all in all I had a solid day and felt very comfortable! The track was very deep and technical but also a lot of fun. P1 in qualifying started the day off nice. Race one I made a small mistake on lap two costing me some time but got my head down and pushed through to win the race. Race two I got a better start and moved myself into the lead, staying fully focused put me 13 seconds out front to the chequered flag. Race three was very similar to race two feeling comfortable and strong again taking it over the line for the overall. Would like to say a massive thank-you to all involved.".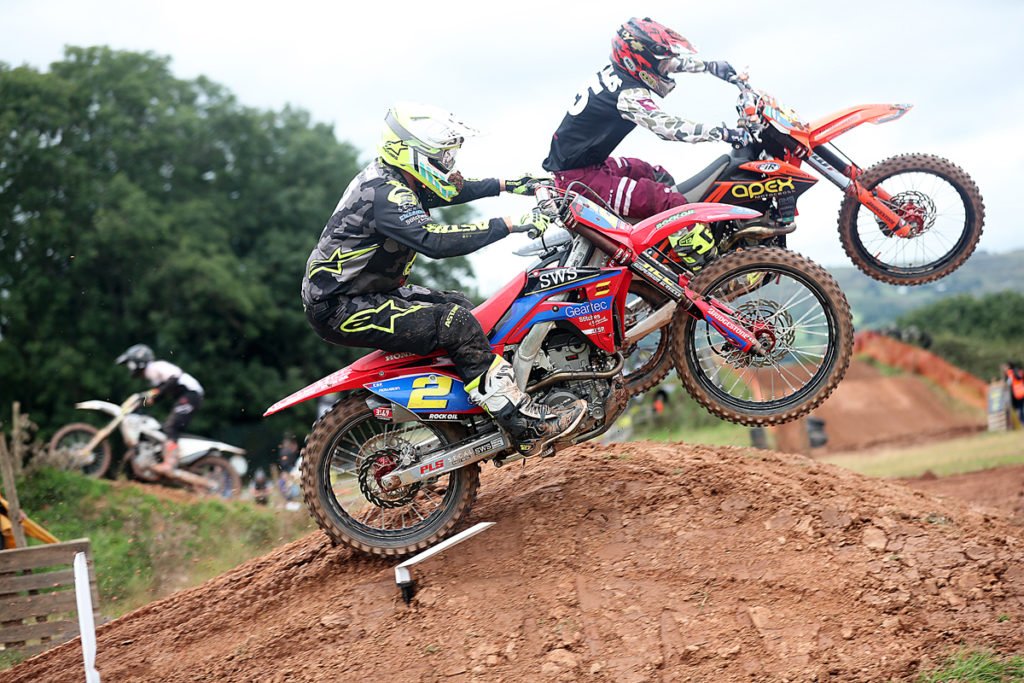 Ray Rowson MX2 Runner-up

"We went on Sunday with no expectations after not being behind a start-gate for nearly 12 months. We would have been over the moon with a top 5 placing bearing in mind with had done no training and had very little bike time! Jamie was on a different level the weekend but hopefully towards the end of the season we can get somewhere near his pace and have some good racing. What a pucka weekend this was though, the track was awesome and it was nice to get back behind the gate and racing."

Shane Carless 125cc Runner-up

"Starting the 2020 championship was a weird one because of this covid19! I honestly didn't think the season was going to happen, so with no riding/training and eating what I liked, the AMCA then announces that the season is kicking off in 6 weeks time and at this point we were still in lockdown! So I began training hard and riding, everything was looking good until I dislocated my shoulder one week before the championship. I initially decided on the Monday that I wasn't going to race but by the Tuesday I had a chance to enter into the 125 class, so the team pulled it all together and got me a 125 to race, the last time I rode a 125 was 15 years ago.
"I wasn't sure if I could even ride a bike never mind race as I hadn't even tried since my accident. We went out for practice with no pain but the shoulder was just very stiff. We ended up 4th in qualifying and then went 4/3/1 for 2nd overall on the day. I was feeling better and stronger but still nowhere near 100%. I absolutely loved the 125, thank you to the team for making this happen, I am now really looking forward to round 2."

Luke Newman 125cc 5TH Overall

"I am happy with my weekend. I went 2-5-7 for 5th overall. Coming in I felt good on and off the bike, this has been the first season in a long time I haven't been starting with an injury. Qualifying went well, I have never been known to be a good qualifier so 6th position was a good start to the day for me. Race 1, I had a poor start but managed to sneak round the inside putting me around 10th on the first corner. I made some quick moves making my way into the top 5 by the end of the first lap and continued to move forward into 2nd. Mid way through I could feel myself catching the leader but I got stuck behind a slower rider in a deep rut and toppled over. I managed to hold on for 2nd which is by far my best result in a AMCA championship race to date which I am buzzing about!
"Race 2 started very similar to the first one, a poor start but managed to sneak around the inside again, I got up to 3rd and got myself right up to the back of the front two riders. I was running a good pace and kept myself within distance but I started to get tight and made some mistakes, losing my rhythm, I lost two places at the end which was frustrating but I'm still happy with a 5th. Race 3 was rerun and I had my worst start of the day,but I put my head down and worked hard. I felt the best I had done all day and was making some good moves through the field. Unfortunately the race was cut short due to a bad crash so I only got to 7th. I felt I could of made a few more passes if the race had gone the full distance. The track was as perfect as you can get, with deep ruts and plenty of line choice making it nice and technical, however I am feeling pretty second hand today! Massive thank you to my family and the whole LRT team who all put a big effort into this weekend. Looking forward to the next one!"
Simon Lane Vets Runner-up

"It was a brilliant weekend and in the first moto I felt good. I knew James had the pace as when we practice he comes strong later so I had to get the hammer down fast. I knew he would challenge which he did by passing me. Second moto and I saw James make a mistake so I pushed on hard and quick to take the win. Last moto we were close but back markers played there part and I lost ground . But James had more speed all day and he was on it . Track was tough yet I liked it being technical! It got so gnarly that in the end it felt like we were just riding not racing, but it was so good to get competing at an event again, there is absolutely nothing that compares to it! If you are a motocross rider you will know what I mean! I was also pleased with the results produced by the rest of our team, well done lads."